FandangObon is a collaborative performing arts project led by California-born Japanese and Mexican American artists that explores connections between the participatory music and dance traditions of fandango son jarocho of Veracruz, Mexico, and the Japanese Buddhist ritual of obon.
Obon originates from a Buddhist sutra about a monk who dances for joy after he comes to better understand the Buddha's teachings, and in doing so releases his mother from the realm of hungry ghosts. In the United States, obon typically includes a memorial service and an outdoor festival culminating in the bon odori dance. Everyone participates, from seasoned folk dancers to random passersby, elderly couples to their hipster teenage grandkids.
Son jarocho has evolved over the last two and a half centuries from the intersection of Spanish, indigenous, and African musical cultures in southern Veracruz. It is usually performed by a caller with an ensemble of regional guitar-like instruments and harps. Transnational artistic collaborations have energized the genre in California communities, where a younger generation of musicians is learning, teaching, and reinterpreting it.
FandangObon was initiated by Great Leap, a nonprofit arts organization that uses performance and creative practice to deepen relations among people of diverse cultures and faiths. The project's development has involved close collaboration with members of the group Quetzal, and the first event was held in Los Angeles in 2013. It has continued to grow each subsequent year with an expanding network of collaborating artists and communities.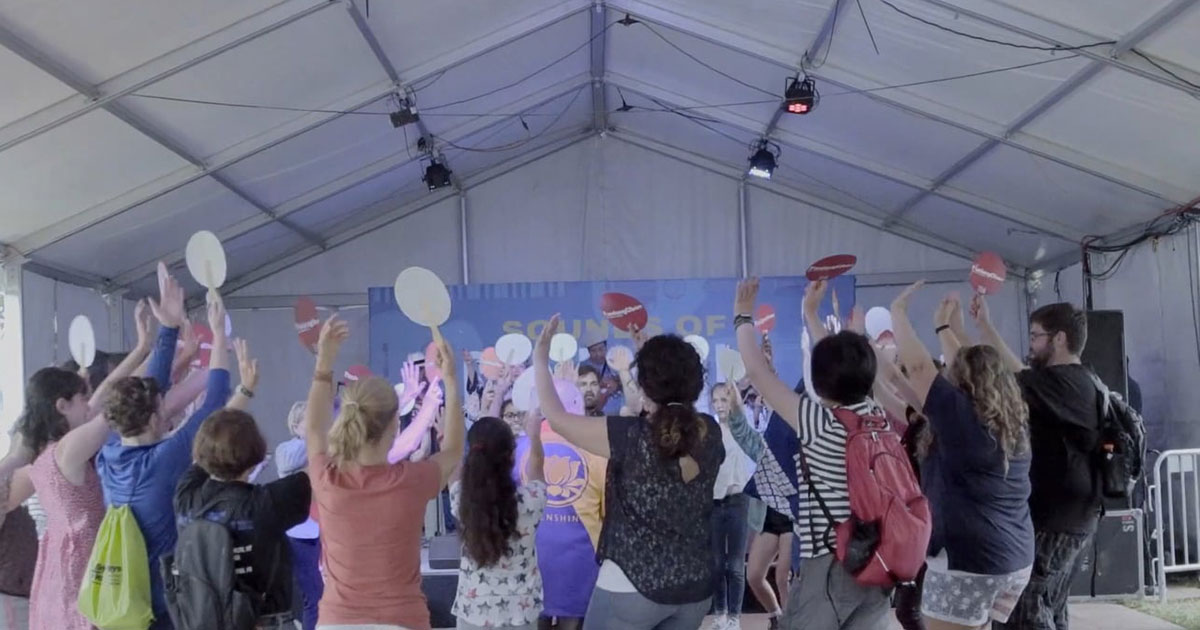 Musicians
George Abe, fue, shakuhachi, taiko player
George Abe was a founding member of Senshin Buddhist Temple's Kinnara Taiko, one of the first taiko groups formed in the United States. His music has been featured in film and theater productions, and he teaches and performs frequently in Southern California, including through the Music Center's school program and at Metropolitan State Hospital.
Tylana Enomoto also performs with Orquesta Charangoa, Quetzal, the Concentr8s, and Domingo Siete. She has collaborated with artists Kamasi Washington, Quantic, Bonobo, Elliott Levin, Vardan Ovesepian, Aloe Blacc, and Ana Tijoux.
Quetzal Flores, jarana, requinto, guitar player
Quetzal Flores is a multi-instrumentalist, composer, bandleader, and producer. His experiences growing up in grassroots movements as the son of labor union organizers inform all his creative endeavors. Since 2002, he has played an important role in the transnational dialogue between Chican@ musicians and artists from California and musicians and dancers from Veracruz, Mexico.
Elaine Fukumoto, dancer, dance instructor
Elaine Fukumoto co-founded SHIN3, a group that performs taiko storytelling, music, and dance to foster appreciation for Japanese culture. Trained in Japanese folk dance, she is also a dance leader, providing coordination and instruction for Southern California bon odori. She has worked with Nobuko Miyamoto to choreograph several new pieces.
Martha González, singer, percussionist
Martha González is a Chican@ artivista (artist/activist), singer, songwriter, percussionist, and feminist music scholar. She grew up in a musical family, performing Mexican music with her siblings and later with artists from around the world, including Los Lobos, Taj Mahal, and Tom Waits. She is the lead singer of Quetzal and an assistant professor in the Intercollegiate Department of Chican@ Latin@ Studies at the Claremont Colleges.
Ramón Gutiérrez, instrument maker
Based in Veracruz, Mexico, Ramón Gutiérrez is a luthier and master of the requinto jarocho. He played with his brother in the influential son jarocho group Mono Blanco and is the co-founder of Son de Madera, a group which has contributed significantly to the development and vitality of son jarocho in the U.S. and Mexico, and has been produced by Smithsonian Folkways Recordings.
A fourth-generation Japanese American Canadian, Sean Miura grew up in Seattle; Vancouver, B.C.; Maryland; New Jersey; and Los Angeles. He is the co-curator for a free public art series, Tuesday Night Café, in Los Angeles's Little Tokyo neighborhood, and a member of the dance crew Ninjas for Social Justice.
Nobuko Miyamoto, Great Leap director, singer, dancer
Nobuko Miyamoto has performed in feature films and on Broadway, and her 1973 album A Grain of Sand, written and performed in collaboration with Chris Iijima and Charlie Chin, is considered the first album of Asian American music and now part of the Smithsonian Folkways Recordings collection.
Juan Pérez has been playing bass since he was seven years old, and is now one of the most knowledgeable son jarocho bass players in the United States. In addition to being a member of Quetzal and Cambalache, Pérez has played with Son de Madera, Los Lobos, and Ozomatli.
Also known as Atomic Nancy, Sekizawa ran the Atomic Café, a popular hangout for punks in the 1970s and 1980s in the Little Tokyo area of Los Angeles. She was one of the original members of the band Hiroshima; she has sung with the choir of Los Angeles's First AME Church for seventeen years; and she has been a member of the Senshin Buddhist Temple's Kinnara Taiko and gagaku groups.
A local addition to the group, Mark Rooney is a composer and performing artist who teaches taiko (Japanese-style ensemble drumming) and directs two performing groups. Before relocating to the D.C. area, he was a member of Odaiko New England, played in groups in Japan, and worked for KODO Arts Sphere America.