Armenian Public Radio builds a bridge between contemporary musical styles and traditional Armenian music, bringing a new perspective to Armenian folk songs that have withstood the test of time. Based in Los Angeles, the acoustic trio has made it their mission to revive these songs in their community and introduce them to wider audiences.
The group's members grew up in California as children of families who emigrated from Western Armenia to Syria and Lebanon before coming to the United States. Living in a musically vibrant Armenian diaspora, these artists reinterpret the Armenian music of their childhood in an innovative and enthusiastic style which holds multigenerational appeal. Armenian Public Radio chooses their songs from a broad mix of genres and all songs are sung in Armenian, the language of their lives.
Musicians
Mher Ajamian, guitarist, percussionist
Ryan Demirjian, lead guitarist
Saro Koujakian, lead vocalist, guitarist
For some of their presentations, Armenian Public Radio was joined by members of TmbaTa, a youth folk rock band born from the music program of the Tumo Center for Creative Technologies in Yerevan, Armenia, in 2013. Led by Arik Grigoryan of The Bambir, they perform original compositions based on traditional Armenian folk songs combined with rock and experimental music. The group is comprised of thirty teens who learn all stages of music creation including composition, performance, recording, mixing, and mastering.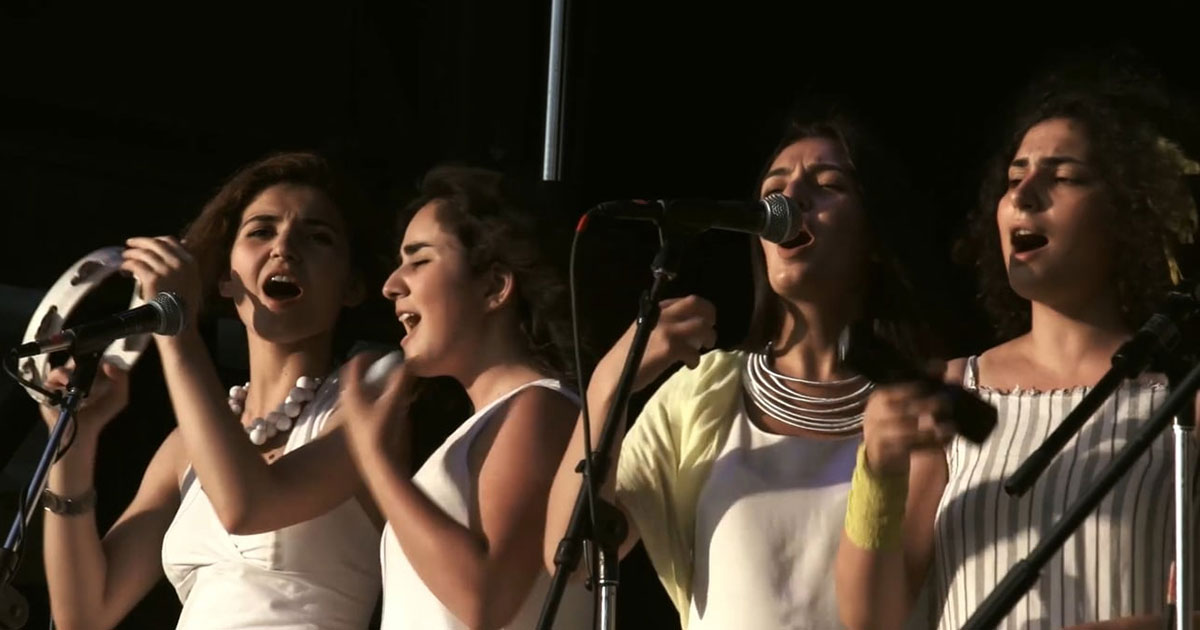 Tumo Center for Creative Technologies is an innovative after-school program where thousands of students aged twelve to eighteen are in charge of their own learning. Tumo is a partner in the Smithsonian's My Armenia project.
Musicians
Arik Grigoryan, artistic director
Amalya Hakobyan, vocalist
Tamara Atanesyan, vocalist
Lili Aleksanyan, vocalist
Kristine Yeghiazaryan, vocalist
Lida Gevorgyan, vocalist
Elen Atanesyan, vocalist
Alisa Sukiasyan, basssist
Astghik Makhsudyan, percussionist, vocalist
Jirayr Ter-Osipyan, guitarist
Artak Ghazaryan, flute player