How to Dance the FandangObon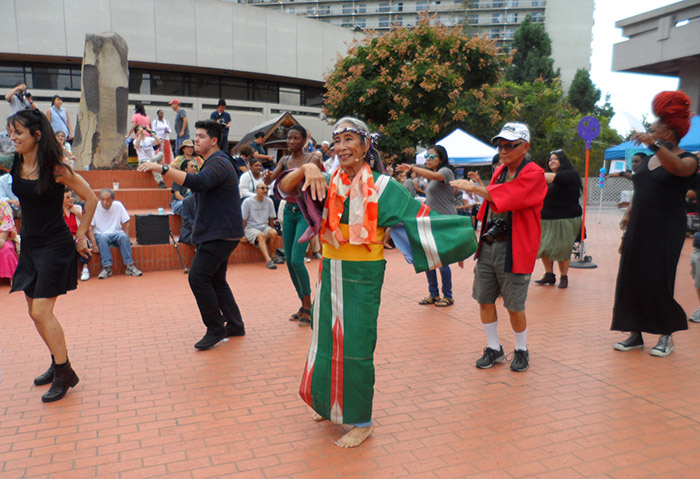 Summer in Los Angeles means it's time to go to as many Japanese American obon gatherings as I can, to join in the dances known as bon odori. "Tada odore!" we yell. "Just dance!" Leave your ego at home, and step into the circle!
Dance with us and learn how our sounds of California are a meeting ground between neighborhoods, ethnic groups, and immigrant histories. FandangObon is an intentional contemporary invention—an intercultural experiment and partnership between Japanese American and Mexican American artists who have deep roots in social justice work and traditional culture. It is a collaboration between Nobuko Miyamoto, Quetzal Flores, Martha Gonzalez, and any number of Los Angeles-based Chicanx and Japanese American community members.
Quetzal and Martha are well known for their expertise in the son jarocho tradition originally from Veracruz, Mexico, and they are role models for the fandango movement in California and beyond. A fandango is a community-based gathering of music and dance in which there is no fourth wall—everyone participates. Martha explains that its core value of convivencia ("coexistence") is a central aesthetic principle in community building that places importance on personal relationships, genuine human connection, and, as she puts it, "translocal and transnational artivism."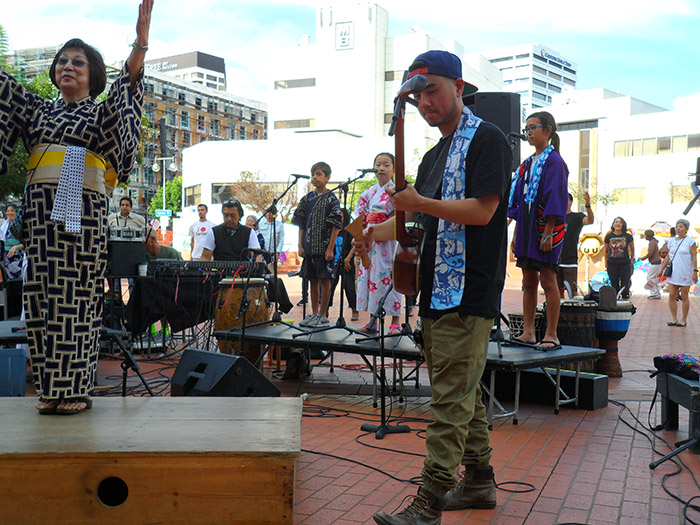 The Japanese American Buddhist tradition of obon honors ancestors through group dancing. It has striking parallels to fandango, emphasizing group participation, setting aside the ego, and respecting tradition while opening space for new music and dance.
Working closely and collaboratively with Rev. Mas Kodani in Los Angeles over many years, Nobuko Miyamoto has created a number of new obon dances and songs. She always combines old and new, drawing from the dance vocabulary of Japanese folk dance while addressing contemporary issues, especially environmentalism. She is a legendary cultural worker in the Asian American movement, known for her singing on the iconic album A Grain of Sand, recorded in 1973. She is well known in Southern California for her visionary ability to connect communities across difference through the arts.
Join us with FandangObon at the Folklife Festival! This is not "fusion" music and dance. Rather, it's a stirring, informed, principled, and beautiful model for how communities can spend time in one another's living rooms (as Martha puts it) and share stories. You will hear taiko, jarana, shamisen, fue, and more. You will hear singing in Spanish, Japanese, English, and a combination of all three.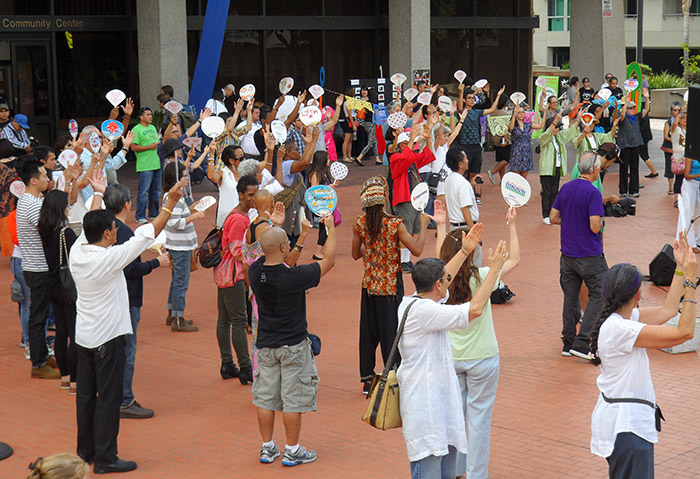 You will learn how to move your feet, your arms, and your spirit in ways that create new communities built on the contributions of our immigrant ancestors and families. In the hands—and feet—of these deeply community-based artists, I hear the sounds of California past, present, and future. This is tradition at its most dynamic, where deeply committed artists come together joyfully, respectfully, and intentionally to create shared community.
Deborah Wong is an ethnomusicologist and a taiko player. She served on the board of directors of the Alliance for California Traditional Arts for over a decade and currently sits on the Advisory Council for the Center for Folklife and Cultural Heritage. She teaches at the University of California, Riverside.