Sounds of Diaspora: Armenian Public Radio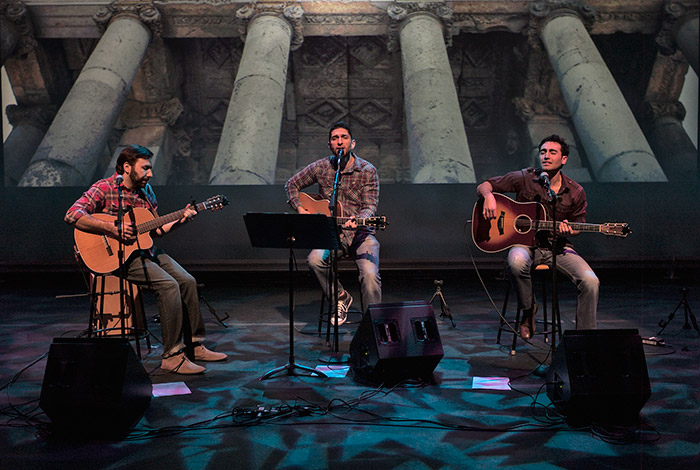 Despite its name, Armenian Public Radio is not an Armenian public radio station. It is an acoustic guitar trio that melds contemporary musical styles and the music of their homeland to create a new perspective to Armenian folk songs. It is a sonic bridge between past and present. Their songs are sung in Armenian, the language of their lives, and their history and music are intertwined with their heritage.
Armenians are one of the world's most displaced populations. The group's members— Ryan Demirjian, Saro Koujakian, and Mher Ajamian—grew up in California, born to families who emigrated from Western Armenia to the Middle East before coming to the United States. As they grew into adulthood, they realized that their generation no longer listened to traditional Armenian music, and they formed the group to bring those traditions into a modern, accessible context.
In preparation for their performances in the Sounds of California program at the 2016 Folklife Festival, guitarist and percussionist Mher Ajamian talked to us about the group's background, musical sound, and mission to revive interest in these folk songs.
How were you inspired to play music when you were growing up?
I think we were all very lucky, in the sense that we all had parents who were musically inclined, who supported and encouraged us to play music. My father plays the guitar, Saro's mom used to sing and even played the kanoun (a Middle Eastern stringed instrument similar to a zither or lap harp), and Ryan's father also played the guitar. So we all grew up in environments where musical instruments were handy.
Saro and I are first cousins, so we're tied together by family history. We took music lessons together as children, then in our teenage years we were in multiple bands together. My father had a big hand in supporting and encouraging those projects.
How did you put your stamp on Armenian folk songs?
I think our sound is the result of a combination of a few different factors. For most of my life, I've been a percussionist, so I still think like one. Even though I play guitar, whether it's through the arpeggio picking, strumming, or tapping on the guitar, I still consider myself the timekeeper in the band.
I've listened to a lot of music from around the world, so there is a lot to draw from rhythmically from the music database in my head. But then we all grew up listening to a lot of grunge music, and we draw from that style of music with the soft verses and the loud choruses.
So Saro, who's our lead vocalist, on guitar his main role is to add dynamics and volume where we need it. What I find most important is Ryan's lead guitar, because he draws completely from the blues/rock scales to come up with his melodies. So we're always singing the original melody of the song, but we're often playing around with the time signatures. For example we'll take songs that are typically done in 6/8 and play it as a 2/4, and we're surrounding the vocal melody with intros, solos, and bridges that are our creation. Our goal is to create a bridge for our peers that have grown up listening to Western music to discover the cultural music of our homeland.
How do you choose what songs to play?
We usually start with, does it sound good to us, does the melody sound sweet to us. We have such a vast canon of music that we have the luxury of being picky. Then it comes down to, how can we make this song our own? Not every song lends itself to our style. Lastly, we try to get some variety. There are love songs galore, but we try to incorporate other numbers that deal with the love for our motherland, a song about fathers, a song about mothers, some songs about birds. We try to find songs that everyone knows and loves, and then we try to find a couple that are more rare and obscure.
As Western Armenian speakers, you are outnumbered in the U.S. by those who speak Eastern Armenian. Does your music still resonate with them?
It is definitely a challenge to understand and communicate with those that speak the Eastern dialect. But we Western Armenians, because we've been in the U.S. at least one generation longer, we've mostly switched to speaking English as the primary language. So we have to be thankful for the Eastern speaking ones, because they are keeping the dialect alive.
When we started the project, our target was definitely the Westerners, to kind of rejuvenate the love for our culture here in the States. But we have received great feedback from fans all over the world and very surprisingly from Yerevan and Moscow. I think our fans here understand the "American" part of our sound and are endeared by the "Armenian," and over there it's kind of the other way around, because they want to get close to the Western sound.
Within the last ten years or so, I've seen a lot of crossing of borders. Not just with us, but with Armenian musicians from here collaborating with Armenian musicians from Armenia, and a lot of interesting music has been created in the process. But this has all been the doing of the younger people. Our parents' generation suffers from a lot of snobbishness, from both ends. But it's nice to see our culture slowly moving past all that, and coming to a better understanding that we are two branches of the same tree.
What causes are particularly important to the band?
I think foremost for any Armenian is genocide recognition. What happened to the Armenians is a travesty. The importance of recognition for us as a band is not for reparations, but for justice. Injustices continue to happen today and we believe by recognizing the first genocide (of the twentieth century) it will help to bring awareness to similar atrocities being committed today.
That being said, we do not have a strong political platform for our band. The fighting we leave for our political leaders. We have often played at different events in honor of our fallen, but we like to let our music do the talking. There are a few songs we perform that deal with issues of the genocide, displacement, and longing. But on the flip side, we also have a very rich and long history. The genocide happened 101 years ago, but our history stretches back to before Jesus, so we also feel responsible for not having the entire narrative of Armenian culture be based around the genocide.
We believe that the job of music is to unify. So though Armenians have major political issues with most of our neighboring countries, musically we are not that different. We share a lot of the same themes, scales, and instruments. We have to serve as a reminder as to the value of resolving our issues, that we are all humans, capable of hurting each other, but also of loving each other. And we try to make sure that our music is about love.
I think the goal of the band is to represent our culture in the best light possible and help out our brothers and sisters in the motherland the best we can. We associate ourselves as U.S. citizens with Armenian as a cultural background. Generations before we might have considered ourselves as displaced, but we feel we have our place here in the U.S. Our hope as a band is to strengthen the branch of our culture that grows on U.S. soil.
Armenian Public Radio will play at the Sounds of California program on July 7 and 8. On July 7, they will be joined members of TmbaTa, a youth orchestra from Yerevan, Armenia, on the Ralph Rinzler Concert Stage for an evening performance.
Leah Bush is an intern with the Smithsonian Folklife Festival and the Sounds of California program. She recently completed a master's degree in American studies with a graduate certificate in museums and material culture from the University of Maryland, College Park.