In a mountainous country like Armenia, people have used stones since ancient times to build fortresses, temples, and houses. Freestanding stones were used as different types of cult objects and monuments, which were correspondingly shaped and engraved—from Bronze Age fish-shaped dragon-stones and phalli to medieval khachkar (cross-stones) and their numerous modern reflections.
Khachkars are unique to Armenia, where they are now a national symbol. Often used to commemorate an important event, mark a significant spot, or serve as a memorial gravestone, khachkars are typically freestanding upright rectangular stone slabs with a carved cross on the side facing west, so that worshippers and tourists regard them like a rising sun. Sprouting and blooming motifs—which make the khachkar a version of the Tree of Life—are prominent features.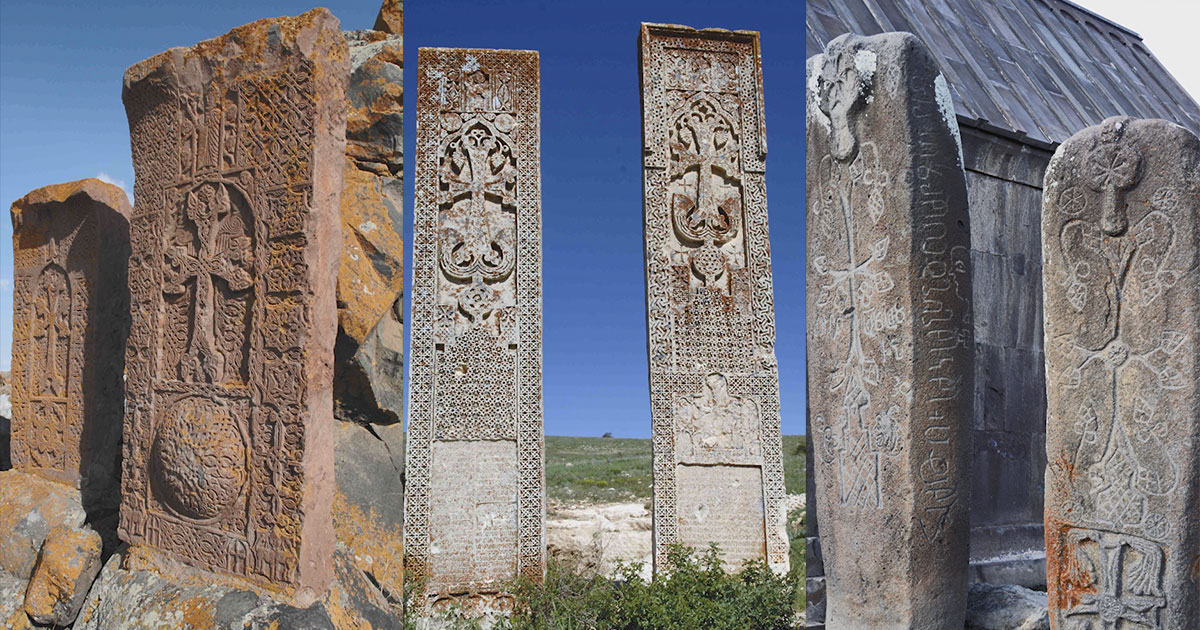 Khachkars first appeared in the ninth century CE, but their origins are still debated. Many scholars trace them back to the four-sided stone stelae, which had similar engraved crosses. These stelae were raised after Armenia adopted Christianity early in the fourth century. Other scholars believe that khachkars were originally a folk development of worshipping the cross. The Church then adopted these crude stone monuments and developed them into an elaborate genre, which survived until the late eighteenth century.
After a nearly 200-year gap, a khachkar-inspired memorial was raised in 1965 in Ejmiatzin, initiating a revival of the tradition in the early 1970s. Artists initiated this revival by using books and albums of medieval khachkars to create new samples. Medieval khachkar carvers typically followed the style of a local school; modern carvers compile their cross-stones from different schools and styles. As a result, an "ideal" khachkar might combine in one composition all the components (the fruits of the blooming cross, symmetric wings, rosette in the lower part, pairs of birds or heavenly luminaries at the top), each of which could be accentuated in one school or another. Today stone carvers often use the language of khachkars to express artistic and philosophic ideas rather than the traditional cross-stone.
In 2010, khachkarwas added to the UNESCO Representative List of the Intangible Cultural Heritage of Humanity.
FESTIVAL PARTICIPANTS
Ruben and Karen Ghazaryan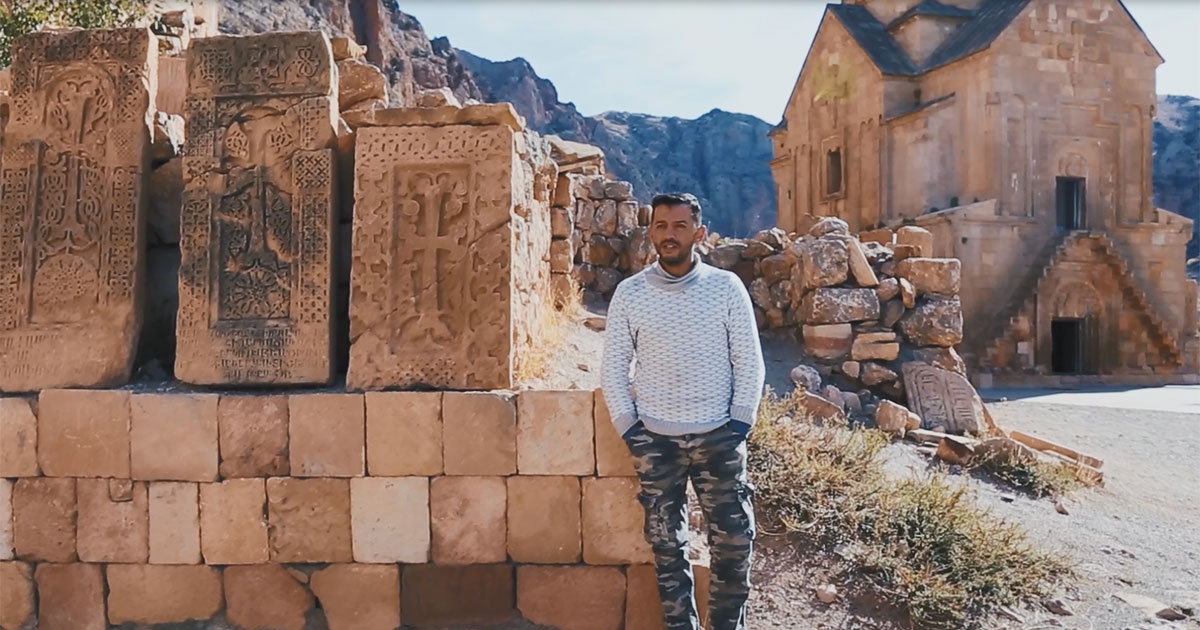 "There are no bad stones. There are bad masters. Stones are always fine."
Stone carver Ruben Ghazaryan worked for one year at the Noravank monastery, which dates to the thirteenth century, where he demonstrated and taught tourists the art of khachkar carving. It was there that Ruben found his teacher: Momik, the famous medieval master, architect, and stone carver who created some of the principal carvings of this monastery.
Ghazaryan prefers to work with a soft stone known as Momik, after the master—the same stone he used to build the walls of Noravank. Ruben and his brother Karen Ghazaryan, who learned the art of stone carving from Ruben, work in their kiosk outside the entrance to Noravank Gorge, near the Areni-1 cave. There they sell their works, demonstrate their craft, and offer visitors the opportunity to try their hand at this centuries-old Armenian tradition.
Bogdan Hovhannisyan and Gayane Manucharyan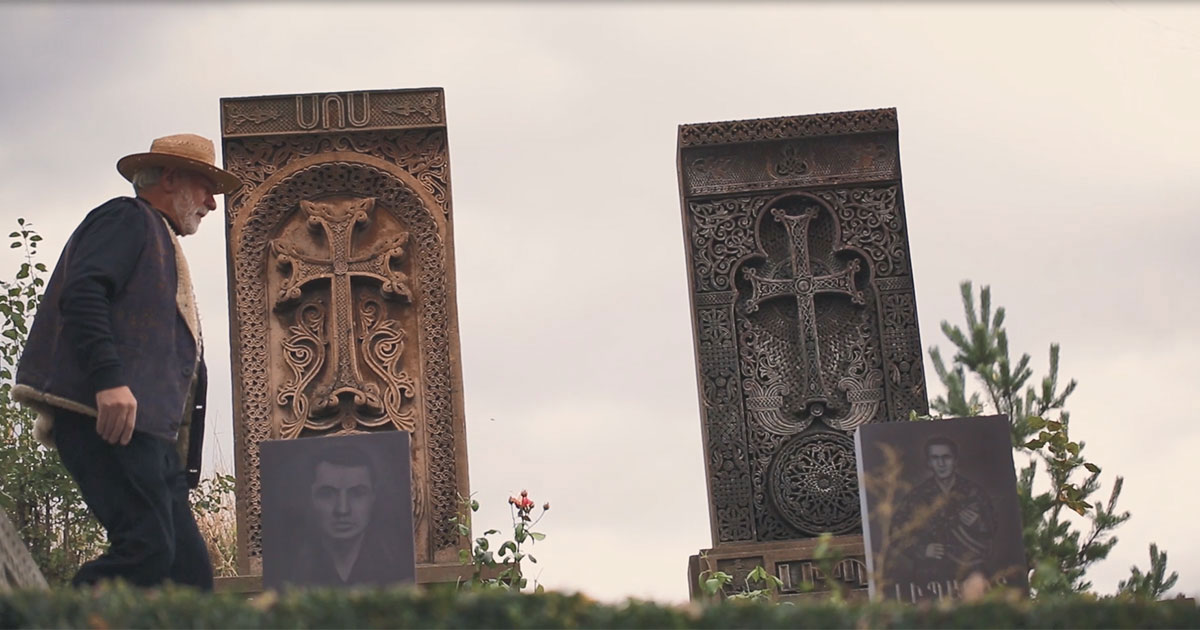 At Bogdan Hovhannisyan's workshop in Vanadzor, he and his apprentices maintain the centuries-old tradition of khachkar carving. Hovhannisyan teaches visiting tourists how to carve and create small sculptures from gypsum. As a young man, Hovhannisyan planned to become a painter, but while enrolling in the fine arts college, he mistakenly applied for the sculpture class.
He recalls, "My ancestors were dealing with stone. Grandfather was a mason, father was cutting stones in the quarry, so I will also follow the family tradition." Thus he became a stone carver who makes both traditional khachkars and artistic improvisations. "I have a lot of tools," he explains. "They work with me, they laugh with me."
Hovhannisyan also collaborates with painter Gayane Manucharyan to create book covers and wall hangings inspired by the illuminated manuscripts found in the Matenaderan Museum in Yerevan. Manucharyan helps Hovhannisyan with stone carving and also makes her own decorative stones. She represents the relatively small group of women stone carvers in Armenia.