Basque sports are an integral part of Basque identity. Springing from the traditional activities of day-to-day farming and fishing life, the competitive nature of Basque people created a series of unique sports that test strength, speed, and endurance. These sports, especially the rural sports or herri kirolak, took on new significance after the Industrial Revolution made their agricultural origins obsolete. Competing in these sports became a way to reconnect to their farmworker roots, a reminder of their shared past.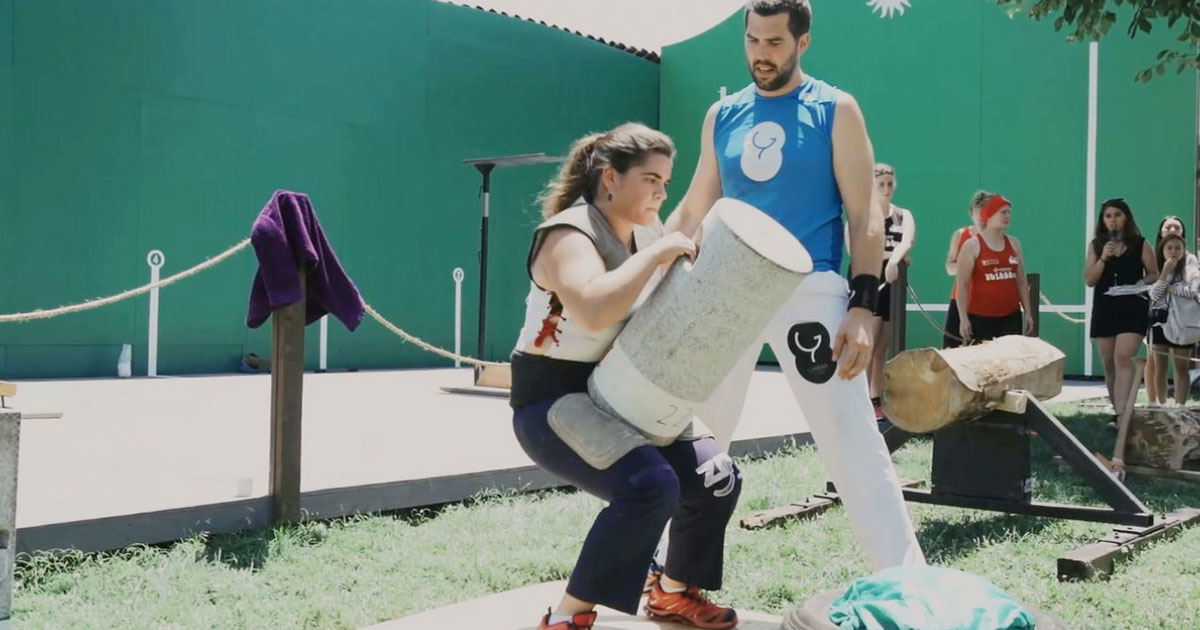 At the Folklife Festival Frontoia, Basque and Basque American athletes demonstrated nine types of herri kirolak, three variations of pilota (Basque handball), two versions of bola-jokoa (bowling), and rowing. Visitors will get the chance to try lokotx biltzea (corn cob racing), zesta-punta (pilota played with curved basket scoops), and bowling. Learn more about the sports and the participating athletes below.
Today, many herri kirolak athletes undergo specialized training. They compete in individual and team events at exhibitions and local festivals around Basque country and the United States. Women perform many of the herri kirolak, and most recently they have entered the male-dominated stone-lifting competitions.
Rural sports at the Folklife Festival will include:
harri jasotzea (stone lifting)
aizkolaritza (wood chopping)
tronzta (sawing)
lokotx biltzea (corn cob racing)
txinga (weight carrying)
ingude altxatzea (anvil lifting)
orga jokoa (cart spinning)
zaku lasterketa (sandbag/sack racing)
sokatira (tug-of-war)
Athletes Aitzol Atutxa Gurtubai, Batirtze Izpizua, Nerea Egurrola, Karmele Gisasola, and Idoia Etxebarria Kutza from Basque country were joined at the Frontoia by athletes from the New England Basque Club.
Pilota (Basque handball) is a game that involves throwing or hitting a rubber or leather ball against a wall. It is played in the two- or three-walled court called frontoia, and points are scored when opposing players miss a shot or cannot return the ball before it bounces twice on the ground.
The variations of pilota seem almost endless, as handball offshoots have traveled to every corner of the globe through Basque immigrant groups, but some include esku pilota (bare handed), paleta (using a paddle), and zesta-punta (using a curved basket). Spectators often bet on matches, a tradition that brought a high-speed version called jai alai to the casinos of Connecticut and Miami. No Basque American festival is complete without a pilota tournament, where sometimes teams from as far as Mexico and South Africa compete in this global and accessible game.
At the Festival, athletes from the North American Basque Organization Pilota club demonstrated the sport, and professional player Juanan Compañon "Konpa" from Basque country taught visitors a beginner version of zesta-punta.
Bola-jokoa, or bowling, is a traditional Basque pastime, common in the southern parts of Basque country. Geographical regions have their own variations, with differing number of pins, pin arrangements, and shape of bolatoki (bowling alley). Alleys are generally located close to churches or along the sides of Basque American boarding houses used by sheepherders in the American West. Until the nineteenth century, most neighborhoods had a playing area where locals would bet the price of their drinks on their bowling skills.
Juan Mari "Txirpu" Aurtenetxe is a skilled bowler from the village of Dima (Bizkaia). He also builds the traditional limestone bowling alleys, and consulted on the Folklife Festival alley constructed alongside Frontoia. He and Juanan Compañon "Konpa" demonstrated variants of the game from Aiara (Araba).
Estropadak, or Basque rowing, has its roots in the fishing and whaling traditions of the fifteenth and sixteenth centuries. The traineru boats needed to be strong enough to withstand the choppy waters of the Bay of Biscay and quick enough to catch fast-moving anchovies and sardines. Fishermen often raced back to shore to be the first to sell their catch, ensuring the best prices for their fish.
With the invention of the motorboat, Basques began using traineru exclusively for racing. Teams are made up of thirteen rowers, seated in pairs of two, and one coxswain who steers the boat and keeps the team in sync. Races normally cover a distance of 5.5 kilometers (3.5 miles).
Curatorial advisor Rikar Lamadrid Intxaurraga and pilota player Juanan Compañon "Konpa" led a mock rowing competition on the National Mall, with help from Catholic University of America's crew team. After hours, they were able to take their traineru out onto the Potomac River.