A Guide to Basque Rural Sports
Basque sports are an integral part of Basque identity. Springing from the traditional activities of day-to-day farming and fishing life, the competitive nature of Basque people created a series of unique sports that test strength, speed, and endurance.
These rural sports, called herri kirolak, took on new significance after the Industrial Revolution made their agricultural origins obsolete. Competing in these sports became a way to reconnect to farmworker roots, a reminder of a shared past.
At the Folklife Festival Frontoia, Basque and Basque American athletes will demonstrate nine types of herri kirolak. Here is a guide to edify your experience of these feats.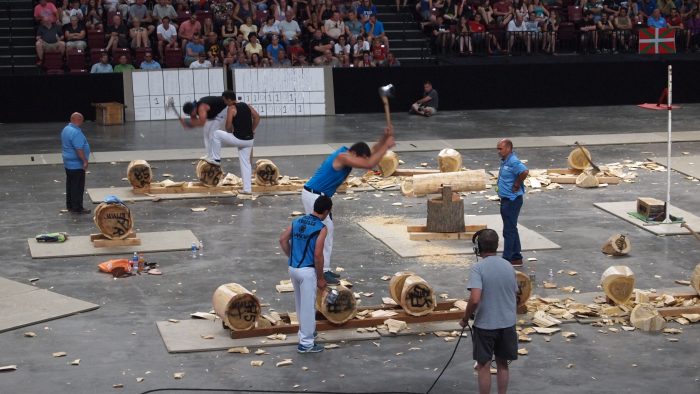 Aizkolaritza (Wood Chopping)
Competitors of aizkolaritza stand on the top of wooden trunks and use an ax to chop through them—usually between their legs! There are two variations: the first depends on strength and strategy, with the goal of chopping through the wood with as few swings as possible. The second is all about speed, with the goal of chopping through all the blocks as quickly as possible.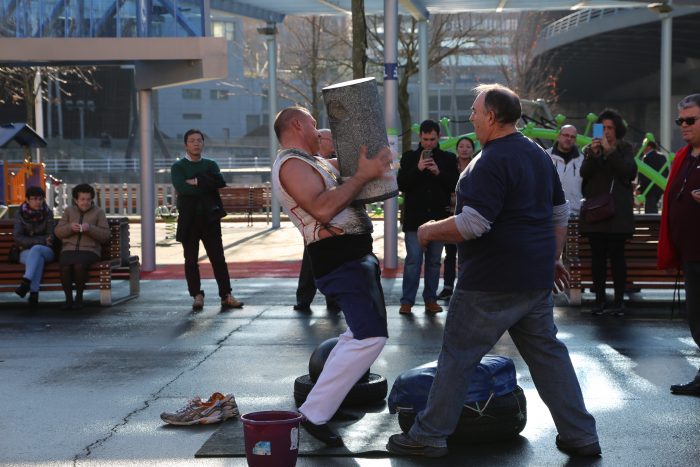 Harri jasotzea (Stone Lifting)
Competitors attempt to lift the heaviest stone onto their shoulder. There are five different shapes of stone:
1) Cylinder (zilindroa) = 100-125 kg (~220-276 lb)
2) Rectangle (laukikzuzena) = 125-212.5 kg (~276-468 lb)
3) Cube (kuboa) = 125-212.5 kg (~276-468 lb)
4) Sphere (biribila) = 112.5-125 kg (~248-276 lb)
5) Natural (irregular sizes with varying weights)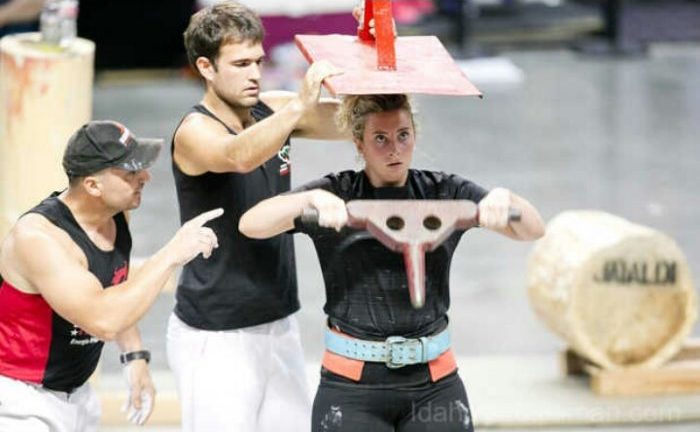 Ingude Altxatzea (Anvil Lifting)
The competitor lifts an anvil to touch a piece of metal above their head and then brings it down to touch the ground. The goal is to complete as many touches as possible with the 22-40-pound weight in a ninety seconds. This competition arose from the tradition of blacksmiths carrying their anvils when traveling.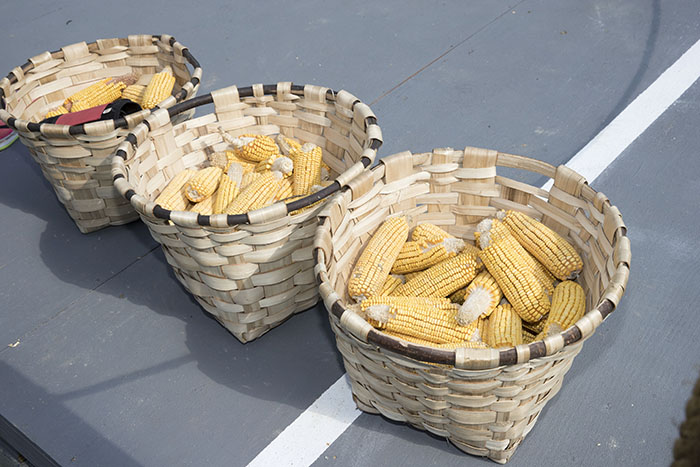 Lokotx biltzea (Corn Cob Racing)
This sport arose from the days when crops needed to be harvested by hand. Lokotx biltzea is a game of strategy. Up to 25 corn cobs are placed about four feet apart in a line, and competitors race to pick them up and return them to a basket one at a time.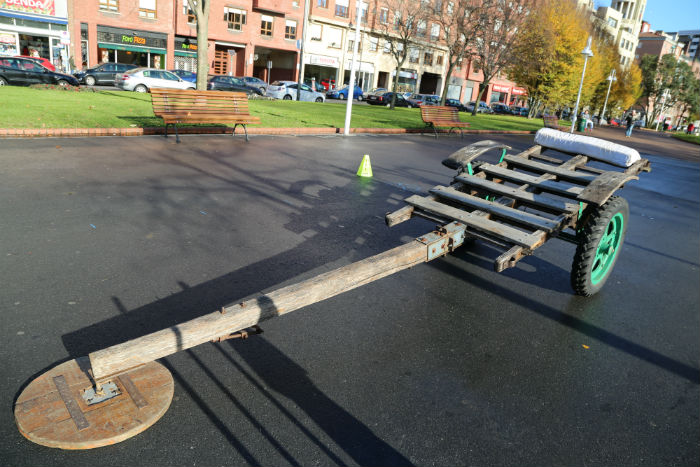 Orga Jokoa (Cart Spinning)
In this strength and endurance sport, a contestant picks up a cart (usually around 440 pounds) connected at the hitch to a pivot. The contestant carries it in a circle for as long as possible. Orga jokoa originates from farmers dragging their carts down rough roads.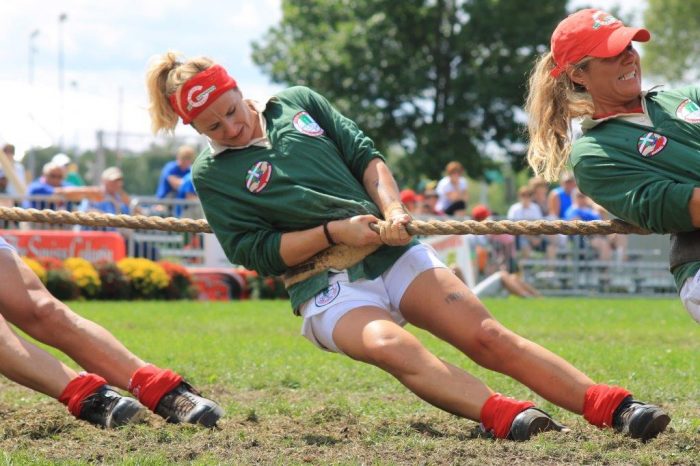 Sokatira (Tug-of-War)
In the Basque version of a classic game, teams of eight attempt to pull the opposing team over the line. The teams compete in three combined weight categories: 1,235, 1,411, or 1,587 pounds.
The rules:
• Players must use both hands
• They cannot step off the 6.5-foot-wide platform
• Teams compete against each other twice, switching sides to account for any advantages that one platform might have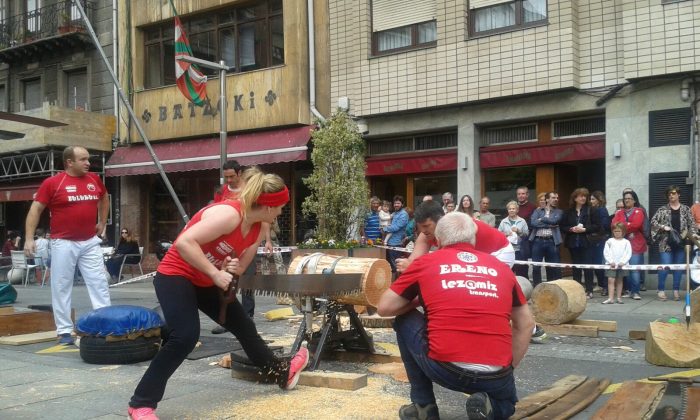 Tronzta (Sawing)
Teams of two cut 10 or 22 sections of wood with a two-person saw, as quickly and evenly as possible. Hand sawing to fell trees was a necessary part of life before the Industrial Revolution, as wood was needed for everything from cooking to shipbuilding.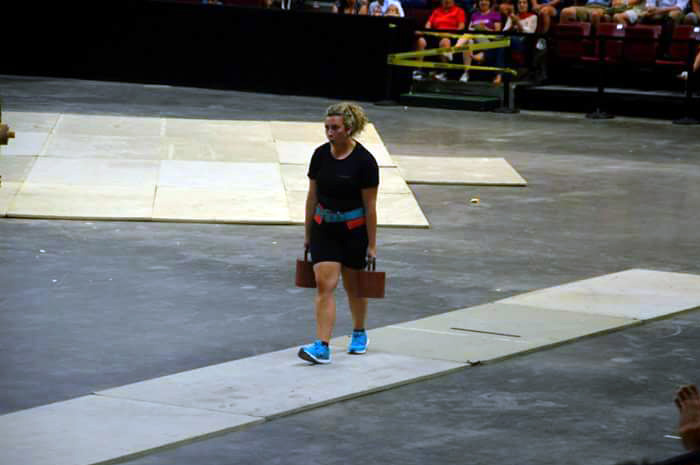 Txinga (Weight Carrying)
This sport originated in dairy farmers who needed to carry full milk churns. Competitors hold a weight in each hand and walk as many laps as possible of a 92-foot-long plaza. There is no time limit and the weights can weigh up to 110 pounds.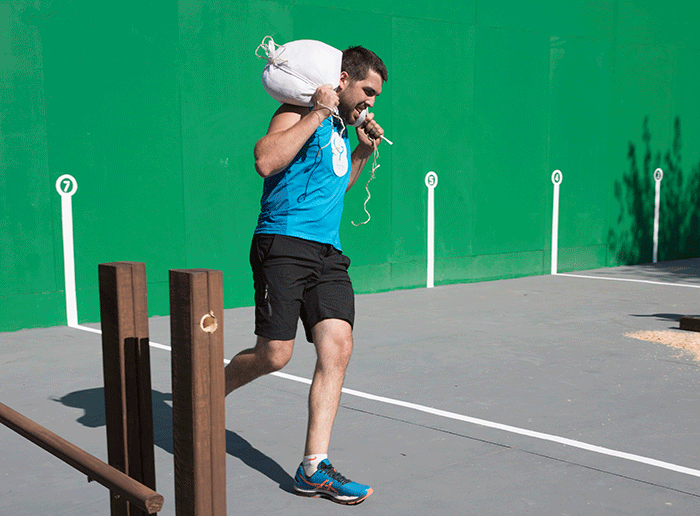 Zaku Lasterketa (Sandbag Race/Sack Race)
This name refers to either a children's game or an adult sport. The children's version is a potato sack race, where kids jump to a finish line in potato sacks. In the adult version, competitors race 131 yards while holding a sandbag weighing up to 176 pounds. Both can be done individually or in a relay. With unseemly origins, the sandbag races are thought to have stemmed from smugglers trying to avoid authorities while bringing goods across the Pyrenees.
Competitors from Basque country and the United States are demonstrating these various rural sports at the 2016 Folklife Festival until July 10. See the full schedule of events.
Caroline Diemer is a Basque program intern for the Smithsonian Folklife Festival. She is a student at Wesleyan University majoring in archaeology and College of Letters, an interdisciplinary major of literature, history, and philosophy, with a concentration in Spanish. She also plays on the university's volleyball team.