A Folklife Festival Guide for Kids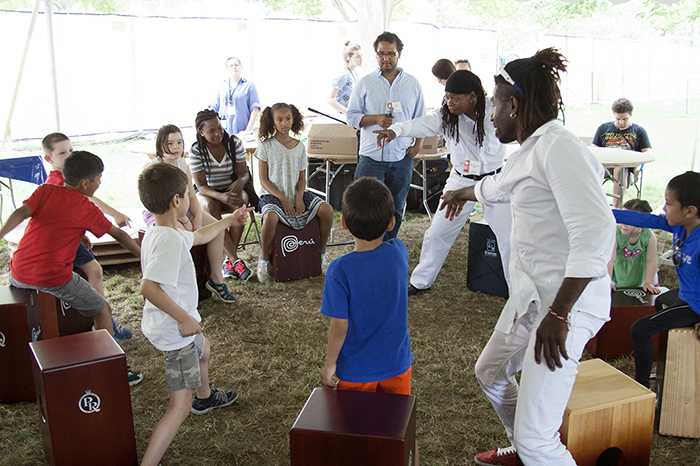 The Folklife Festival is all about cultivating curiosity, creating a space to hear, taste, see, smell, and explore new and unfamiliar cultures. We believe it's important to kick start this curiosity by exposing children to people and traditions from around the world, which is why the event is designed to engage even our youngest visitors.
Here is a short guide to a few of the activities and performances that have been especially popular with kids in the Perú: Pachamama program:
1. Scavenger Hunt at Wawawasi Kids Corner
Start your visit at the Wawawasi tent, an area designed especially for kids. All day you can find a variety of dance workshops, language lessons, memory games, coloring stations, and more. Grab a Festival guide and a scavenger hunt worksheet so you can answer questions about Peru as you go through the rest of the Festival grounds.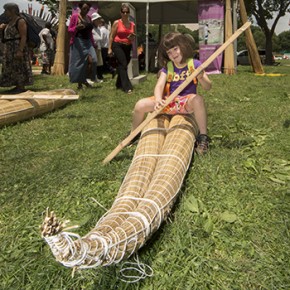 2. PHOTO OPP: Ride the Little Horse Rafts
Head south across the center of the National Mall to find the twelve Peruvian artisans groups. In the Caballitos de Totora Rafts tent, Ángel Piminchumo will show you how he builds these "little horses" rafts from reeds, and Mateo Valderrama will show you how to ride them like surfboards!
3. Play a Beat on the Cajón
Next door in the Afro-Peruvian Music and Dance tent, the Ballumbrosio brothers can teach you how to play the cajón. Take a seat on this box-shaped drum and slap away on its sides. Want to take one home? The drums are available in the Festival Marketplace in adult and junior sizes.
4. Try the Peruvian Juices
Now it's time to hydrate! At Kikiriki Peruvian Cuisine, you can pick up a cold chicha morada, a punch made from purple corn, pineapple juice, and cinnamon. It may sound unusual, but it's a Peruvian favorite. El Carbonazo Charcoal Chicken also offers juga de maracuyá (passion fruit juice).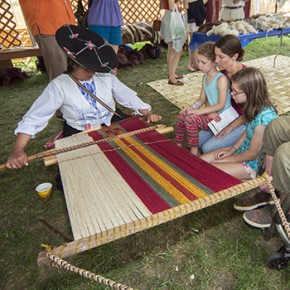 5. Watch the Weavers
Bring your beverage to the Cusco Textiles tents to watch master weavers work away on rainbow-colored cloths. Kids have been mesmerized by the intricate movements, and they will enjoy matching up yarn colors to the natural sources of their dyes—things like vegetables, flower petals, and pill bugs!
6. See Bows and Arrows in Action
Check the schedule in the Festival guide for the daily Wachiperi archery demonstration. The men of this remote community in the Peruvian Amazon use hand-carved bows and arrows to hunt small mammals, birds, and fish. Their presentation begins at La Plaza and then moves in front of the Ralph Rinzler Concert Stage with plenty of open space for arrow shooting.
7. PHOTO OPP: Join the Masquerade Parade
In the Fiesta de la Virgen del Carmen de Paucartambo tent is our largest group: eighteen masked dancers and musicians who can often be seen processing through the Festival. You can try on one of their masks or join in their parade as they head to their performances at La Plaza or La Juerga Stage.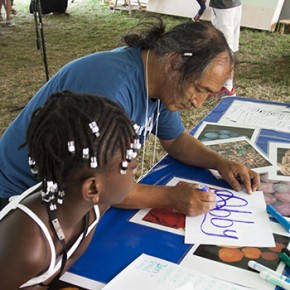 8. Meet the Lima Street Artists
Want to take home a souvenir? If you catch Pedro "MONKY" Rojas at the right time in the Urban Art and Music tent, he has been painting visitors' names in his signature chicha style. While you're here, try your hand at the manguare tree trunk drums, a traditional Amazonian instrument that painter Brus Rubio has carried into a contemporary context.
9. Taste the Tropical Fruits of Peru
It's probably time to cool down again, so head to the Firenzes Artisanal Gelato stand on Jefferson Drive, where you can try the sweet treat in a few of Peru's "superfruit" flavors: lucuma (some say it tastes like butterscotch), chirimoya ("custard apple"), mango, guava, or passion fruit. Want to keep it simple? There's dark chocolate too!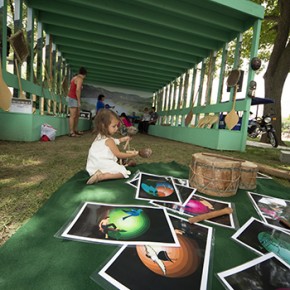 10. Hear Music and Myths of the Amazon
Once you have your gelato, take a seat at the Radio Ucamara studio to hear people from the Kukama community share their songs—both traditional and hip-hop—and myths about their natural surroundings. The Kukama language is extremely endangered, so learn some phrases and help keep it alive!
At the end of your visit, don't forget to return your scavenger hunt sheet and claim your prize. There is much more to see at the Folklife Festival, so keep your eyes, ears, and minds open. Feel free to ask the artisans questions (interpreters are stationed at each tent), touch the objects, and sing and dance along!
Elisa Hough is the editor for the Center for Folklife and Cultural Heritage but just a big kid at heart.