Throughout Mexico, plazas provide open public spaces where people gather for fiestas, ceremonies, processions, parades, and other civic and religious events in villages, towns, and cities. The Folklife Festival has created its own version, La Plaza, where the cultural beliefs and practices of the Indian Wixárika, Téenek, and Comcáac communities are presented. In addition, the Chinelo carnivalesque dance troupe, accompanied by Banda de Morelos, the local band from their hometown of Atlatlahucan, Morelos, will start parades from La Plaza.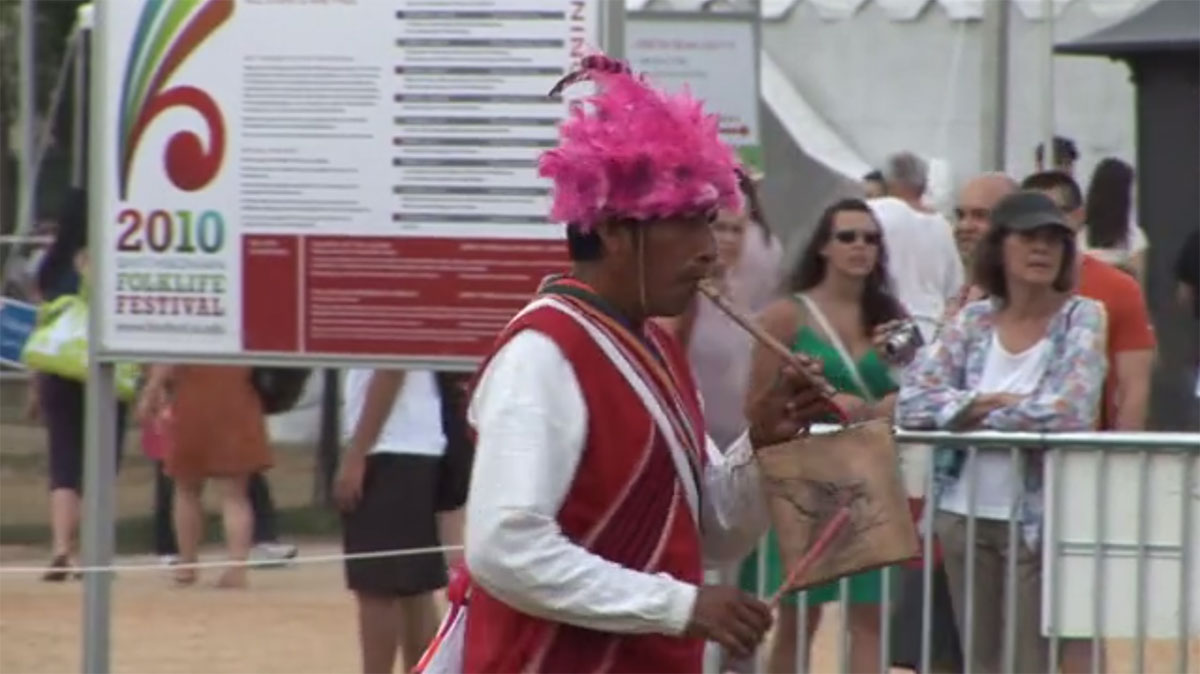 Plazas embody the center of public life reaffirming spiritual and social relationships and responsibilities. The ceremonies celebrated there place a community within the natural world and universe, and give coherence to its goals and values. Cyclic collective performances put into play the resources of the group, periodically affirming its existence and durability. These events give communities a way to express and renovate their own identities, while adjusting to changing social and economic pressures.
In today's mobile global society, many individuals who once lived in rural areas have migrated to cities in Mexico or the United States looking for work. However, at fiesta time they return—both to fulfill community obligations and to restore their own sense of place. In some cases, immigrants will recreate fiestas in their new hometowns.
Anthropologist Guillermo Bonfil Batalla best expresses the significance of these celebrations: "Their importance may be as moments that renew the group's identity and sense of permanence and thus the existence of the community itself."
Featured Groups
Wixárika
The ceremonial centers of the Wixárika—located throughout the states of Jalisco, Nayarit, and Durango—provide sacred spaces for the rituals that sustain their everyday life. Organizing across state lines among their various communities, Wixárika leaders have formed the Wixárika Ceremonial Centers Union for the defense and protection of their sacred spaces, which play essential roles in the group's social and cultural continuity.
Alejandro Severiano Carrillo Carrillo, Anselmo Carrillo Moreno, Macario Matías Carrillo, craftsmen
José Santos Carrillo Carrillo, Cristóbal Carrillo de la Cruz, musicians
Lucina Carrillo Carrillo, Susana Carrillo López, Demetria de la Cruz de la Cruz, Marcelina López de la Cruz, Basilia Muñoz de la Cruz, craftswomen
Jaime Carrillo López, president of the Wixárika Union's Vigilance Committee
Ramón de la Cruz Carrillo, marakame/shaman
Eleuterio de la Cruz Ramírez, Wixárika Union president
Francisco González de la Cruz, Felipe Serio Chino, Wixárika Union secretaries
Juan Ortiz de la Cruz, traditional governor
Chinelos de Atlatlahuacan, Morelos
The Chinelos are carnivalesque dance troupes that form part of Mexico's broad repertoire of dramas and masquerades drawing from European and Indian traditions. Costumed in elaborate velvet gowns and head dresses, masked Chinelos playfully mock the white Spanish colonizers of the sixteenth and seventeenth centuries. During community fiestas, they joyfully dance through the town accompanied by the local band, performing distinctive steps. For example, the tzineloa, which means hip shake in Náhuatl, purposely makes the Chinelo look awkward or disjointed, thereby adding to the ridicule. The Chinelos have become part of the identity of the state of Morelos.
Lucio Román Aranda Aparicio, Oscar Nazario Aranda Aparicio, Francisco Javier Aranda Arenales, Antonio García Ramírez, Ligorio García Ramírez, Rogaciano Clemente García Ramírez, Bertín Martínez Neri, Amado Torres Sánchez, musicians
Miguel ángel Fuentes Barrios, Luis Granados de la Rosa, María del Socorro Martínez Peña, Édgar Aman Martínez Rodríguez, Alma Delia Reyes Linares, Karem Rodríguez Pacheco, dancers
Edmundo Saúl Jahen Anzures, craftsman
Comcáac (Seri)
The Comcáac community of Punta Chueca is rich in basketry, carving, jewelry, fishing, and music traditions. The Council of Elders authorized Comcáac musicians to form Hamaac Cazíim, a group that performs rock music with traditional lyrics and language in an effort to engage the community's younger generation.
Juan de Dios Martínez Ibarra, second guitar
Jeremías López Félix, electric bass
Francisco Molina Sesma, vocalist, dancer
Anselmo Morales Astorga, first guitar
Diana Reyes González, coordinator
Israel Robles Barnett, director, drums
Silvia Irene Robles Blanco, Angélica Irene Romero Montaño, Mayra Alejandra Valencia Martínez, craftswomen
Téenek
The Téenek of Tamaletón in the Huasteca region of San Luis Potosí celebrate the Danza del Bixom Tíiw ceremony. This ritual involves "flying" from a pole, in honor of Dhipaak, the Lord of Corn, to ensure good crops. In a newly inaugurated cultural center, the Téenek also perform for tourists, inviting them to experience local ceremonial and foodways traditions as well as vernacular crafts and architecture.
Florentina Manuel Martínez, Hilaria Martínez Santos, María Concepción Méndez Orta, María Juana Santos Miramontes, Palo Volantín ceremony: dancers
Bernardino Martínez Santos, Rodrigo Martínez Zapata, Juan Reyes Méndez, Manuel Reyes Crisóstomo, Palo Volantín ceremony: flyers
Benigno Robles Reyes, Palo Volantín ceremony: director
Juan Miguel Santiago Reyes, Palo Volantín ceremony: musician, flyer