Mexican traditional son
The vigorous, danceable music called son lies at the heart of Mexican mestizo (or mixed race) culture. During colonial times (1521–1810), Mexican creoles and mestizos drew from the rich store of Spanish vernacular music in its Golden Age. They embraced rhythms, instruments, poetry, and forms, and transformed them into a uniquely Mexican array of musical traditions. The son, with all its regional variations, became the signature sound of an independent Mexico after 1810. And as the Mexican Revolution (1910–1917) catapulted vernacular cultural expressions to the forefront of Mexican life, the son was canonized as the "musical flag" of Mexican identity.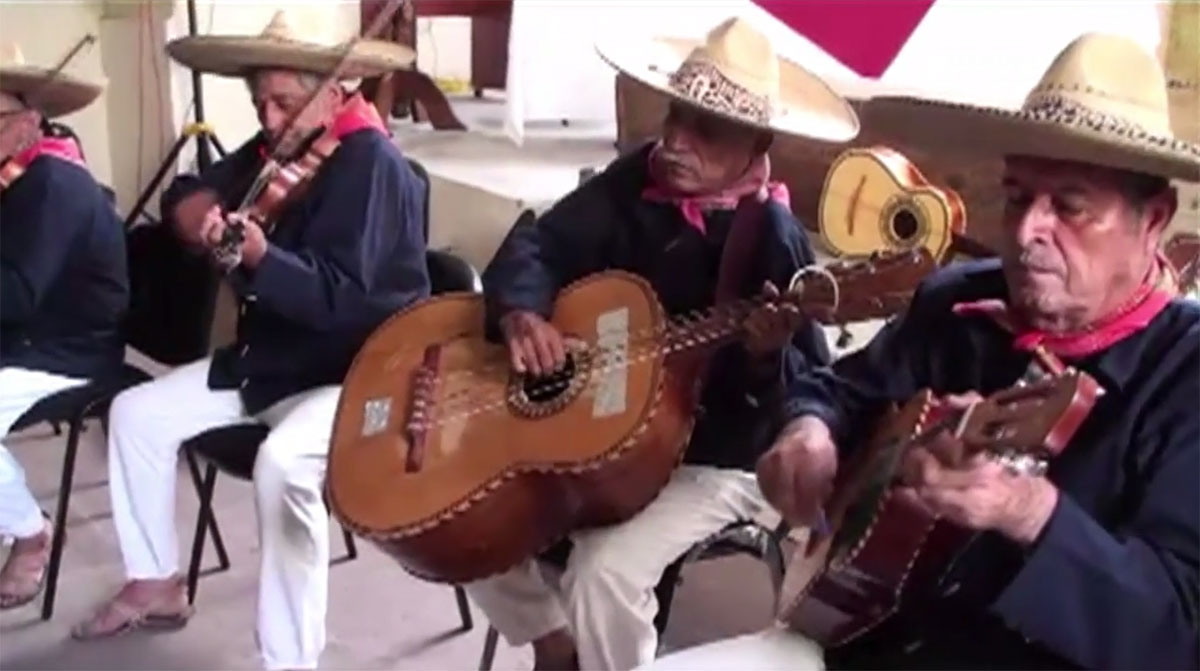 Featured Groups
Grupo de Fandango de Artesa Los Quilamos
The dance and music of the Grupo de Fandango de Artesa Los Quilamos from the southern coastal region of Oaxaca combine indigenous, African, and Spanish elements. Their repertoire includes traditional sones, as well as chilenas, a South American music and dance style probably brought to the area by Chileans traveling to California during the gold rush in the 1840s and 1850s. This group also performs as a trio by the name of Trío Santa Quilama featuring guitar, requinto and maracas.
Primitivo Efrén Mayrén Santos, director, musician, singer
Rosa Cruz Del Valle, Víctor Manuel Díaz López, Catalino Arlindo Mayrén Cruz, Julio César Mayrén Santos, Bianca Beatriz Palacios Hernández, dancers
Tirso Salinas Juárez, musician
Tirso Pablo Salinas Palacios, musician, fisherman
Dulce María Santos Sandoval, Juana Vargas Castañeda, dancer-singers
Los Verdaderos Caporales de Apatzingán
Long-standing ensemble, Los Verdaderos Caporales de Apatzingán, hail from the heart of Tierra Caliente, the flat hotlands of the state of Michoacán, known as the cradle of conjunto de arpa grande or big harp ensemble music. Violinist and director Ricardo Gutiérrez first brought his Caporales to the Smithsonian Folklife Festival in 1978, and they are proud to come back and represent the Tierra Caliente region.
Ricardo Gutiérrez Villa, director, violin
Taurino Duarte Murillo, arpa grande
Polito Juárez Barragán, vihuela
Isidoro Morfín Martínez, jarana
Manuel Pérez Morfín, violin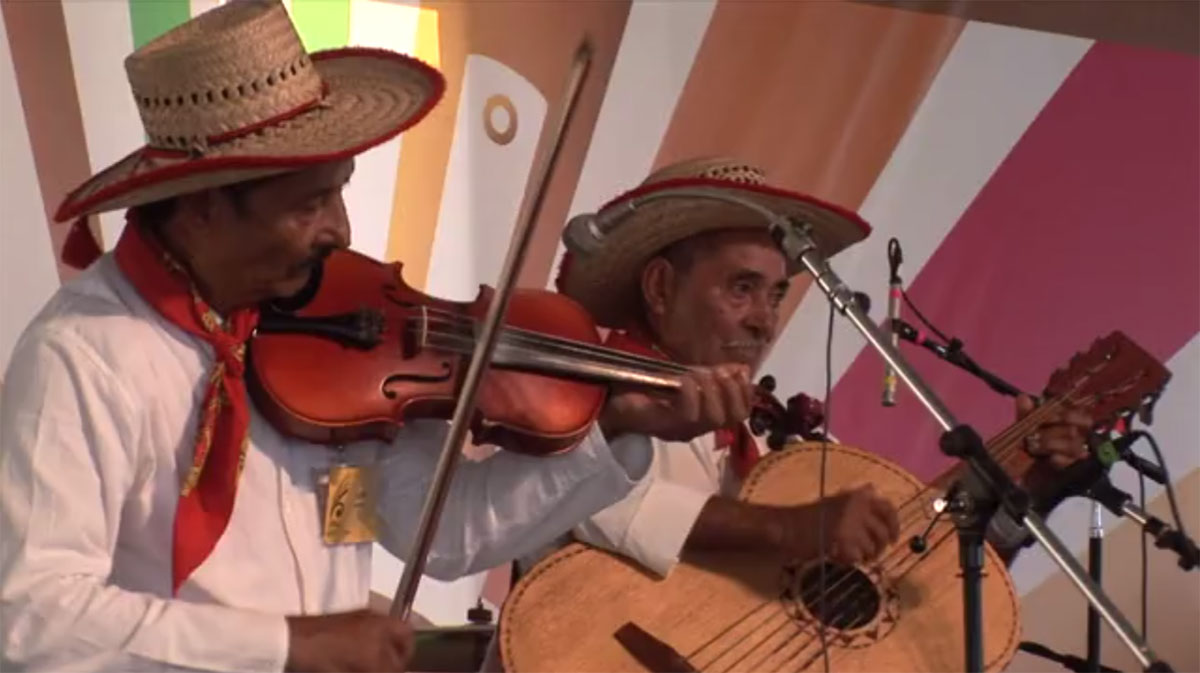 Mariachi Tradicional Los Tíos
The Mariachi Tradicional Los Tíos from El Manguito, a remote community in the Sierra Madre Occidental Mountains of Jalisco, boast a son repertoire distinctive to this region where mariachi music has flourished for more than 150 years.
Mayra Alejandra Hernández Salcedo, dancer, cook
Gustavo Salcedo Gutiérrez, vihuela, mechanic
Salvador Salcedo Sánchez, guitarrón, carpenter
Héctor Uribe Castillo, dancer, blacksmith
Juan Zavalza Sánchez, violin, carpenter
Fidel Zavalza Lepe, guitar, carpenter
Son de Madera Trio
The jaranero movement seeks to preserve and promote the traditional son jarocho of southern Veracruz. Its leading members include Ramón Gutiérrez, Patricio Hidalgo, and Rubí Oseguera. Ramón and Rubí are also well known members of Son de Madera, a music group that represents the current success in the movement and have collaborated with master verse improviser Patricio on many occasions.
Ramón Gutiérrez Hernández, guitarra de son, singer, jarocho, instrument maker
Patricio Hidalgo Belli, singer, jarana, musician
Rubí Oseguera Rueda, dancer
Laudero
Benito Hernández forms part of a mariachi ensemble in Varas, Nayarit, but is best known as a fine instrument maker. He builds vihuelas and guitarrones, the small- and large-bodied guitars typical to mariachi music.
Benito Hernández Villagrana, María Guadalupe Hernández Curiel, mariachi instrument makers
Cardencheros de Sapioriz
Los Cardencheros de Sapioriz uphold a dramatic, heart-rending a cappella singing tradition distinctive to the plains of the Comarca Lagunera region in the states of Coahuila and Durango. As Guadalupe Salazar, the bass voice of the group, explains, this tradition comes from the times when men gathered at the edge of town, after a day in the fields, to drink and sing. He continues, "To sing canción cardenche, you must feel it—it penetrates like the thorns of the cardenche fruit, which are even more painful when they are pulled out."
Genaro Chavarría Ponce, Fidel Elizalde García, Guadalupe Salazar Vázquez, Antonio Valles Luna, singers
Juan Francisco Cázares, presenter
Hamac Cazíim
With permission from their Council of Elders, musicians from the Comcáac community on the Gulf of California formed the group Hamaac Cazíim to perform rock music with traditional lyrics and language. The goal is to engage members of the younger generation in the history and culture of their own people.
Juan de Dios Martínez Ibarra, second guitar
Jeremías López Félix, electric bass
Francisco Molina Sesma, vocalist, dancer
Anselmo Morales Astorga, first guitar
Diana Reyes González, coordinator
Israel Robles Barnett, director, drums