Remembering Afro-Peruvian Musician and Festival Performer Catalina Robles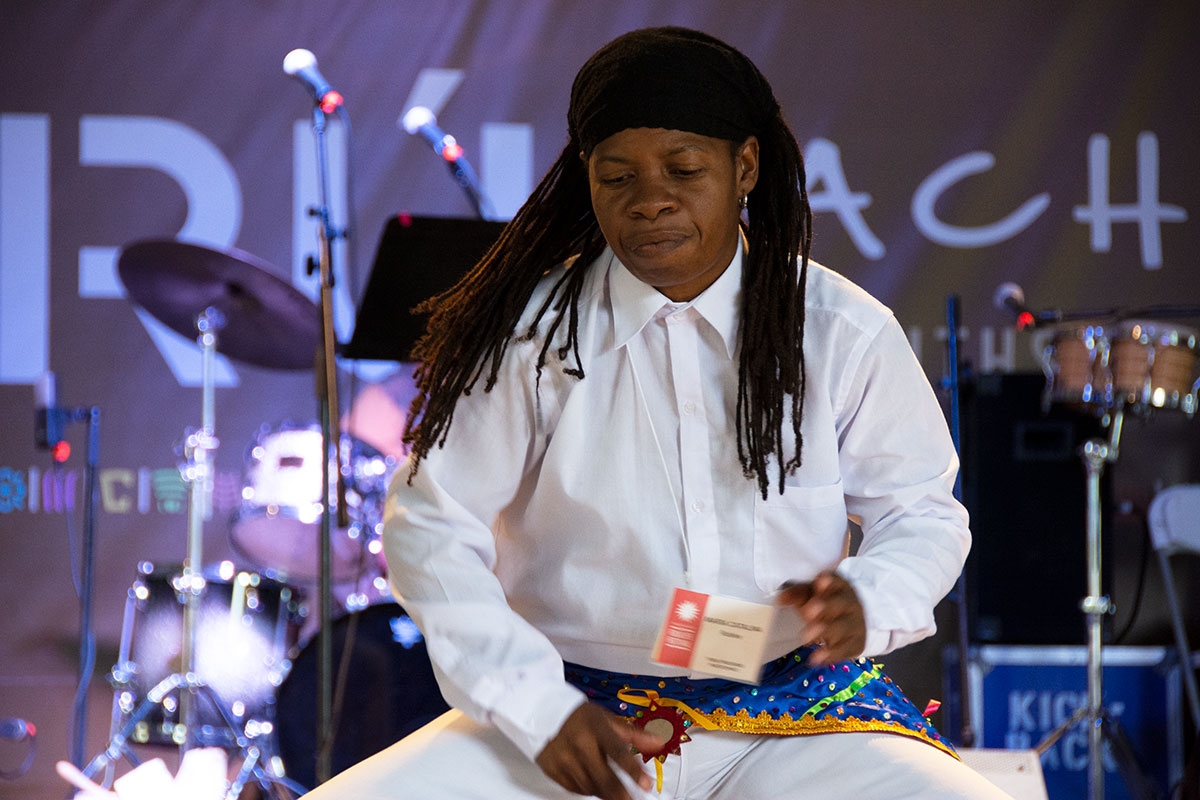 Our staff is mourning the loss of María Catalina Robles Izquierdo, renowned Afro-Peruvian musician and music educator. She passed away on November 26.
Born and raised into a prominent Black musical family in Lima, "Cata" was one of the most visible Black, female, LGBTQ percussion masters in Peru. Her career spanned over two decades of practicing, creating, and transmitting Afro-Peruvian musical traditions in her country and abroad. She was an integral part of the groundbreaking musical theater project Teatro del Milenio and a key member of the Afro-Peruvian musical scene. Most recently, Catalina was nominated for a Latin GRAMMY Award as part of the The Warrior Women of Afro-Peruvian Music project by Just Play.
The legacy Catalina leaves as a music educator and activist in Peru is equally important, especially her approaches to children's musical pedagogy and teaching children with different abilities. She was also a pioneer in the development of women-led bands such as the batucada Parió Paula and the band Ambiente Criollo, and of activist musical workshops in Lima. Catalina's students and colleagues fondly remember her as having a gift for sharing her musical traditions along with values of empathy and social justice.
Catalina was part of the Afro-Peruvian delegation featured at the 2015 Smithsonian Folklife Festival, offering daily cajón box drum and zapateo dance performances. She valued the Festival as a space that allowed her to forge connections with Afro-Diasporic artists and aficionados from different latitudes, encounters that continued to inform her anti-racist discourse and work throughout her life. The Festival staff remembers her as a warm individual and an exemplary artist, sharing her knowledge and music with the world.
Recordando a Catalina Robles, Música Afroperuana y Artista del Folklife Festival
Nuestro staff lamenta el fallecimiento de María Catalina Robles Izquierdo, renombrada intérprete y educadora musical afroperuana, acontecido el 26 de noviembre.
Nacida en el seno de una destacada familia musical afroperuana de Lima, y miembro de la comunidad LGTBQ, "Cata" fue una de las más reconocidas maestras percusionistas del Perú. Tuvo una carrera de más de dos décadas de cultivo, creación y transmisión de las tradiciones musicales afrodiaspóricas en el Perú. Fue parte integral del revolucionario proyecto musical y teatral "Teatro del Milenio" y una integrante central de la escena musical afroperuana. Recientemente, Catalina fue nominada al Grammy Latino como parte del proyecto "Las Guerreras de la Música Afroperuana" de Just Play.
Tan importante como su trayectoria de intérprete fue su legado como educadora musical y activista en Perú. Se dedicó arduamente a la pedagogía musical infantil y desarrolló metodologías orientadas a niños y niñas con habilidades diferentes. También fue pionera en el desarrollo de agrupaciones musicales feministas como la batucada "Parió Paula" y el conjunto "Ambiente Criollo", así como de talleres musicales activistas. Los alumnos y colegas de Catalina le atribuyen un "don" para compartir sus tradiciones musicales afroperuanas con valores de empatía y justicia social.
Catalina formó parte de la delegación afroperuana en la edición 2015 del Smithsonian Folklife Festival, ofreciendo conciertos y exhibiciones diarias de cajón y zapateo. Ella valoraba el Festival como un espacio que le permitió conectarse con artistas y aficionados afrodescendientes de diversas latitudes; estos encuentros influyeron su trabajo y su lucha antirracista. El staff del Festival la recuerda como una artista talentosa y entrañable que compartió sus conocimientos y su arte de manera ejemplar.