The Most Expensive Cheese in the World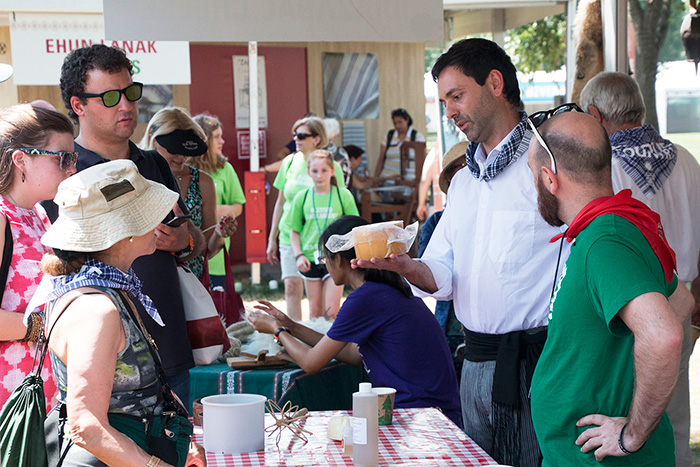 The Goiburu Murua family is part of a rich Basque tradition of sheep herding and cheese making. Eneko Goiburu Murua and his parents, Felix Goiburu Errazquin and Maria Carmen Murua Jauregui, work on the Ondarre Baserria farmstead in Gipuzkoa, where the family has been making cheese for more than six generations. Today they carry on the tradition, making and selling their award-winning Idiazabal cheese.
Idiazabal is a hard cheese produced only in the Idiazabal region of Basque country. It is made with milk from the Latxa sheep, a breed native to Basque country and adapted to its very wet climate. They produce low-quality, scratchy wool but high-quality milk. Idiazabal cheese is traditionally eaten as a dessert with apple and walnuts, or something sweet, such as quince jam. Now the cheese is used by renowned chefs of Basque country in a variety of dishes. Each year, the Goiburu Murua family makes 2,000 rounds of cheese, selling directly from their farm.
The Goiburu Murua family's cheese is strong and slightly spicy. One of the secrets behind this flavor is their rennet, the enzyme used to coagulate milk. While many cheese makers now use liquid rennet produced in labs, the Goiburu Muruas still practice the traditional method, taking the enzyme from the stomachs of un-weened lambs. This is dried and then dissolved in water before being placed in the milk to make cheese. This natural rennet is what gives the cheese its slightly spicy flavor.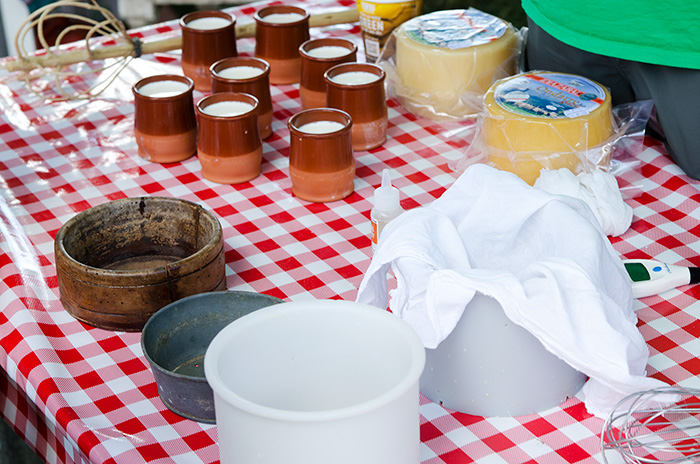 From Traditional to Artisanal Cheese
Eneko explains that twenty to thirty years ago, a shift occurred in cheese making culture. While there are many cheese makers in Basque country, until the 1980s, most produced cheese the traditional way but did not understand the process on a chemical level. In the 1980s, milk prices went down, and many sheepherders turned primarily to cheese to turn a profit. This sparked an interest in artisanal cheeses.
Eneko reflects that just like winemakers, cheese makers now need to know the science behind cheese making. For example, you have to regulate the temperature and the acidity of the milk as it is heated. This is essential to ensure that bacteria eat the lactose in the milk, turning it into lactic acid. Additionally, Idiazabal cheese must be aged for at least two months to be safe for consumption; this is the time required to remove any bad bacteria that may have been in the raw milk.
These methods were practiced by traditional cheese makers without knowing the science behind it. Now, cheese makers can use this knowledge to find new ways to enhance or alter the taste. For Eneko, he says every day follows a similar routine but is also very exciting because he is constantly working to figure out what exactly makes the cheese taste a certain way.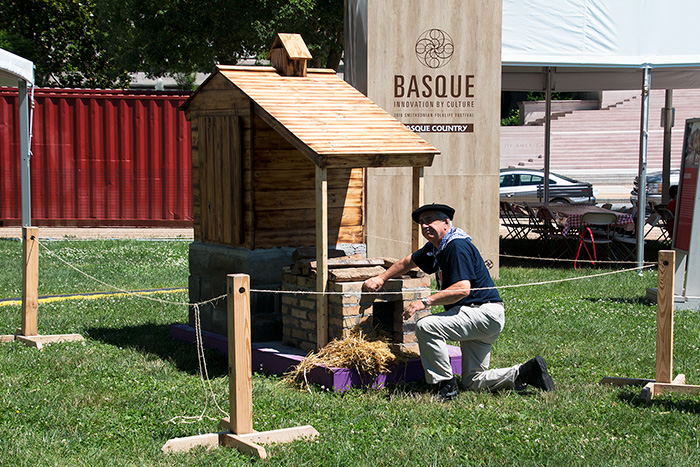 With the rising interest in artisanal cheese, Basque cheese competitions are also on the rise. The Goiburu Muruas attend three to four competitions a year. The most important competition takes place in the town of Ordizia, drawing seventy to eighty participants and numerous Michelin star chefs as judges. Felix won the competition in 1995 and again in 2014, while his father won in 1970.
"It's a gratification to your work to win something like this," Eneko says. "It's very important for us."
At the competition, half of the cheese is tasted and judged, while the other half is auctioned off, often going for very high prices. In 2014, the family sold 600 grams (1.3 pounds) of their cheese for €13,050, or approximately $14,000. As Eneko jokes, "It is the most expensive cheese in the world."
This year marks forty-six years of high-quality cheese production at the Ondarre Baserria. But for Eneko and his family, making cheese is more than a livelihood—it is a passion.
Shanna Killeen is a Basque program intern for the Smithsonian Folklife Festival. She recently graduated with degrees in English and Spanish, and she is currently working on a master's in English at Oregon State University.