Speaking with the Hand and the Eye: The Expressive Art of Victor Sitali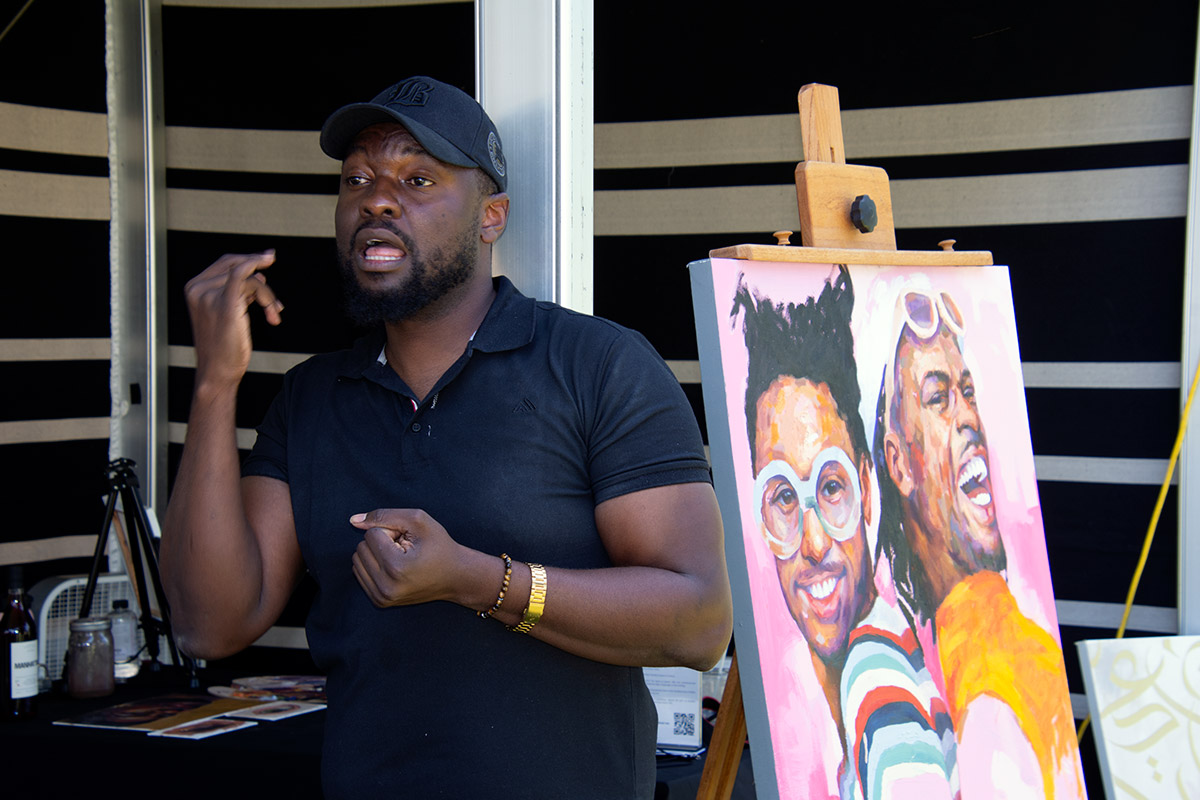 According to artist Victor Sitali, stories begin in the eye.
"It's always from the eye. It starts right there. And then you start to widen out and see the whole story."
On that summer day, Sitali, a featured participant of the Smithsonian Folklife Festival's United Arab Emirates program, led a sketching workshop for visitors. We sat down to draw—what else—a human eye, equipped with sticks of charcoal, charcoal pencils, and tortillons for blending. Sitali, Deaf since age three, communicated using a form of International Sign (IS). Festival interpreters simultaneously interpreted his words into both American Sign Language (ASL) and spoken English.
An eye, in Sitali's method, begins with a long, shallow curve for the top lid. Follow it with another curve, mirrored below, then add a semicircle for the iris and another for the pupil. As an artist myself, I was tempted to rush ahead with my own method. But I listened to Sitali, placing myself in the role of student again. I felt the familiar form of an eye take shape through slightly unfamiliar motions. Sitali made small adjustments to our work: blending a line here, darkening one there.
By the end, my whole hand was covered in charcoal, the pads of my fingers blackened completely. On the sketch paper in front of each of us, I saw an eye—for someone, perhaps the beginning of a new artistic journey.
*****
Charcoal isn't Sitali's main medium. He's a painter, preferring oil and acrylic on canvas. He has experimented with other media, but nothing creates a "fire" in him like painting—specifically portraiture.
"My artwork started out with landscapes," Sitali explained to me after the workshop. "I painted animals. I would do still-life paintings." What really captured his attention was faces. His portfolio is full of them. "That's where my heart is. You can see feelings. You can feel connections with people. It's from the heart directly to the face."
It took some time for Sitali to develop his own style. "I studied all these different masters, and I would practice. I started to tie it all together and develop my own style, my own approach. I didn't want to copy or mimic someone else's art. That's not the kind of artist I wanted to be."
At the Festival, he worked on a portrait of Sheik Zayed, the late founder of the UAE, where Sitali currently lives. The portrait was to be a gift to the UAE Embassy in D.C. I checked on the painting each day, and each day it progressed noticeably. Overnight, Sitali would push the values and layer more colors onto the skin, making the sheik's face come to life. Patches of bright colors are something of a signature in Sitali's portraiture—he'll brush on strokes of blue, green, pink, and orange to breathe vitality into the skin. The color, Sitali said, is a relic of his home country, Zambia.
"In Zambia, it's a very colorful, vibrant culture. So growing up there, I would copy what I saw in my environment."
*****
When Sitali was sixteen, his family moved to join his father in the UAE. He had never even heard of the country before, he said—but it was in Dubai that he would find his true calling.
Sitali did not receive art instruction in his childhood. It wasn't offered at the deaf school where he studied. In Dubai, however, he was able to join Mawaheb, an art studio for People of Determination (the Emirati government's term for people with disabilities). He does not consider himself disabled; he is Deaf.
At Mawaheb, it became clear that Sitali had a gift, and his skills quickly improved. It was there that he met his mentor, Gulshan Kavarana. She guided him through the process of learning to paint. Even when he didn't believe in himself, Sitali said, Kavarana believed in him. They remain close to this day. Kavarana helped him with the transition to life as a professional artist, for example, by brokering commissions.
As his interest in art grew, fostered by his time at Mawaheb, Sitali decided to pursue his craft more seriously. This led him to British artist Trevor Waugh. In 2012, Waugh came to Dubai to lead a workshop. Sitali took the chance to approach him and show his work.
"He was kind of afraid when he met me, just because I'm a Deaf person," Sitali recalled. "Communication was difficult." But Sitali knew this wasn't an opportunity to pass up, and he was determined to become Waugh's mentee. Fortunately for Sitali, "He really liked my work. He felt inspired by my work and inspired by me—I hope."
Sitali began a partnership with Waugh. He learned more formal art skills, but he also learned about life as a professional artist. Being an artist is a risky financial undertaking. It requires business savvy. Sitali had to move to the UK for three years to work with Waugh. This was a big financial decision for him, but it was worth it.
"I learned so many different techniques, including portraiture. I also learned how to do this in terms of the process of actually selling art, producing art. I still connect with Trevor all the time, and I'm still studying. Every day is a learning process."
Now, Sitali is a teacher himself, leading workshops in Dubai. Kavarana, who was also a guest at the Festival, said he has an amazing amount of patience, which allows him to work well with both children and adults.
"Art is not a mystery," Sitali said. "It should be provided in terms of education, and you should be able to make money doing it, if you want. As an artist, you're representing yourself, who you are as an individual." That is an opportunity he wants to give to all who are interested.
*****
The Folklife Festival brought Sitali to the United States for the first time. He was impressed and pleased by the number of people he met who knew how to sign.
"In the UAE, there's no emphasis on interpreter access or even education about deafness. I've just been amazed that people here will just come up to me and start signing. It's been very engaging being here."
At the Festival, he had constant access to a team of interpreters, which allowed him to communicate with both ASL users and English-speaking visitors and staff. As I spoke to Sitali, one interpreter translated my words into ASL. Another interpreter then translated ASL into IS for Sitali. When he spoke to me, the process went in reverse, with an additional translator voicing for him.
Sitali emphasized the importance of deaf education, both for hearing and deaf people.
"We should be able to teach each other how to communicate. There are avenues where we can teach people how to sign." Sitali himself has taught sign language workshops in the UAE. "We can communicate, and there shouldn't be a natural fear of deaf people. I think that in Dubai, what we need to get rid of is the natural fear."
Washington, D.C., is home to Gallaudet University, the only university in the world that provides one hundred percent of instruction and services in sign language. It is an incredible resource for the Deaf community. Sitali expressed that he one day hopes to attend its art school. With generous support from the UAE Embassy in D.C. and encouragement from friends in the UAE and at the Festival, his wish may someday soon become a reality.
"I just feel inspired being here," he said. "The entire experience has made me want to see more, learn more—seeing all the museums around here, seeing all the beautiful artwork that's just everywhere."
Sitali is currently a resident artist at Tashkeel Al Fahidi in Dubai. His next goal, however, is to own his own gallery and studio. After that, who knows—he might even open an art school.
*****
At the Festival workshop, no one in my group really knew how to sign. We communicated as best we could with thumbs-ups and smiles. I tried to deploy one of the few signs I know—"thank you"—when appropriate. Still, we got to know each other through the language of art. Visual art makes an interesting analogue to sign languages—they each engage the hand and the eye, communicating without spoken words.
"On a canvas, everything is white," Sitali said. "You start with something no one can really understand. Then, you might just throw a face on the canvas as you start to layer the paint colors and develop your subject. You can see that there's a story being told, and you begin to see past the eyes."
"Sometimes art is a language itself," Sitali continued. "Someone might look at a painting and see something totally different, but I could still look at it and see what I was trying to say."
Art allows us to speak to each other without words. It is also flexible, multivalent—in one painting, there is room for both the artist's thoughts and those of the viewer. Together, artist and viewer craft a story—one that begins, of course, in the eye.
Sophie Henry is a writing intern at the Center for Folklife and Cultural Heritage and a senior at Yale University. She is majoring in the history of art and also studies Spanish, German, and chemistry.