Emerging Melodies: A Lesson in Collective Songwriting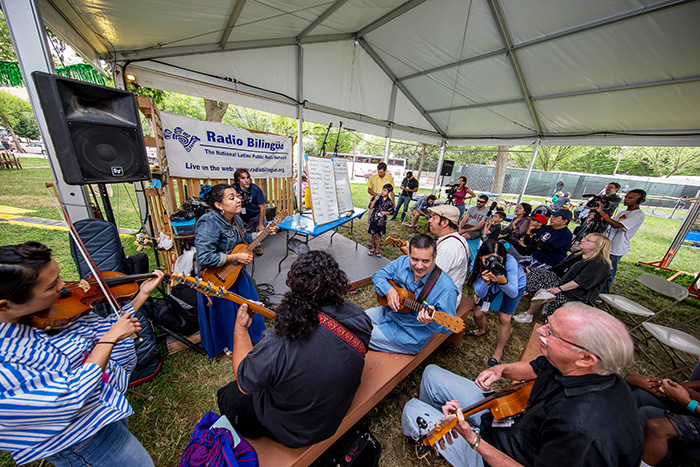 The process of writing a song has always seemed daunting to me. Especially at the Folklife Festival, surrounded by wildly talented musicians steeped in generations of tradition and bursting with innovative ideas, I can't even imagine how to begin.
I think many Festival visitors felt the same way on the morning of July 3, sitting down to a Sounds of California session called "Collective Songwriting Workshop." And I think we were all a bit shocked to see that a eleven-year-old boy was leading it! Sandino González-Flores, son of Quetzal Flores and Martha González from the Smithsonian Folkways band Quetzal, confidently took the microphone and got us started.
First, he had everyone call out words, whatever resonated in the moment. The first word: "Festival!" Quetzal transcribed everything to a whiteboard. Although we started out shy, soon there was an outpouring of very Folklife themes: "making peace," "countries," "communities," "colors," "friends," among many more. From there, together we teased out more developed thoughts and phrases. Quetzal organized these into lyrics, making the executive decision to nix a non sequitur about gooey pancakes.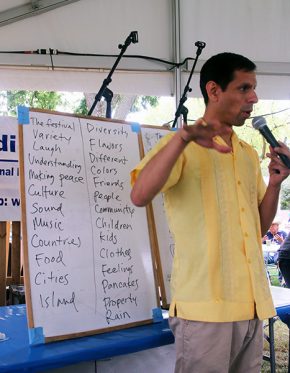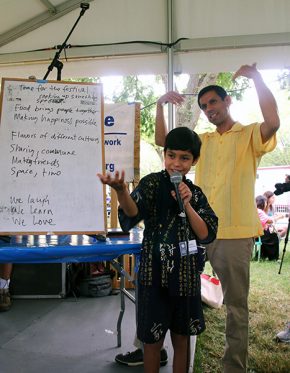 Meanwhile, in the corner, the band was cooking up their own tune, quietly arranging our accompaniment. Quetzal bandmates Martha on jarana, Juan Perez on bass, and Tylana Enomoto on violin were joined by Smithsonian Folkways director emeritus Daniel Sheehy, presenter Russell Rodriguez, and luthier Ramón Gutiérrez also on jarana.
As they presented their results, Sandino read the lyrics in an even tone, inviting the audience to suggest a melody. One young boy was too bashful to come to the stage, but he sang aloud when Sandino brought him the mic.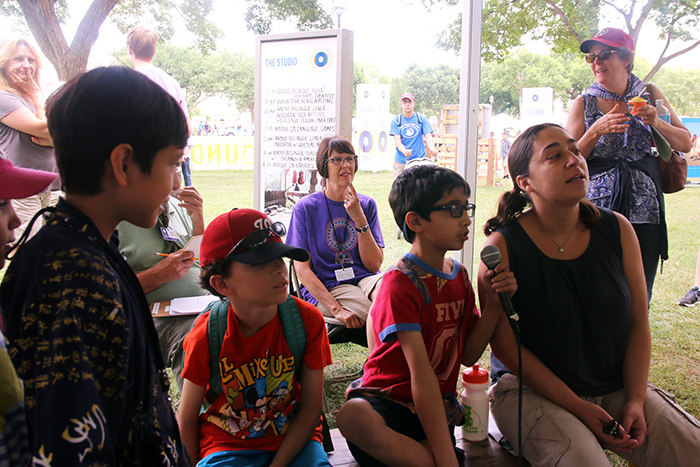 In this recording, you can hear a little bit of the process of collective songwriting and the premier of—what I am taking the liberty to title—"Time for the Festival."
Audio
Time for the Festival
Cooking up something special
Food brings people together
Making happiness possible
We laugh, we learn, we love
After the sing-along, visitors suggested more elements, adding a two-part harmony to the chorus and a jarana solo. We ran out of time before getting to the second verse, but I think everyone came away with a sense of amused accomplishment and the inspiration to create and collaborate.
Elisa Hough is the editor for the Center for Folklife and Cultural Heritage. Sound recording by David Walker.
The 2016 Sounds of California Smithsonian Folklife Festival program was co-produced with the Alliance for California Traditional Arts, Radio Bilingüe, the Smithsonian Asian Pacific American Center, and the Smithsonian Latino Center.