A Day in La Cueva with Grupo Nuu Yuku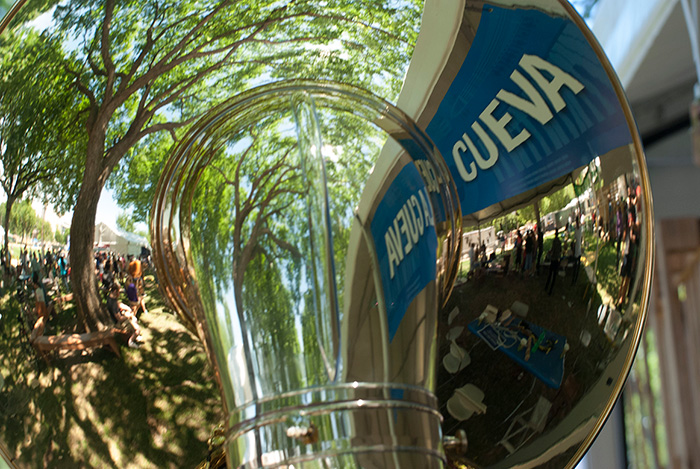 Set beside the Sounds of California Stage & Plaza, La Cueva was a space for musicians to show their related crafts: mask making, instrument building, and whip braiding. Two 2016 Smithsonian Latino Studies Program fellows, Verónica Rivera-Negrón and Fernanda Espinosa, spent a day there with Grupo Nuu Yuku, whose members are from the Mixteco migrant farmworker communities of California's San Joaquin Valley.
They interviewed the artists and assisted them in their presentations. Below are their reflections and observations of these interactions.
Resistance through Culture
By Verónica Rivera-Negrón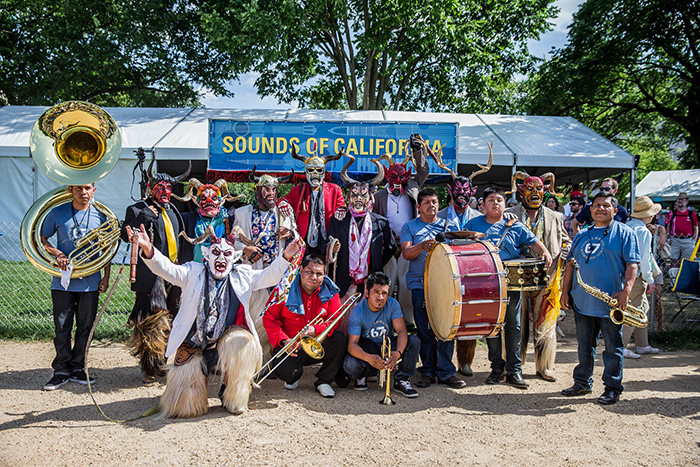 Devil-like wooden masks with big animal horns, leather jackets, and goatskin chaps surrounded a group that gathered at La Cueva as Grupo Nuu Yuku prepared to present their Danza de los Diablos de San Miguel Cuevas. Embedded in their outfits and living in their bodies, the centuries-old dance tells a story of tradition and resistance through culture.
The Danza de los Diablos is often contextualized as part of the Christian traditions most of Latin America inherited from Spain. Historically part of a dance drama seen at festivals, it commemorates the battles between Moors (Muslims) and Christians during the Reconquista period (from the eighth century through the fifteenth century) in Spain. In other words, the dance was part of Spain's evangelization efforts, as Miguel Angel Chávez Guzmán explains on the Juxtlahuaca District in Oaxaca webpage. The Christians won these battles, and since the Moors were "condemned to hell," the devils came and took them away. Fast-forward centuries later, and the tradition is still practiced in celebration of San Miguel Arcángel in Oaxaca.
Despite its roots in Christian traditions, the Danza de los Diablos can also be seen as a form of resistance of the indigenous communities of Oaxaca. When asked why they embody devils, Grupo Nuu Yuku co-director Jorge Juárez explained that centuries ago their Mixtec ancestors venerated their god 11 Venado, whose image was made of stone and horns. When the Spaniards arrived and colonized Mexico, they were unable to understand the Mixtec religious figure, and assumed they worshipped no god but the devil. Thus, embedded in the seemingly Christian celebration, the Mixteco religion is remembered and venerated.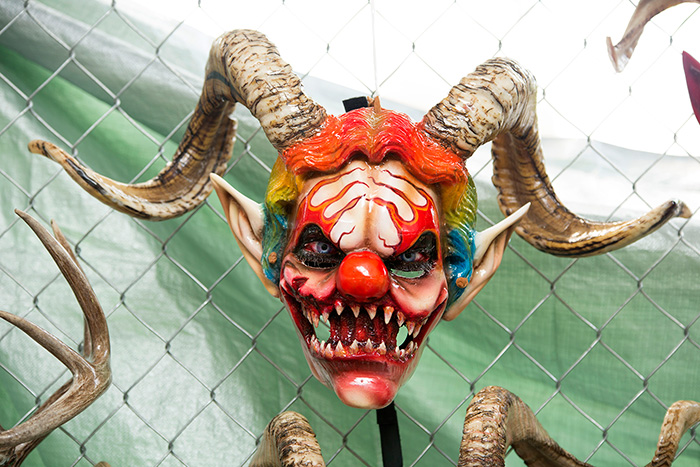 Today the tradition continues to morph and adapt. It has migrated from Oaxaca to Fresno, California, and elsewhere in the San Joaquin Valley. Dancers wear masks with contemporary designs. Originally they were made to resemble the Judeo-Christian image of the devil, but dancer and mask maker Alex Vásquez said that now people are more interested in pop culture devil-like images, such as evil clowns.
The masks use real animal horns from bulls, goats, or antelope. They are intricately carved out of sabino, from trees that commonly grow at the banks of the rivers in Oaxaca. The wood is very light, making it comfortable to wear while dancing. Artisans like Alex carve and paint them to feature split tongues, sharp teeth, angry gestures, dripping blood, and long ears. Black and red often dominate the designs. He adds a top coat of gloss, giving them a bizarrely shiny look.
Donning these masks, Grupo Nuu Yuku preserves and shares their culture in year-round performances in their community of Oaxacan Mixteco immigrant farmworkers in Fresno. Many of them grew up in the region, some were born there—and through this dynamic engagement with their heritage, they are enriching the cultural landscapes of California.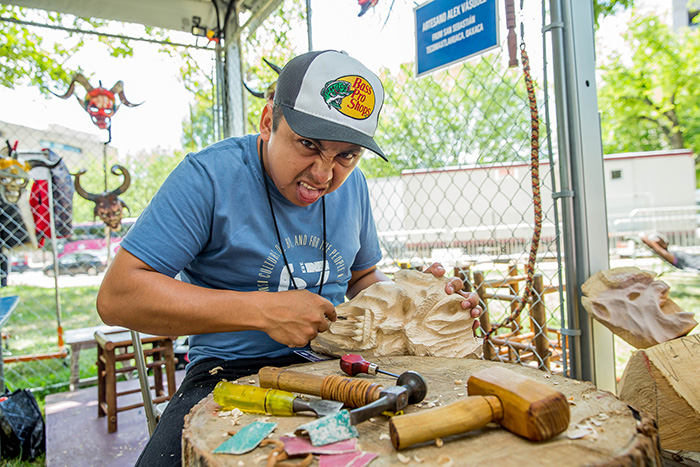 Community and Cultural Continuity
By Fernanda Espinosa
Inside La Cueva, Grupo Nuu Yuku installed a beautiful altar to San Miguel, the patron saint of their Fresno-based Mixtec group, many of whom are tied by family relations to the town of San Miguel Cuevas in Oaxaca.
"When I dance, I'm so happy, and I teach people where they came from," said twelve-year-old Noel Gil, the youngest Nuu Yuku dancer at the Festival. He quickly expressed his enthusiasm in being invited to the group when his family moved from Delaware to Fresno. "And on Facebook they can learn about our people," he continued, referring to the large following they've been able to achieve in both real and social media spaces.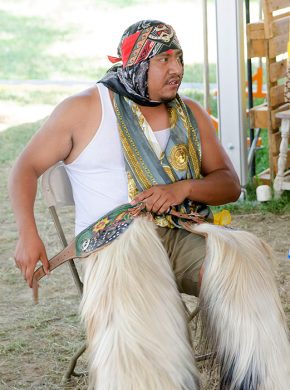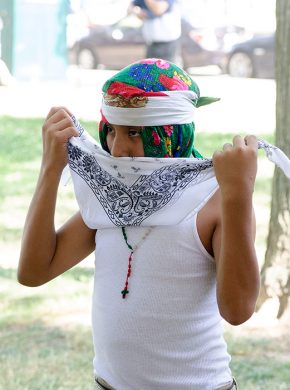 "We want to continue the culture, so it doesn't end," said co-director Diego Solano, explaining why it is so important for him to help organize the group as well as to perform at the Folklife Festival. "We want people to know about Oaxaca. Many treat us like we are less. We open the doors for the rest of Mixtecos. Today it was not only us dancing here—it was Oaxaca dancing."
Diego's comments reflect what it means to be "in community through culture." His eyes lit up when he told me about two young Mixtec men who found out through Facebook that Nuu Yuku would be in Washington and made the trip from New York to join the celebration. Still sweating after his last dance performance, he concluded our exchange with a simple, but powerful statement on the meaning of his practice and the importance of a platform like the Folklife Festival:
"People deserve to know where they come from."
Verónica Rivera-Negrón and Fernanda Espinoza are fellows in the 2016 Smithsonian Latino Museum Studies Program. Rivera-Negrón is an MFA student in performance as public practice at the University of Texas at Austin. Espinoza is a cultural organizer, artist, language justice advocate, and a master's student in the Oral History Program at Columbia University.