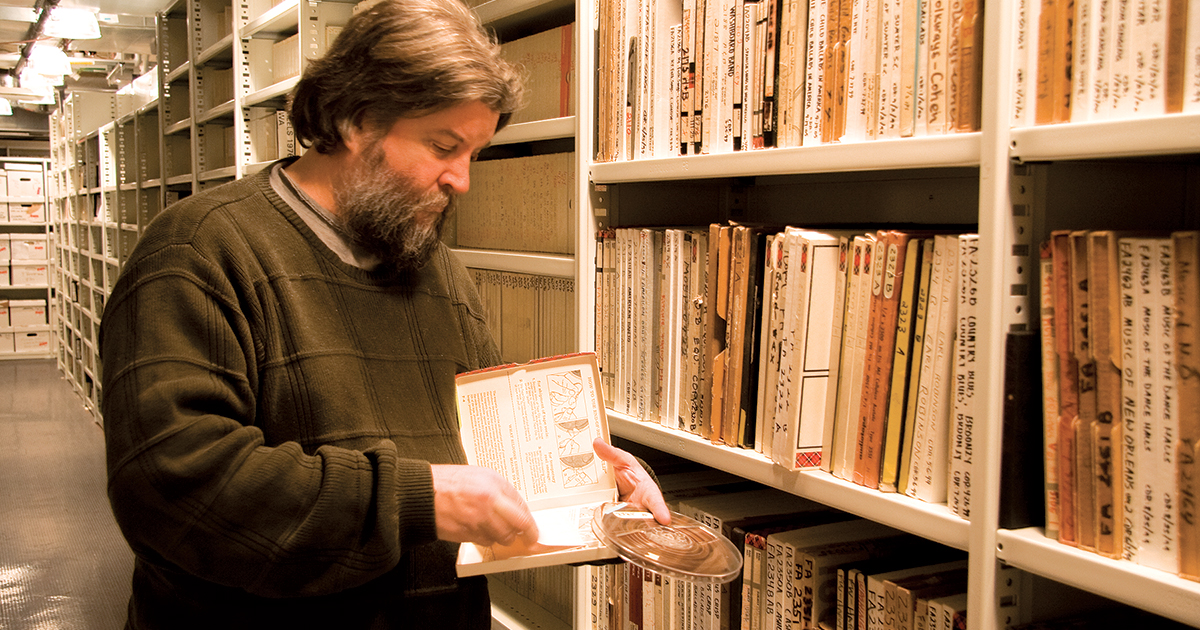 Since 1982, the National Endowment for the Arts National Heritage Fellowship has been given to many of the treasures of American traditional culture. This includes musicians, but also craftspeople and exemplars of various cultural traditions.
Of the sixteen wonderful performers on this playlist, I have been fortunate to see every one play. Most were invited to perform at our yearly Smithsonian Folklife Festival. Each was a master of their craft. More importantly, they helped keep their craft alive by sharing their traditions with others.
Going into our collection, I have chosen songs from Arhoolie, Folkways Records, and Smithsonian Folkways. I have tried to select a variety of styles to represent the breadth of material that exists—not just "hot picking," but songs I thought best illustrated who these amazing people are. If you are struck by one of these tracks, there is more where that came from.
1. When Sorrows Encompass Me 'Round
By Tommy Jarrell
From Back Roads to Cold Mountain
North Carolinian Tommy Jarrell was a legendary fiddler. He played professionally as a young man, but like many shifted to raising a family and working for the highway department. He resumed his musical career late in life. For a generation of younger musicians in the 1970s and 1980s, Jarrell was the grand old man of the mountains, a person worthy of a pilgrimage to his door. He had endless visitors and mentored many, so frequently he posted a sign: "First two nights free, after that $20 a night."
2. When He Reached Down His Hand for Me
By Bill Monroe and the Blue Grass Boys
From Live Recordings 1956-1969: Off the Record Volume 1
There are only a handful of musical genres whose origin can be traced to one person. This is true of bluegrass, and Bill Monroe was its creator. After leaving the Monroe Brothers (a group made up of Charlie, Birch, and Bill), he founded his Blue Grass Boys, named after the Western Kentucky area where he grew up. They were the stars of bluegrass through the 1940s and 1950s. By the 1960s, it was harder to find work. Folklife Festival founder Ralph Rinzler became their manager and began to present them to fans of folk music. This recording comes from one of the concert tapes Rinzler recorded.
3. I Wonder Where You Are Tonight
By Del McCoury
From I Wonder Where You Are Tonight
Del McCoury is from York, Pennsylvania, and has had a long celebrated career in bluegrass music. In 1963, when Ralph Rinzler was managing Bill Monroe's Blue Grass Boys, McCoury joined the band as guitarist and lead singer. He began playing with his sons as the Del McCoury Band in the 1980s, and Rinzler brought them to the Festival. They have recorded numerous albums, including their most recent project in which McCoury sets some of Woody Guthrie's unreleased lyrics to bluegrass music.
4. Mose's Blues
By Eddie Pennington
From Walks the Strings and Even Sings
Eddie Pennington is the current master of Kentucky-style thumb picking on guitar. The origin of the style is usually credited to Mose Rager and Ike Everly (father of Phil and Don). It is probably most associated with Merle Travis, the country star who gave us "Sixteen Tons" and "Dark as the Dungeon" (Travis learned it from Rager). Pennington plays tribute to Rager on this track.
5. Mississippi Sawyer
By Will Keys
From Masters of the Banjo
Will Keys was a wonderful banjo player from Laurel Bloomery, Tennessee, located in the far eastern part of the state in the Appalachian Mountains. Keys always had his banjo and trademark bowler hat, as seen on stage at the Folklife Festival numerous times. I was fortunate enough to bring him up for the 2003 Festival program I co-curated on Appalachia. He passed shortly after.
6. Hicks' Farewell
By Doc Watson
From Friends of Old Time Music: The Folk Arrival 1961-1965
Doc Watson was an accidental discovery by Ralph Rinzler. Rinzler had gone down to North Carolina to record the legendary Clarence "Tom" Ashley and met Watson, who was the guitarist on the session. Watson went on to fame and a long career as one of the most impressive acoustic guitarists alive. Rather than pick one of Watson's guitar pieces, I decided on one of the unaccompanied Baptist hymns Rinzler recorded Watson singing. It was a favorite of Rinzler's, and I was lucky enough to work on the reissue CD with him.
7. Carter Family Medley
By Wayne Henderson
From Masters of the Steel String Guitar
A worldwide legend, Wayne Henderson is a much sought out luthier. Guitarists like Eric Clapton or Carlos Santana will spend a year waiting for a Henderson guitar. Much like Doc Watson, Henderson is a tremendous finger-style guitarist. We have been lucky to have him at our Festival many times, including 2003 when Henderson doubled as a cook making his "squirrel stew." An all-around good guy, Henderson could often be found sitting under the trees jamming with Festival visitors.
8. Latitu
By Kindy Sproat
From Musics of Hawai'i: Anthology of Hawaiian Music – Special Festival Edition
Clyde Halema'uma'u "Kindy" Sproat was from North Kohala, Hawaii. In this rural area, he picked up the songs around him: the old Hawaiian songs, the songs of the paniolos (Hawaiian cowboys), and the local slack-key guitarists. He knew four hundred songs and performed them on guitar and ukulele. In 1989, he regaled Folklife Festival audiences with his wonderful repertoire.
9. Springtime
By Kenny Baker
From Masters of the Folk Violin
Kenny Baker was best known for his long-time role as the fiddler in Bill Monroe's Blue Grass Boys. This was an amazing accomplishment in itself, as Monroe usually changed band members as often as his socks. Baker played guitar in addition to fiddle and appeared at the Folklife Festival in 1973 with the Kentucky delegation.
10. The Rebel Girl
By Hazel Dickens
From Don't Mourn—Organize! Songs of Labor Songwriter Joe Hill
Hazel Dickens was one of the most powerful singers I have ever encountered. She grew up in southern West Virginia and learned Baptist hymns from her preacher father. She ended up working in Baltimore in the 1950s, as did many transplanted Appalachians, and fell into the bluegrass scene. Along with her friend Alice Gerrard, she was one of the first women to front a bluegrass band. She had lost family members to black lung from the mines and was an active supporter of unions. This song was written by union songwriter Joe Hill. Dickens was a fixture for many years at our Festival and always a delight to sit down and talk to. We miss her.
11. Two Ghost Stories
By Doug Wallin
From Family Songs and Stories from the North Carolina Mountains
Madison County, North Carolina, is located in the Smoky Mountains just northwest of Asheville. It is well known for its ballad singing traditions. When "songcatchers" Olive Dame Campbell and Cecil Sharp traveled there in 1916, they collected marvelous ballads no longer thought to be actively sung. Among the musicians they collected from were ancestors of Doug Wallin. Wallin carried on the family tradition which included his relatives from the Chandler, Wallin, and Norton families. Sheila Kay Adams, a more recent National Heritage Fellow, has continued the family tradition. In this case, I picked a different part of his repertoire: his stories.
12. Frailing Medley
By Ralph Stanley
From Masters of the Banjo
The Stanley Brothers were one of the great early bluegrass bands. After the early death of his brother Carter, Ralph Stanley had a long career of his own and was the traveling ambassador for bluegrass music. His banjo style was highly influential, and his mountain style of singing (based on the style of old Baptist hymns) was powerful. When his version of "Oh Death" was used in the film O Brother, Where Art Thou?, Stanley attained a hipness factor and gained new audiences in his later years. In 2003, thanks to funding from the National Endowment for the Arts, we hosted a series of concerts featuring National Heritage Fellows from Appalachia, including Stanley. His traveling tour bus driving down the National Mall caused quite a stir.
13. That'll Never Happen No More
By Howard Armstrong
From Louie Bluie Film Soundtrack
There was a long tradition of African American string bands in the Appalachian area, groups like Gribble, Lusk and York, and the Tennessee Chocolate Drops. One-time member of the latter, Howard Armstrong, was a true American original. For years he played with the wonderful East Tennessee string band Martin, Bogan, and Armstrong. He was always dapper with a beret and pencil-thin mustache. His music was as wide spread as could be—jazz, Tin Pan Alley, blues, country, and even an occasional Hawaiian song thrown in.
14. A Cowboy's Soliloquy by D.J. O'Malley
By Wallace McRae
From Cowboy Poetry Classics
Wallace McRae is one of the best known cowboy poets. Growing up in Montana, he became interested in the old songs and poems of his cowboy ancestors. Since 1985, the city of Elko, Nevada, has hosted the Cowboy Poetry Gathering, a yearly destination site for cowboy singers and poets of all stripes—and the basis for this Folkways album.
15. Yew Piney Mountain
By Melvin Wine
From Classic Old-Time Fiddle
Melvin Wine was a great regional fiddler from West Virginia. He learned many of the fiddle tunes from his neighbors. For many years, if there was a fiddle contest held in West Virginia, Wine was often the winner. He taught younger players before his passing in 2003, including current fiddle champ Jake Krack.
16. Undone in Sorrow
By Ola Belle Reed
From Rising Sun Melodies
Originally from North Carolina, Ola Belle Reed spent most of her career living in Rising Sun, Maryland, near the Pennsylvania border. She and her family operated a music venue called the New River Ranch, which hosted many country and bluegrass stars passing through. She was a fine songwriter ("High on the Mountain," "I've Endured"), with lyrics often addressing feminist themes. She performed at the Folklife Festival multiple times with her cousin Alec Campbell, her husband, Bud, and son David. I got the chance to interview Bud and Dave Reed about their family's music before Bud's passing.