The Song of Capoeira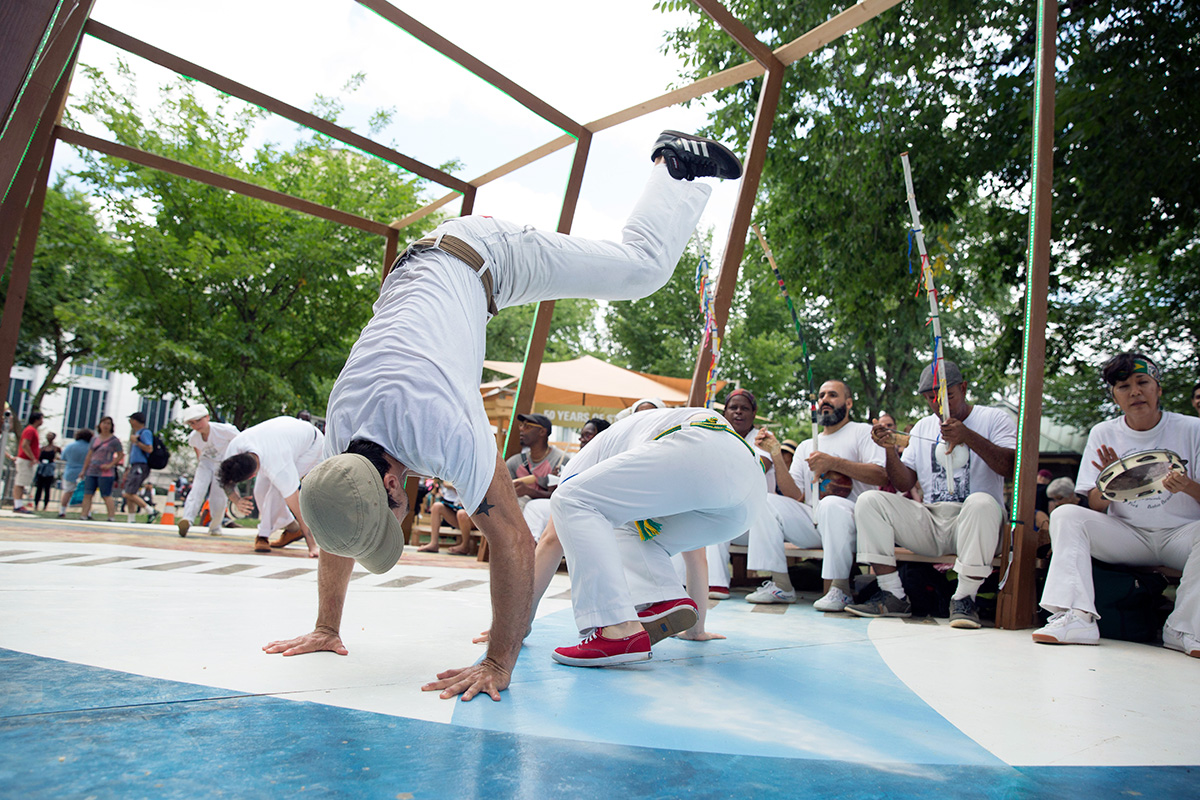 Active Mornings: Capoeira on July 1, 2017
Two traditions of the Brazilian dance and martial art capoeira came together yesterday on the Migration Walkway. 2005 NEA National Heritage Fellow Mestre João Grande and students from his school, the Capoeira Angola Center of New York, offered an open class of the more traditional style, capoeira Angola.
The students, ranging from young children to adults, took turns dancing and playing percussion and the berimbau—a metal-stringed musical bow that accompanies capoeira.  In this song, the call-and-response in Portuguese asks for permission to vadiar, or to play around, referring to capoeira itself as a playful game.
Further down the Walkway, 2008 NEA National Heritage Fellow Mestre Jelon Vieira and his student Contramestre Chuvisco from Capoeira Luanda in New York City taught visitors the regional variant. The regional style is higher and faster, and tends to be more acrobatic, although many movements and songs are shared between the two traditions.
Want to try capoeira for yourself? Today from 1:30 to 5 p.m. on the Jubilee Stage João Grande and Jelon Vieira will lead a roda demonstration, and Roberto Tapia will teach an open class on July 4.
Amalia Cordova is the Latino digital curator at the Center for Folklife and Cultural Heritage and a co-curator for the On the Move program. Audio recorded by Elisa Hough and edited by Dave Walker.