Souk Stories: The Mission of the Folklife Festival Marketplace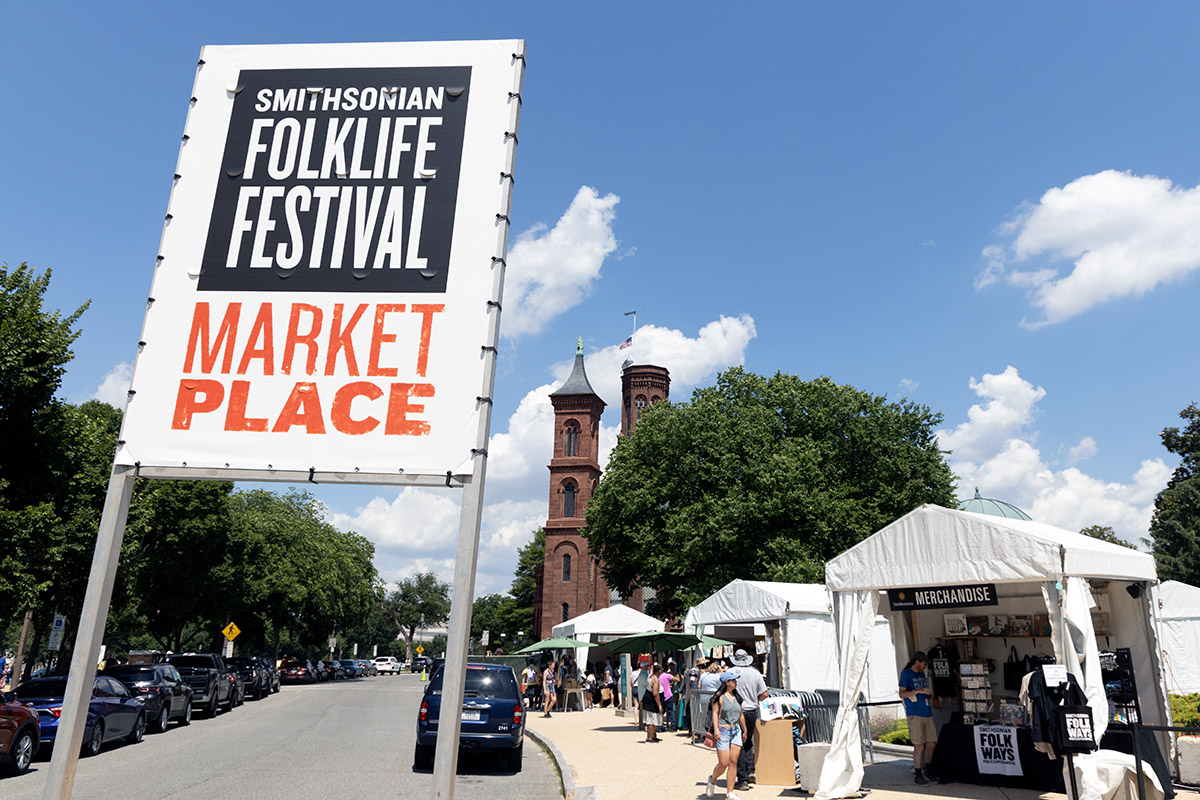 Mimi Robinson and her team are in full-blown market mode. One member rearranges the talli threads, straightening the cardboard placards wrapped with golden braided strands. Another advises a visitor on perfume options—"Are you looking for something more fruity or floral?" And of course, someone else is busy reapplying sunscreen.
Robinson, the Marketplace curator, fishes through swaths of fabric, each from a different continent. She leads me around the Marketplace, excited to point out seaweed shampoos from Belize and honey from the United Arab Emirates.
For Robinson, while it's great to have stocked shelves of products, it's not about the objects themselves, per se.
"It's more about stories," she explains. Robinson emphasizes the Marketplace products' connection to place and people. No product is whole without the story behind it—who was it made by? How? And for what reason?
Robinson and her team unfurl these stories, teasing out narratives and memories, in the Smithsonian Folklife Festival Marketplace. The array of crafts, fine art, gifts, food, and home goods this year reflect the culture, heritage, and innovation of the United Arab Emirates as well as the Smithsonian's Earth Optimism initiative. The outdoor Marketplace is open June 23–June 27 and June 30–July 4 from 10:30 a.m. to 6 p.m. on the Freer Plaza between the National Mall and the Smithsonian's National Museum of Asian Art.
This year, the Marketplace is inspired by an Arab souk, which is typically open-air with stalls for each vendor. Some artisans were selected by Festival curators while others were selected by Marketplace staff. Regardless, all products connect in some way to this Festival's themes.
Shoppers can also connect with past Festival participants through the online Marketplace. The site is a collaboration with NOVICA, the world's largest impact-retailer for artisans and craftspeople around the world.
Both the Marketplace and NOVICA are guided by the official ten principles of fair trade. Our Marketplace develops transparent and accountable relationships and pays artisans promptly and fairly. By providing training to those who are new to selling on a global scale and inviting past participants to sell their work on consignment, they extend these principles beyond the life of the two-week Festival.
At the Festival Marketplace, visitors will find a product at every price point. Prices are always set by artisans and account for overhead costs.
"Our focus has always been on supporting artisans to not only protect their craft but also help with sustainable production and market access," Robinson said. "It's about choice."
Without fair wages in craftwork, artisans may be forced to turn to more profitable industries rooted far from the traditional knowledge and lifeways that motivated generation after generation. By offering viable alternatives, the Marketplace helps reverse this change. What's more, when young community members see real financial possibilities in these fields, they're empowered to pursue their traditional artwork and cultural knowledge is passed to the next generation.
Soumana Saley is a past Festival artist working toward sustainable crafting. A leather worker from Niger and founder of ONG DIMA, a nonprofit organization and school, he presented in the 2018 Crafts of African Fashion program. With the proceeds raised in the Marketplace, Saley was able to pay for a whole year's worth of teacher's salaries at his school, which supports the children of artisans.
The Festival Marketplace offers a fundamentally different shopping experience than a typical brick-and-mortar store. In many fair-trade craft stores, visitors never have the opportunity to interact directly with artisans.
That's different in the Marketplace. Here, artists represent their craft traditions personally, speaking to shoppers about their lives, perspectives, and art in their own unfiltered voices. Since they're participating in the Festival, the artisans, who come from around the globe, interact with each other, making the Marketplace a conduit for peer-to-peer learning and network building.
"That's very important," Robinson said. "You don't often find that in trade shows where there's a lot of artisan goods. You never see the makers."
Jackie Flanagan Pangelinan, the Festival's Marketplace and artisan engagement manager from 2013 to 2018, remembers the impact of collaboration between Smithsonian staff and crafters.
"During a Festival workshop with Armenian artisans, Vahagn Hambardzumyan and Zara Gasparyan, the husband-and-wife team behind Sisian Ceramics, brainstormed ideas for bolstering their pottery business," Flanagan Pangelinan said. "We talked about developing a 'line' of pottery, and I quickly sketched examples of different shapes that might work with their existing work. Zara and Vahagn taught me about the intricacies of their pottery and shared with me stories of their home in Sisian and its influence on their work.
"A year later, we returned to Armenia, this time traveling to Sisian where we were welcomed in their studio. They shared their successes with creating workshops for tourists to learn how to make pottery. They also showed their small shop area, filled with their traditional styles and a few new items. Vahagn smiled, opened a table drawer, and pulled out a folded sheet of paper. It was the quick sketch we drafted together."
At the 2015 Festival, Flanagan Pangelinan met with jewelers from the Wachiperi community in Peru. The artisans had never presented or sold their work to a global audience.
"To see their faces when they walked into the Marketplace, seeing visitors of the Folklife Festival enjoying and purchasing their work!" she recalls warmly. "Their faces really told it all. After they taught me so much when I was in Peru, I was so grateful to be able to exchange a little something in gratitude. It's amazing. That played out again and again each year."
For shoppers, the Marketplace offers a uniquely sensory experience, on top of access to festival participants.
"I've been thinking a lot about senses in our current Marketplace," Robinson explains. "We've got honey and chocolate, we've got spices, we've got fragrances coming from the UAE. The materiality! What's the difference between mossy bark cloth and a woven piece of a mat made from kuta grass?
"These artisan goods reflect the place and the many people before them who passed down this craft legacy," Robinson says.
The Marketplace will be open on June 23 to June 27 and June 30 to July 4 from 10:30 a.m. to 6 p.m. on the Freer Plaza between the National Mall and the Smithsonian's National Museum of Asian Art. For all your after-hours and post-Festival needs, check out the Marketplace online.
Hannah Davis is a multimedia documentation intern at the Smithsonian Center for Folklife and Cultural Heritage and a rising senior at Carleton College, majoring in political science/ international relations.