Christylez Bacon on Finding His Voice through Music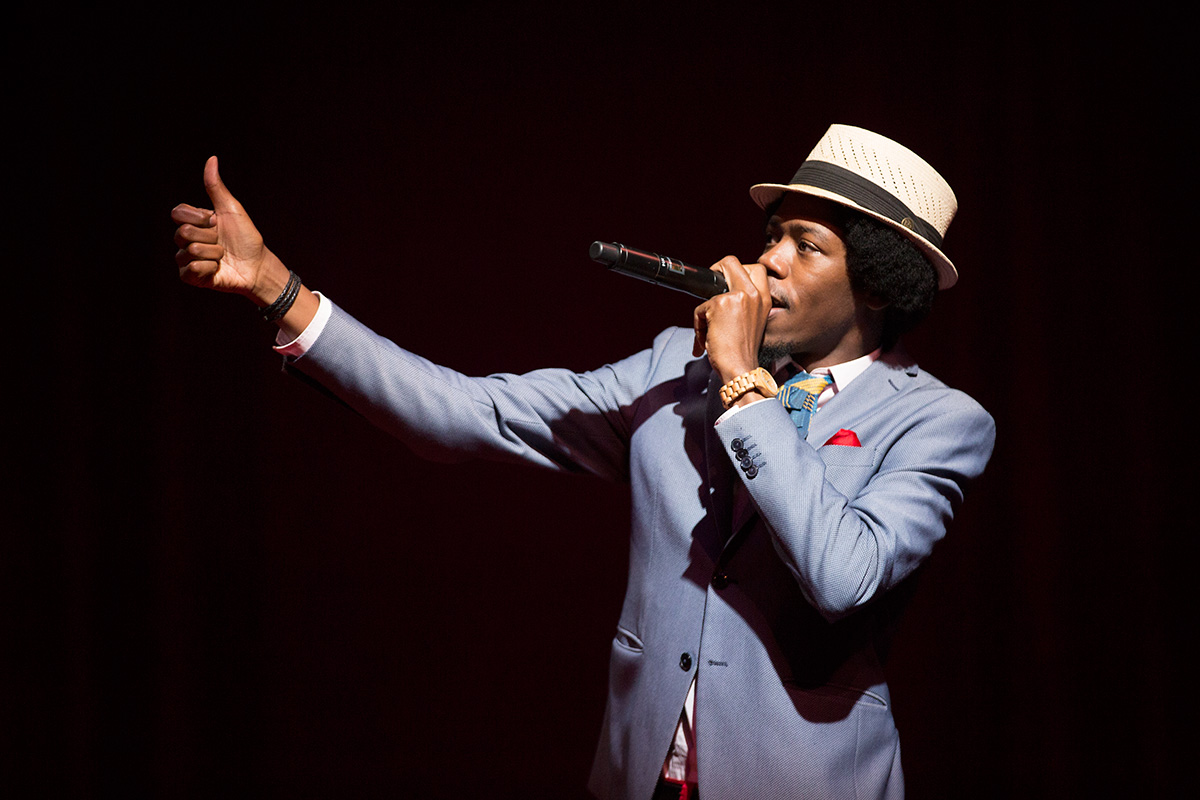 On a recent summer day, just after his final performance at the Smithsonian Folklife Festival, hip-hop artist Christylez Bacon toured the grounds one last time. The Washington, D.C., native is hard to miss in a crisp off-white suit and fedora. Paired with a muted lavender shirt and geometric brown tie, his is an idiosyncratic style as uniformly elegant and relaxed as the artist himself.
"A beautiful thing happens when I get the opportunity to bring genres and communities together around music," Bacon said.
The GRAMMY-nominated performer founded the Washington Sound Museum with just that aim. The concert series juxtaposes traditional and contemporary music from across the globe, presenting cultural intersections with a clear-sighted, unsentimental subtlety.
Among his favorite collaborators on the project is Nistha Raj, an Indian classical violinist with whom he performed at the Festival. Their concert, set in the elaborate and expansive Arts and Industries Building, pulsed with a steady, striking rhythm with the help of tabla player Anirudh Changkakoti. Part strings, part beatbox, the collaboration popped with a spirited and spritely tempo, evoking a moving response from the crowd.
by Nistha Raj, Christylez Bacon, and Anirudh Changkakoti at the 2017 Folklife Festival
"I was always drawn to music, especially Yo-Yo Ma's and Chuck Brown's," Bacon adds, reflecting on his early years. "But I was a shy kid and needed that push."
That push came in the form of a seventh grade talent show. At twelve years old, he took to the stage to perform a rap he had written—a song entitled "I Can Do Anything."
"I was so nervous, but once I started rapping, everything changed," Bacon recalls. "I was rocking it."
In the years since, he has used his music to evoke the same sense of purpose and belonging in others. He often borrows rhythms and routines from the D.C. music style of go-go, leading his audience in a call and response to get them singing along at the chorus.
"Don't get set into one form; adapt it and build your own," Bacon says, borrowing a line from the Bruce Lee film Enter the Dragon—one of his childhood favorites. 
by Christylez Bacon (spoons), Shannon Dunne (step dance), and Billy McComiskey (accordion) at the 2017 Folklife Festival
That fluidity shapes much of the artist's work, weaving together seemingly disparate musical forms and creating something unique and inspired in the process. For his concert series "Hip-Hop Meets the Music of Brazil," Bacon traveled to Brasília to perform alongside vocalist Cissa Paz and harmonica player Pablo Fagundes.
"We've all heard Brazilian music and hip-hop music," Bacon says. "But it's only when you combine the two forms that that you hear the many similarities in tone and in rhythm."
When he isn't performing, Bacon is drawing inspiration from the city's rich and complex landscape. Hailing from Southeast D.C., he defines himself as a performer at the nexus of "funky artist and Capitol Hill."
"I am on the move a lot and find the city's chaotic environment, especially its buses and subway cars, to be a great place to work."
For Bacon, that aesthetic plays out in his unique wardrobe—a collection in which each element has a story to tell. His geometric necktie, for instance, is actually a custom-made cravat fashioned from vintage textiles.
Why does he opt for the distinctive piece? Bacon simply said, "I find regular ties too blah and bowties too uptight."
Angelica Aboulhosn is the public affairs specialist at the Center for Folklife and Cultural Heritage. Audio recorded and engineered by Dave Walker.