Songs on the Move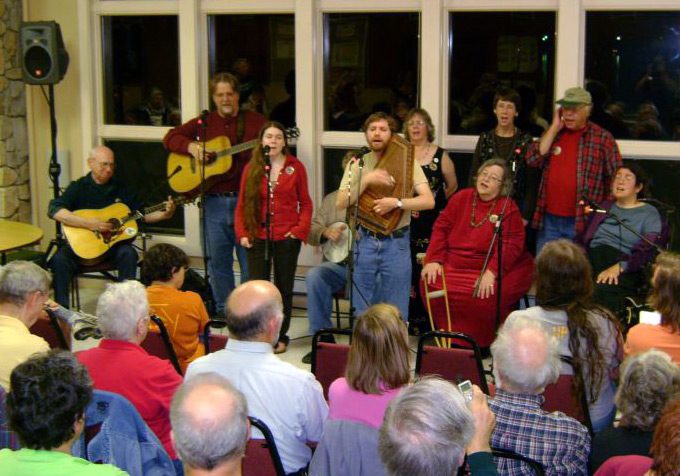 The stranger's land may be bright and fair
With riches and treasures golden
But you'll pine I know for the long ago
And the friends that are never olden.
—"A stor mo chroi" (Irish traditional immigration song)
On Friday, July 8, and Sunday, July 10, the Folklore Society of Greater Washington will host a participatory workshop on immigration songs in the Folklife Festival's On the Move: Immigration and Migration Today tent.
The Folklore Society of Greater Washington is dedicated to preserving and promoting traditional folk arts in the Washington, D.C., metropolitan area. We organize hundreds of events every year, including traditional music performances in large halls, intimate houses concerts, storytelling swaps, monthly singing gatherings—gospel, shape-note, and doo-wop—songs at senior centers, and the annual Washington Folk Festival in Glen Echo Park (June 4 and 5 this year). We also sponsor weekly dances square dance, contra dance, and English country dance events.
Four Folklore Society members—each with strong voices and song-leading experience—will lead a tentful of people in songs about America's immigrant experiences. After introductory songs, we will open the song circle to encourage visitors who have immigration songs from other countries to contribute. All are welcome to join in on any choruses.
We hope to touch on a variety of topics: voluntary and coerced immigration, dreams fulfilled and lost, reasons for leaving or arriving in a new land, loved ones brought over or left behind, growing accustomed to a different society. These are just a few themes we can empathize with regardless of our countries of origin.
Folklore Society Song Leaders
Charlie Baum has served in most executive positions for the Folklore Society of Greater Washington. He sang with and managed the Yale Russian Chorus for many years and co-founded the Kartuli Ensemble, America's first Georgian singing group. He first volunteered for the Smithsonian Folklife Festival in 1988, when it featured music from the Soviet Union.
Donna Fletcher's blues-tinged voice will be instantly recognized by anyone who has heard her band Blue Panamuse or has seen her perform in many other configurations. A long-term organizer of the Washington Folk Festival, Donna has also run many concert series and organized craft-market entertainers in the Washington area.
Lisa Null toured internationally during the 1970s and early '80s and was a co-founder of Green Linnet Records. She taught courses on "American Musical Life" at Georgetown University for several years and now teaches voice out of her home while remaining active in Washington's folk music community.
Stephen S. Winick is a folklorist, writer, and editor at the Library of Congress's American Folklife Center when he is not singing with the Ocean Orchestra, the Washington Revels, or the Ship's Company Chanteymen.
This guest blog post was written by the Folklore Society's Charlie Baum and Lisa Null.