Out of the Shadows: Immigrant Stories through Puppetry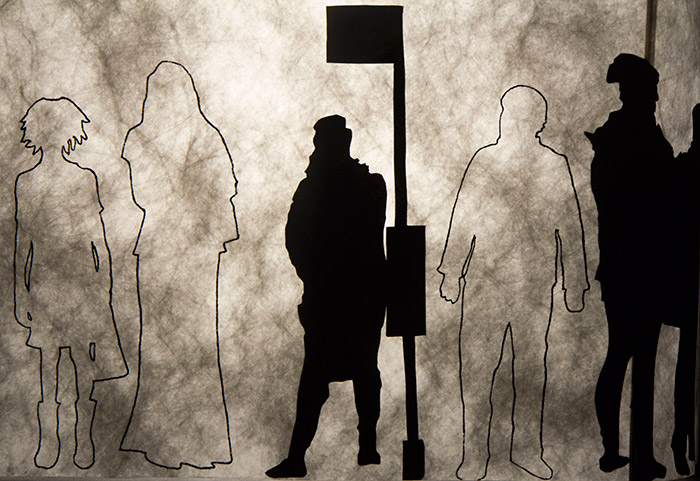 Shadow puppetry, like many ancient performance arts, is traditionally used to tell folk stories, literary tales, or religious epics. In contrast, the Wit's End Puppet's shadow puppet play Saudade follows three fictional immigrant characters through a day in Washington, D.C.—with every moment in the play based on a real immigrant's life. My hope is that Saudade will help to bring the challenges of being an immigrant out of the shadows.
We have been performing Saudade for over a year. The title is a Portuguese word with no direct translation in English that is associated specifically with a feeling of melancholy and nostalgia, a longing for a place or person left behind, and more generally with migration and immigration.
In developing the script for Saudade, I interviewed journalists, retail workers, mothers, teenagers, students, and small-business owners. Some had been in the United States for three months, and others for thirty years. A great many were ESL (English as a Second Language) students. They talked about moments when they feel saudade for their country of origin.
Most people I spoke with could name a favorite food, whether it was a fruit that doesn't grow here or a prepared dish that just doesn't taste as good in the United States as back home. They described sounds of their hometowns, such as a river, a particular kind of music, or specific instrument. While some people came to the United States with their families or joined relatives already living here, many referenced elderly parents, best friends, and even children who were still back in their home country. The internet makes separation somewhat easier, but it certainly doesn't erase the worry, especially for immigrants who fled violence and economic hardship.
Many of our shows are done in ESL classes for immigrants very similar to the people I interviewed. Since it is intended to be accessible to people with limited English, the show is mostly wordless. Afterward, we ask the audience what they identified with and how it made them feel. "You can see yourself in all the faces," one attendee said. "They are like mirrors." Audiences have discussed the difficult truth that saudade is not something you can control. "It is out of your hands to miss your country—you just miss it!" one woman told us. Another said, "Your country is like another mother."
Why did I create a show about immigrants? My family is Mexican American, and I am proud of the risks my ancestors took to create a new and better life for themselves in this country. I wanted to honor them with this work about people taking a similar journey today. I hope I have created art that shines a light on the human side of the often contentious debate about immigration taking place in this country today. Most of all, I want immigrants who feel saudade for their country, no matter how long they have been here, to remember that they are not alone.
This guest blog post was written by Cecilia Cackley, founder of Wit's End Puppets. Wit's End will perform Saudade in the Arts and Industries Building on July 4 at noon as part of On the Move: Migration and Immigration Today at the 2016 Folklife Festival.