Cooking Up Excellence: Tradition Meets Innovation in Basque Gastronomy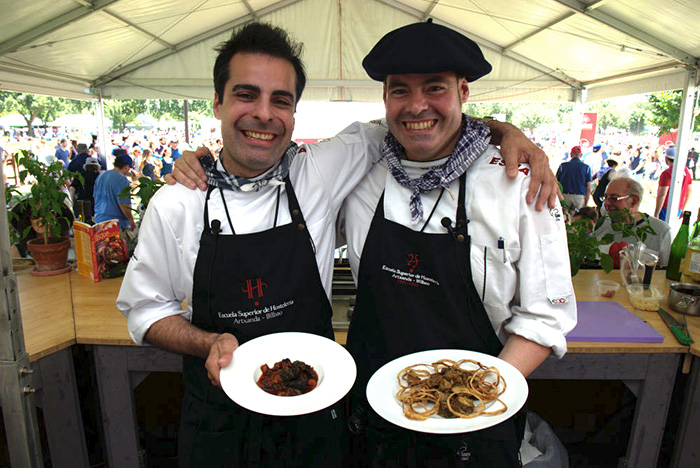 The smell of chorizo and roasting peppers. The sound of pil-pil sauce bubbling. The sight of pintxos lined up waiting to be eaten.
Basque chefs Igor Ozamiz Goiriena and Igor Cantabrana argue that the first thing we do is eat with our eyes, and the dishes they presented at this summer's Folklife Festival were certainly a treat to see. At the Ostatua Kitchen, visitors came to a tent full of the sights, sounds, and smells of some of the world's best cuisine. Through this sensory experience, the chefs were able to share their own unique history and show how Basque culture and gastronomy is intimately tied to both tradition and innovation.
The Basque country is world-renowned for its cuisine. Currently, the region holds the record for the most Michelin-star restaurants per capita, with five of the fifty best restaurants in the world according to Restaurant magazine. With such a record, it is no surprise that Basque chefs, known in the Basque language as sukaldari, mix tradition and creativity to craft dishes of excellent quality.
Basque Gastronomy: An Overview
Basque cuisine includes few spices or herbs. Rather, chefs emphasize mixing local, fresh, organic ingredients with a lot of creativity. "It is only product, with few things to cook, Ozamiz said. "Very tasty, very honest."
Due to its proximity to the Bay of Biscay, the cuisine is rich in seafood such as squid, sea bass, and hake. The Basque country also has a rich farming tradition which includes an abundance of fresh vegetables, dairy products, and meat, fifty to sixty percent of which are organic.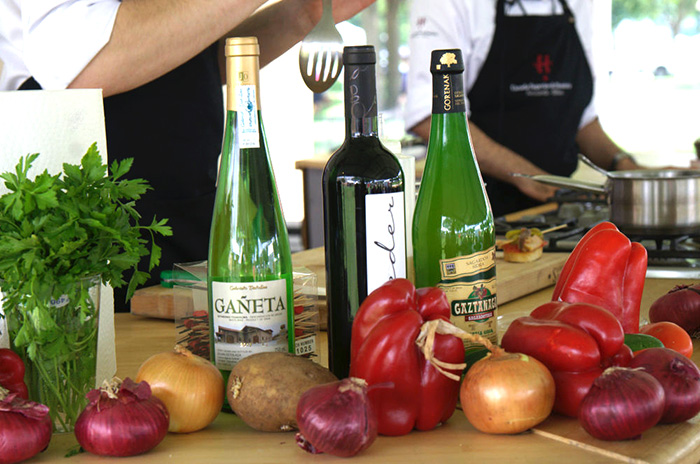 Basque cooking also focuses on traditional, native ingredients. The latxa sheep, for example, whose milk is used to make Idiazabal cheese, is native to the region, with some even believing that it predates human presence in the area. Other indigenous ingredients include leeks, parsley, mushrooms, and walnuts. Such staples as potatoes or peppers, which originally came from the Americas, have been a traditional part of Basque cuisine for at least 200 years.
The goal when cooking any dish is to bring out the ingredients' own unique flavors. To do this, Basque chefs mix traditional ingredients with new emerging technologies.
Getting Schooled in the Kitchen: Teaching Traditions
Ozamiz, Cantabrana, and Gorka Mota work and teach at Escuela Superior de Hosteleria Artxanda-Bilbao (ESHA), where they combine fresh, traditional ingredients and creativity on a daily basis. The institute's culinary school, which also has a branch in Colombia, offers two- and three-year programs for those who want to become chefs.
ESHA is also one of the first culinary schools in the world to be part of the "slow food" movement, retaining local food traditions and combating fast-paced lifestyles. This is no surprise as Basque food is typically both cooked and eaten very slowly. Ozamiz and Cantabrana take pride in the movement and explain that they have a lot of love for the products they use because they are traditional and full of cultural and personal histories.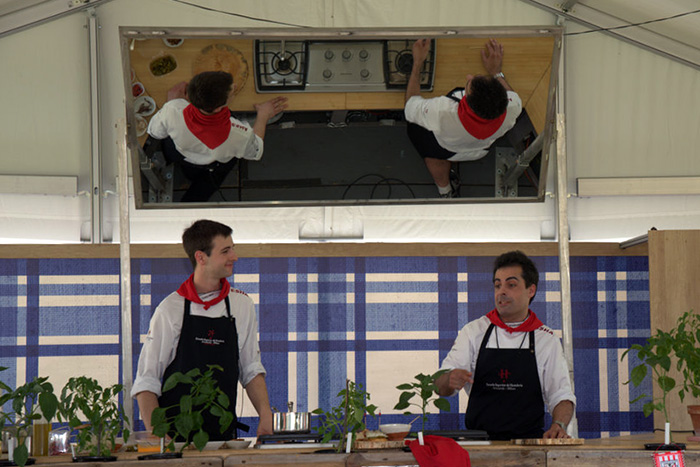 Many dishes cannot be found in cookbooks and have been passed down from generation to generation. In fact, the chefs learned many of the recipes they demonstrated at the Folklife Festival from their parents or grandparents. Ozamiz's favorite dish to prepare was bakailaoa pil-pilean, or cod in pil-pil sauce, because he was able to discuss the rich history of the dish and his own family connection. His grandfather was part of a long tradition of Basque fishermen who traveled to Newfoundland and other parts of North America to fish cod. There were once so many cod in the sea that you could walk on water, he would say.
Cantabrana's favorite dishes to cook are also connected to fond memories of his family and childhood. He recalled his grandmother cooking squid in ink sauce. When he makes the dish today, the smell takes him back.
Evolving Tradition: The Basque Food Laboratory
While Basque gastronomy is immersed in tradition, it is also characterized by constant evolution and innovation. "It's important to show our traditions, our culture, but it's important to show how innovative we are," Cantabrana said.
In the 1970s and 1980s Basque chefs began to adopt French cooking techniques and styles. "We are very influenced by the French cuisine, but with our own personality," Mota explained. "I think that our strong personality makes our dishes very special." In this way, Basque chefs have adapted new techniques and ingredients without abandoning their roots.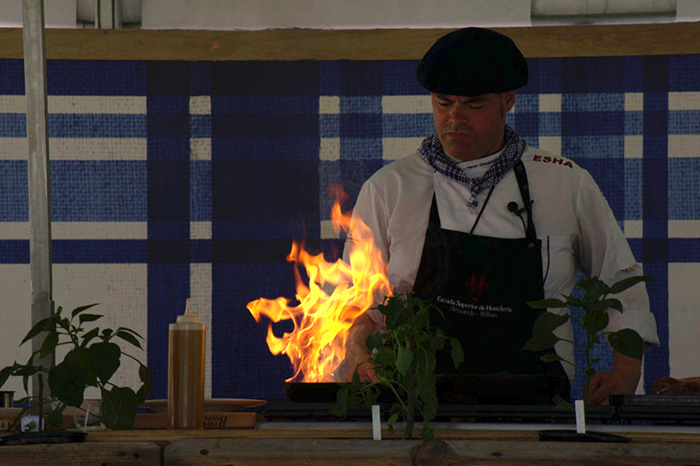 With such a focus on innovation, today's chefs have to learn about more than just cooking. They study science, nutrition, accounting, and more. At ESHA they even have a special research department called the Basque Food Laboratory, where chefs use science and emerging technologies to create new dishes out of familiar ingredients. The department works closely with local farmers and food producers to improve the profitability of their products.
Cantabrana explained that a farmer might be able to sell a tomato for $2, but chefs in the Basque Food Laboratory can work to design a new snack with the tomato that sells for $4, thus improving the profitability of less valued or underutilized products. They also work on recuperating traditional ingredients that are at risk of disappearing from the market.
The creativity required is Cantabrana's favorite part of the job. "You never stop learning," he said.
Be creative and try some Basque recipes and techniques at home:

Shanna Killeen is a Basque program intern for the Smithsonian Folklife Festival. She recently graduated with degrees in English and Spanish, and she is currently working on a master's in English at Oregon State University.