Basque Recipe: The Ubiquitous Pintxo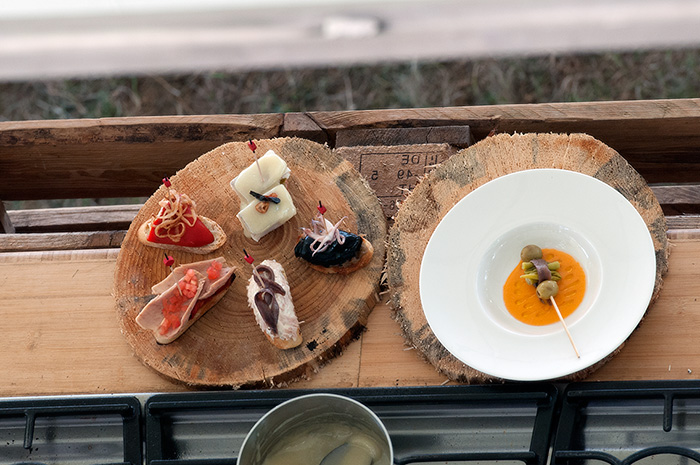 Pintxos are small snacks made of high-quality food mixed in creative ways. In Basque bars, you can pick out a few pintxos that catch your eye and a drink for a few euros. This practice is called pintxo pote. Chef Igor Cantabrana explained in the Folklife Festival's Ostatua Kitchen that you can conveniently hold a pintxo in one hand and a drink in the other.
Pintxos are extremely diverse. Each bar has their own specialties and competes for the honor of best pintxos. Bar hopping is common, as Basque people try out each establishment's offerings. They come cold on the bar or hot from the chef, held together by a stick or toothpick. After chef Gorka Mota assembled a dish of salt cod and pepper, Igor asked the audience, "Is this a pintxo?" "Yes," they responded. "Not yet." He pulled out a toothpick and skewered the ingredients together. "Now it's a pintxo."
One of the most popular pintxos is the gilda: green olives, salt-cured anchovies, and pickled guindilla peppers. It can be found in most any Basque bar, where it is often presented in large bowls. The recipe is very traditional; however, each chef prepares it with their own flare. Some add pickled cucumbers and red chili peppers.
The gilda supposedly originated at the bar Casa Vallés in San Sebastian in the 1940s. It is named after the Rita Hayworth film of the same name, which was one of the few films to pass through censorship in post-Civil War Spain of the 1940s. The pintxo was described as "verde, salado, y picante." This literally means "green, salty, and spicy" but can also mean "dirty, charming, and spicy"—characteristics much like Hayworth's titular character.
If you are ever in Basque country, enjoy the sight, smell, and taste of the wide variety of pintxos within reach. If you want to try your hand at making your own pintxos, here are three cold-style and two hot pintxo recipes to get you started.
The Gilda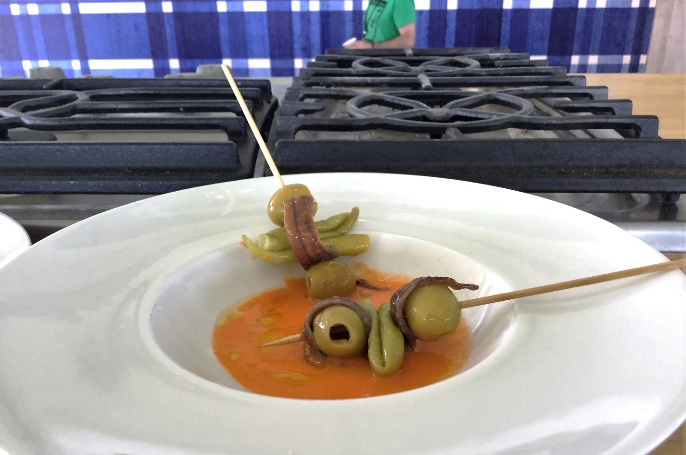 Ingredients
2 pitted green olives
1 salted anchovy fillet
2 guindillas (picked green chili peppers with mild spice)
1 toothpick or skewer
1 tsp. olive oil
1 tbsp. tomato juice (optional)
Preparation
On a pintxo stick, skewer 1 olive.
Skewer anchovy at one quarter length of the fish so that one side is longer.
Add two pickled peppers.
Wrap the long side of the anchovy around the peppers and skewer it so that it seals in the peppers.
Add the other olive.
Optional: Serve in a bowl with olive oil and tomato juice mixed.
Pintxo de Bonito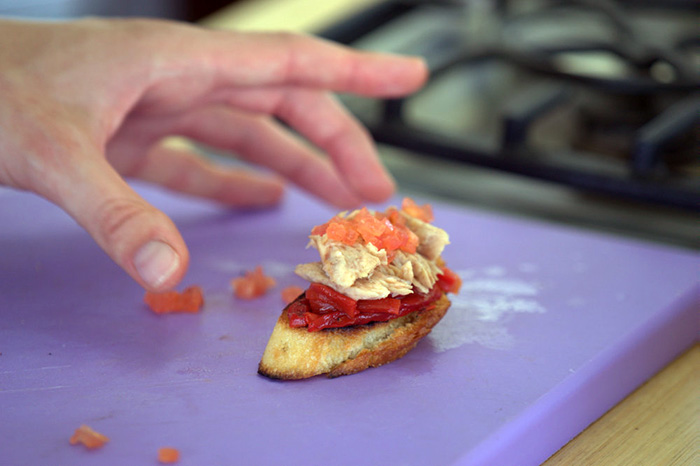 Ingredients
Bonito del Norte (a type of white tuna from the Bay of Biscay)
1 tomato
1 small slice of bread
Choose one of the following:
1/2 white onion
1 sweet red pepper
Preparation
If you use onion: chop up onion and place in a 2-quart sauce pot covered in olive oil, and poach it on low heat until the onion turns brown.
If you use red pepper: skewer whole pepper on a roasting stick. Using a stove burner with the plate removed, lay the pepper in the open flame. Roast until its skin is entirely black. Rotate as needed. Peel by gently scraping off burnt parts with your fingers or paper towel. Do not use water, as the pepper will lose flavor. Chop or tear into long thin strips. In a 10-inch sauté pan, add a layer of olive oil (approximately 1/2 cup or 4 oz.) and the strips of pepper. Cook on low heat for 5 minutes to soften them.
Dice one tomato.
On a slice of small bread (no more than 2 inches in length or width), place about 1 tbsp. of poached onions or red peppers.
Place a small slice of bonito on top of the onion or peppers.
Place 1 tbsp. of diced tomatoes on top of the fish.
Skewer it with a pintxo stick to hold everything together and serve.
Pintxo de Bonito with Antxoa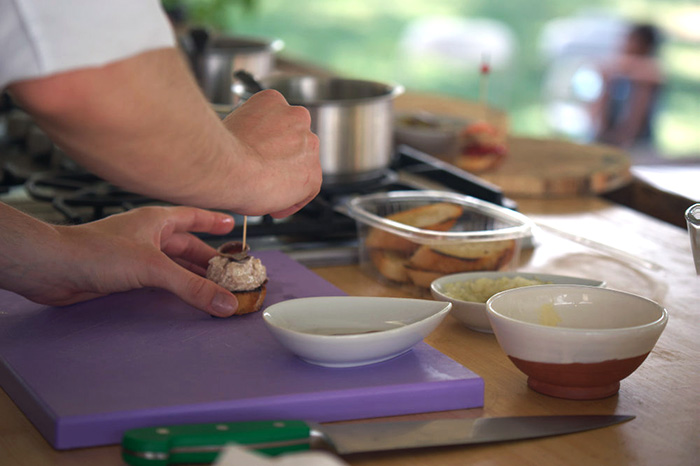 Ingredients
2-3 oz. Bonito del Norte (white tuna)
1 tbsp. mayonnaise
1/4 white onion
Green pepper
1 salted anchovy fillet
Preparation
Chop up onion.
Finely chop pepper
In a bowl mix tuna with mayonnaise and chopped onion.
On a slice of small bread (no more than 2 inches in length or width) place 1 to 2 tbsps. of the tuna mixture.
Place anchovy on top.
Sprinkle chopped pepper on top.
Skewer it with a pintxo stick to hold everything together and serve.
Pintxo with Bakailaoa and Pil-pil Sauce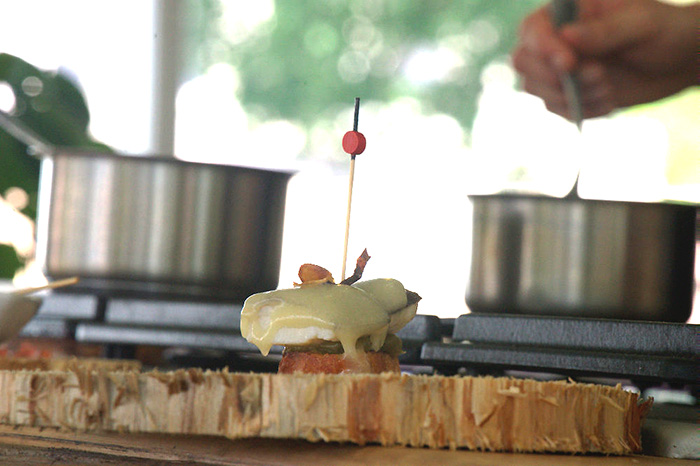 Ingredients
1/4 dried salt cod loin with skin (~2 oz.)
Olive oil
1 tbsp. sweet green pepper
2 tbsp. garlic
Preparation
Soak cod in cold water for 48 hours to rehydrate. Change the water every 8 hours.
Chop up pepper and garlic separately.
In a 2-quart sauce pot, combine a layer of olive oil (approximately 1/2 cup or 4 oz.) and chopped garlic. Place the pot on low heat. Let the garlic perfume the oil for 2 to 3 minutes. The oil should not change color; if it does, the heat is too high. Strain to remove the garlic. Put the oil back in the pot.
Add salt cod to the pot and more olive oil to cover the fish. Keep the heat low and bring the oil to a boil. Let the fish poach slowly for around 20 minutes so that it releases its gelatin. The gelatin will come out as bubbles, separate from the oil, and settle at the bottom of the pot.
After poaching, remove the fish. It is done when the meat comes off in petals and it has a white coloring.
Stir the remaining oil and gelatin in the pot in small circles to further separate. Pour out the oil and keep it for later.
Put the gelatin in a 10-inch sauté pan at room temperature. Stir the gelatin with the bottom of a mesh colander or strainer to solidify it a bit. Using the strainer, slowly add the oil back while stirring the gelatin. Add oil until it becomes a thick, yellow-white, creamy "pil-pil" sauce.
On a slice of small bread (no more than 2 inches in length or width), place 1 tbsp. chopped pepper.
Place the cod meat on top of the peppers, and pour 1 tbsp. pil-pil sauce on top.Garnish with two pieces of garlic.
Skewer it with a pintxo stick to hold everything together and serve.
Pintxo with Txipiron and Saltsa Beltzean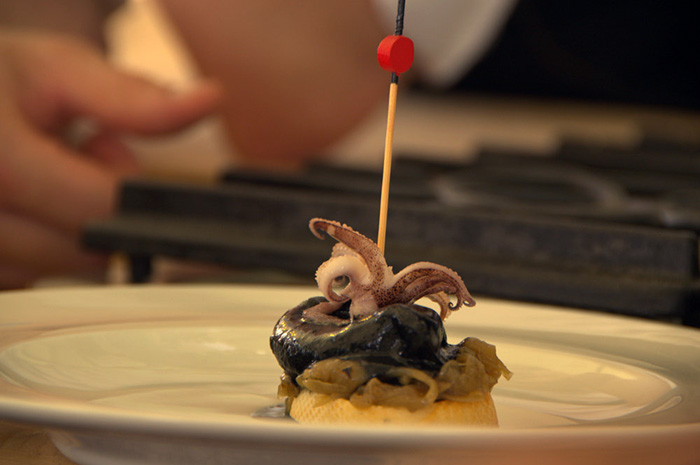 Ingredients
1 whole small squid
Olive oil
Salt
1 leek
1 onion
2 to 3 cloves garlic
Preparation
Chop 1/2 onion and place it in a 2-quart sauce pot with a layer of olive oil. Poach for 1 to 2 hours, or until onions no longer have a fibrous texture.
Pull the tentacles off the squid and set them aside. Peel the beak off the body. Reach inside and pull out the shell or quill. With the back of a knife, push out the innards.
Chop up the leek, the other half of the onion, and garlic. Boil them in 2 cups of water for 1 hour. Add the ink from the squid by puncturing the ink sac. Boil for 2 to 3 hours. (Note: the ink must be cooked, otherwise it can make you ill.)
Lay the squid body flat. With a knife, make shallow cuts on its surface without cutting all the way through. Cut first in one direction, then another to make a grid. This allows the squid to cook faster and makes the texture softer.
Place the squid and tentacles in a 10-inch sauté pan with a light layer of olive oil. Cook for 1 to 2 minutes. The body will roll into an oval and brown slightly; it will be sticky but well cooked.
Remove squid from the pan and add to the pot with the ink sauce. Let cook for 1 to 2 minutes.
On a small slice of bread (no more than 2 inches in length or width), place 1 tbsp. of poached onions.
Place the squid body on top of the onions, then the tentacles.
To hold everything together, skewer it with a pintxo stick and serve.
Shanna Killeen is a Basque program intern for the Smithsonian Folklife Festival. She recently graduated with degrees in English and Spanish, and she is currently working on a master's in English at Oregon State University.