Basque Recipe: Talo Bread & Sarteneko Skillet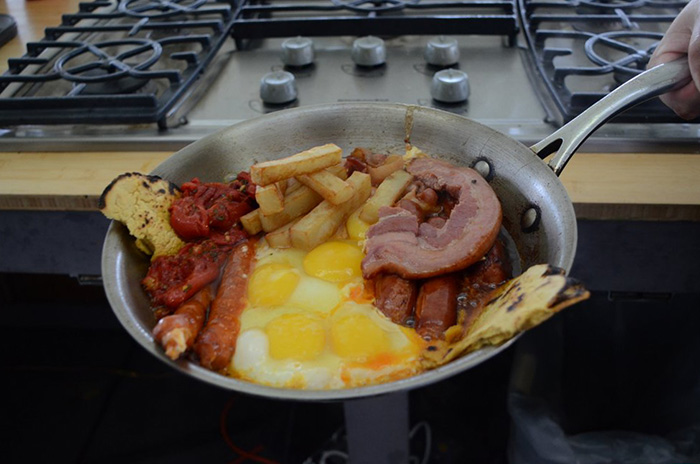 Talo is a flatbread traditionally made from varieties of stone-milled corn found only in Basque country. It commonly accompanies sarteneko, a traditional Basque skillet dish of farm products such as chorizo, bacon, and eggs. Like talo, sarteneko was once eaten almost daily but is now primarily eaten at festivals. As chef Igor Cantabrana put it, whenever these dishes are made, "there is always a party involved."
In the Folklife Festival's Ostatua Kitchen, chefs Cantabrana and Igor Ozamiz Goiriena explained that the introduction of corn to the Basque region predates flour. After European contact with the Americas, which brought products such as corn to Europe, talo became a daily staple of the rural Basque diet.
Talo traditionally uses flour from varieties of corn that developed in the Mungia area of Bizkaia. Mungia corn is often planted alongside white beans that provide high levels of nitrogen to the soil, reducing the need for fertilizer. The corn produces small grains and has a short growing cycle. When it is ready to be harvested, it is roasted at low heat in the farms' wood-fire ovens before being stoneground into flour using watermills.
The production and use of this artisanal flour is slowly disappearing. While the chefs brought Mungian corn flour with them to use at the Festival, wheat flour is now more commonly used than corn flour, and Mungian corn has been almost entirely replaced by more common, hybrid varieties. While there were around forty running mills in Mungia a hundred years ago, only four remain today.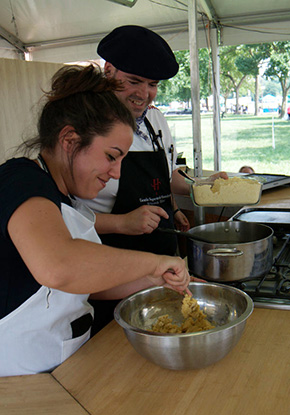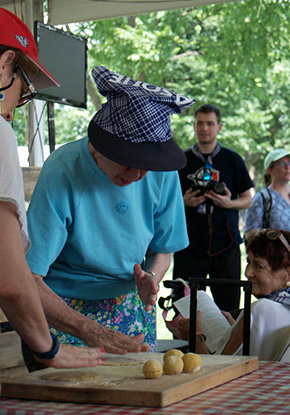 In hopes of revitalizing the Mungia corn flour, producers have joined the Slow Food Foundation for Biodiversity and formed the Mungia Talo Presidium, an organization tasked with differentiating Mungia flour from its numerous substitutes. While it is virtually impossible to find Mungia flour in the United States, Basque Americans continue the tradition of making talo by using corn flour found in local stores and supermarkets.
The recipe for talo is not found in cookbooks—it is passed down through families and communities. Chef Ozamiz learned how to make the dish from his grandmother. Corn flour is slowly mixed with boiling water and salt to form a soft dough, which is rolled into small balls, flattened, and cooked on a hotplate. Flattening the dough requires hitting the dough ball with the palm of the hand twice, turning with the wrist so that the dough does not stick, and repeating. This creates a distinct rhythm that fills the kitchen with sound: clap, clap, turn, clap, clap, turn.
Each Basque usually eats around six to eight pieces of talo during a meal. If the meal is for a big family, it may require up to one hundred pieces of talo. In many households, the whole family helps out, patting out the dough in rhythm, making music together. The finished bread is then stuffed with txistorra (a type of chorizo), cod, bacon, eggs, or even chunks of chocolate.
Recipe: Talo with Txistorra
Makes ~10 servings
Ingredients
3 cups corn flour (not corn meal)
Water
1 tbsp. salt
2 pieces txistorra (a type of chorizo)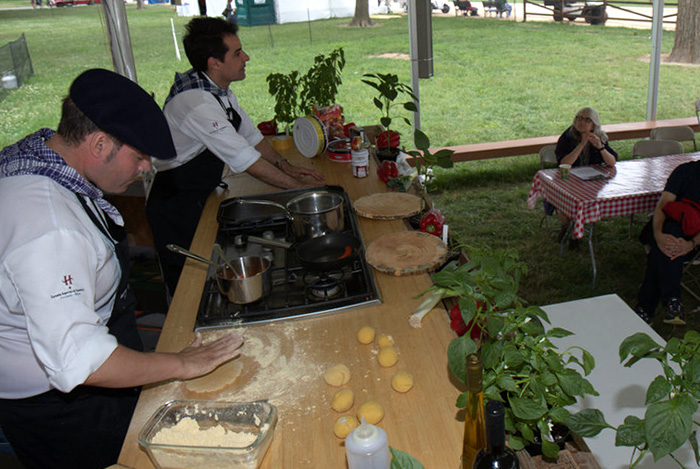 Preparation
In a 2-quart pot, boil 2 cups of water. When near boiling, add 1 tbsp. of salt.
In a large mixing bowl, place 3 cups of corn flour.
Using a ladle, slowly add hot water from the pot to the flour bowl. Mix with a fork. Add more flour or water as needed to get a soft dough.
Note: You need to use hot water to make the dough; cold water will make it less flexible, and it may break. The hot water also helps to pre-cook the dough and activate proteins.
Roll the dough into a large ball and let it set for 90 minutes with a towel on top of it to keep it moist.
Make small, palm-sized balls from the dough.
Sprinkle flour on the counter or cutting board and on your hands.
Take a ball of dough and flatten it with your hand. Pat the dough twice and then turn it with your wrist. Repeat this motion until the dough is the desired size.
Note: This traditional method ensures the dough does not stick. Basque chefs often use both hands and prepare two pieces of talo at once.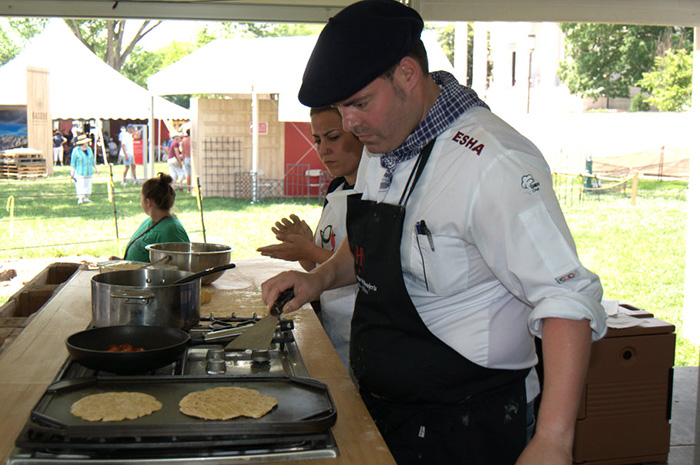 Put a piece of flattened dough on a hotplate to cook. There is no need for oil or fat. Flip the talo when it is slightly browned but still unbroken (about 5 minutes per side). It will still be flexible and creamy inside.
Once it is done cooking, stuff the talo with a filling of your choice.
Optional filling: Txistorra
Take two txistorra and fry them on low heat for 15 minutes. They are 40 to 50 percent fat, so no oil is needed.
Wrap in finished talo. Serve and enjoy.
Recipe: Sarteneko
Serves 4
Ingredients
Red bell pepper
6 eggs
4 chorizo
3 sausages
1 slice of pancetta
1 tsp. salt
3 strips bacon
2 tbsp. chopped garlic
Olive oil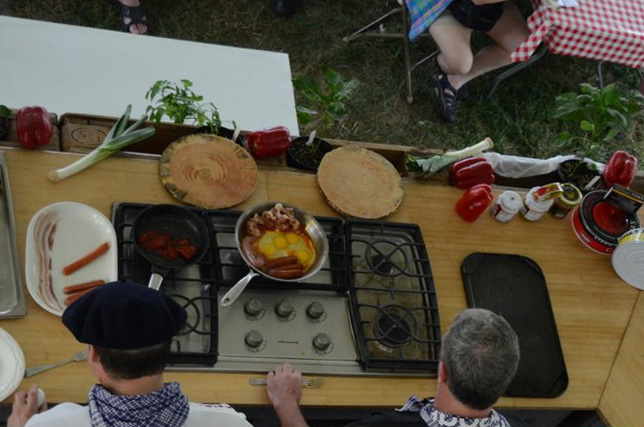 Preparation
Peppers
Take a full red pepper and place it on a roasting stick. Using a burner with the plate removed, lay the pepper in the open flame. Roast the pepper until its skin is entirely black. Rotate as needed. Burning the skin makes it easier to peel and gives the pepper a slight barbeque flavor.
Peel the pepper by gently scraping off the burnt parts with your fingers or a paper towel. Do not use water as the pepper will lose flavor.
Chop or tear the pepper into long thin strips.
In a 10-inch sauté pan, add a layer of olive oil and 1 tbsp. of garlic. Then add the strips of pepper. Let them cook in low heat for about 7 minutes.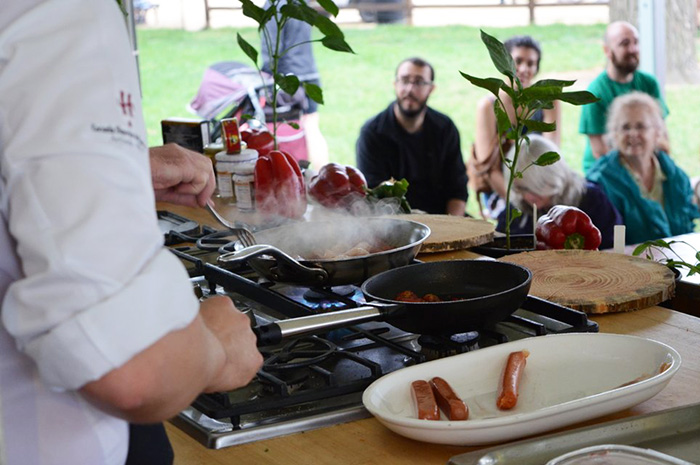 Meat
In a 12-inch skillet, add a light layer of olive oil. Put the skillet on low heat.
Add 1 slice of pancetta.
After 2 minutes, add 4 chorizo and 1 tbsp. chopped garlic. The chorizo will turn the olive oil red.
Add 3 strips of bacon.
After 5 minutes, move the meat to the sides, leaving open space in the center of the skillet. In the center add 6 whole eggs and 1 tsp. of salt.
Let the dish cook slowly for 5 minutes to let the eggs cook properly.
When almost done, add the peppers on top of the egg.
Serve alone or with talo.
Shanna Killeen is a Basque program intern for the Smithsonian Folklife Festival. She recently graduated with degrees in English and Spanish, and she is currently working on a master's in English at Oregon State University.
Reference:
Slow Food Foundation for Biodiversity, "Mungia Talo." FondazioneSlowFood.com.