Marketplace Preview: Special Events and Craft Demonstrations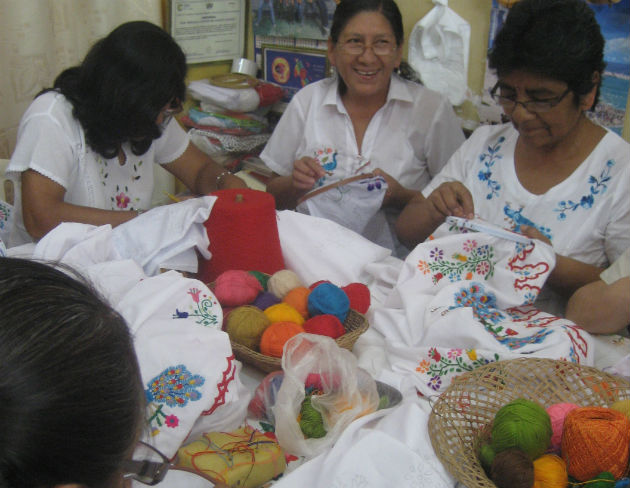 When I was in art school, the lesson always involved watching the professor demonstrate how to use the pencil, brush, or needle. While intimidating, it was also eye-opening to witness how highly skilled and experienced artists wield their tools. The Folklife Festival, including the Festival Marketplace, will provide the same awe-inspiring opportunities.
This year's Marketplace isn't just a place to buy. It's a place to meet some of Peru's most talented artists and craftspeople and learn about the traditions behind the objects available for sale. With a daily lineup of demonstrations, product spotlights, trunk shows, book signings, and other special events, the Marketplace has something for everyone.
Not all of the goods in Marketplace are made by Festival participants. Between July 6 and 12, after the Festival ends, more artists and entrepreneurs will come to meet visitors. On July 11 from 11 a.m. to 1 p.m., author Leigh Carrasco will hold a book signing for her children's book, Juicy Jack Adventures—a story about a pet guinea pig from Knoxville, Tennessee, who travels to Peru.
Want to bring some goods home for your pantry? On July 8 and 11 from noon to 1 p.m., the makers of Llama Coffee will discuss how they work with local Peruvian coffee farmers to produce high-quality Arabica coffee that is new to the U.S. market. Melanie Asher of Macchu Pisco will discuss her family's history of making pisco, a traditional Peruvian spirit, on July 10 from 5 to 7 p.m. She will also unveil the world's first-ever luxury pisco, called Ñusta.
And for one final shopping spree, Peruvian-born jewelry designer Andrea Bocchio will hold a trunk show and sale of her trendy, colorful line of traditional-inspired modern jewelry on July 11 from 3 to 5 p.m.
Artists, foodies, or children—there is something for everyone. For a complete list of scheduled demonstrations and other special events at the Marketplace, please visit the Festival Marketplace schedule.
The Marketplace will be located inside the beautiful Potomac Atrium of the National Museum of the American Indian. It will be open every day from June 24 to July 12, from 10 a.m. to 5:30 p.m., closing at 8 p.m. on June 25 and 7 p.m. on July 10 and 11.
Kevin McCarthy is the Marketplace assistant for the 2015 Smithsonian Folklife Festival.