Aymar Ccopacatty: The Plastic Bag Weaver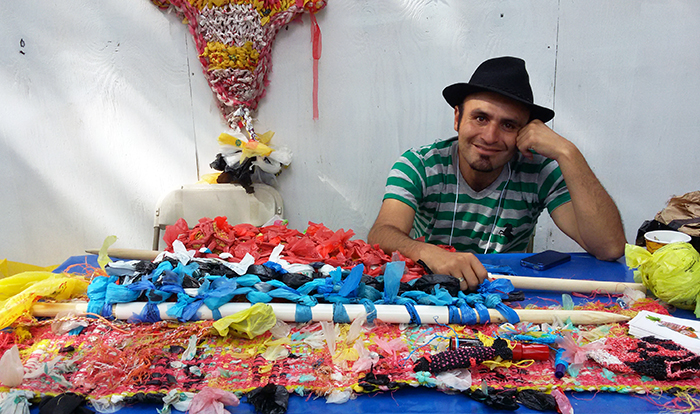 Every year, the Folklife Festival technical crew gets a few odd assignments: construct prop buildings in forced perspective, receive an entire shipping container full of grass from Cusco, spread thousands of pounds of mulch so the Festival is not one big mud puddle. This year one of their simpler but seemingly sillier tasks was to create a pair of four-foot-long knitting needles. These spearlike poles were not for jousting, not even for knitting with yarn, but for knitting together plastic bags.
Artist Aymar Ccopacatty knits, weaves, braids, and collages with recycled plastic bags that he collects mostly from his homeland of Peru. Now based in Providence after studying at the Rhode Island School of Design, Aymar wielded the giant knitting needles during Perú: Pachamama's first Festival Community Day. He was one of many participants who came to show how Peruvian cultures remain, adapt, and evolve in the United States. He was especially glad to meet the Sarawja dancers from Moquegua, neighbors to his hometown of Puno, in southern Peru on the shore of Lake Titicaca.
How did you get started with this art form?
I learned how to weave from my grandmother in Peru. I learned our textile tradition when I was about fifteen years old instead of going to high school, and it became an obsession. She was about eighty years old, and plastic had just started to come into the communities around Puno. It was hard to get materials, so she would save her plastic and make rope like the grass rope they're making for the Inka bridge, but she would make it out of plastic—not that thick, just enough to tie up her sheep.
That stayed in my mind, and after going to art school in the United States, I started experimenting with the plastic because the years I was at the university in Rhode Island, Peru started to accumulate more and more and more plastic. By the time I went back, it was the most obvious material to work with, because it's everywhere and no one knew what to do with it.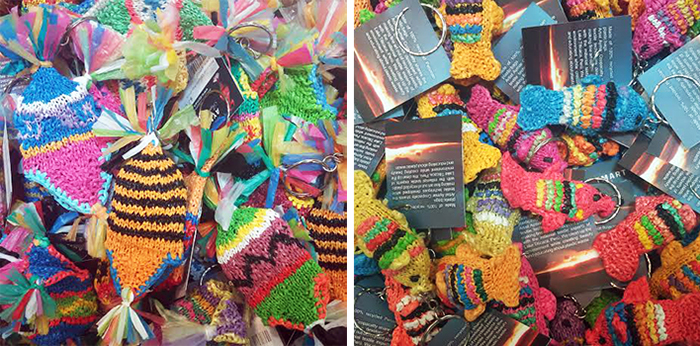 Why is plastic such a problem in Peru?
Forty years ago, Peru was a majority Indigenous nation, forced into Spanish five hundred years ago, and left with very little of its own culture and a lot of imposition of western cultures. People forty or fifty years ago only used biodegradable things, so the idea of modern waste is still very new for a lot of people. The generation of people above fifty or sixty years old has only ever seen plastic in the last eight or ten years, so it's a slow process to get the idea that we could be recycling.
In Puno, which is at the extreme border of Bolivia, they've been recycling bottles for the last five or six years, which is new—the bottles have a deposit. Basically what I'm doing in this is a miniature version of putting a deposit on the plastic bag.
How do you incorporate traditional Peruvian craft into your art?
We work on the loom, and we work on the knitting needles. There's borders and edge designs of the old textiles that we're going to incorporate into purses and bags. I don't know if I'm building on the tradition of my grandmother, because that tradition is technically way more advanced than I am. The weavers from Cusco have a lot of those techniques, and they're way more advanced because fiber is the ideal material for textiles.
What I do is more of a political expression, like fiber was what plastic is today. If we keep going at this rate, we're going to have way more plastic than fiber-producing animals. Where are we heading? So my work is multifaceted, because it's just as much an expression of frustration about where our world is at. It's not altogether practical, but it serves a purpose. We can't be so romantic about the past and not pay attention to the present.
See more of Aymar's work on his website: aymart.org.
Near New York City and want to try your hand at recycled plastic art? Aymar will lead another hands-on workshop for families on Sunday, July 12, at 1 p.m. at the Queens Museum in New York as part of their Peruvian Culture Celebration.
Elisa Hough is the editor for the Center for Folklife and Cultural Heritage.