The Pokomo Hut: Building Tradition and Community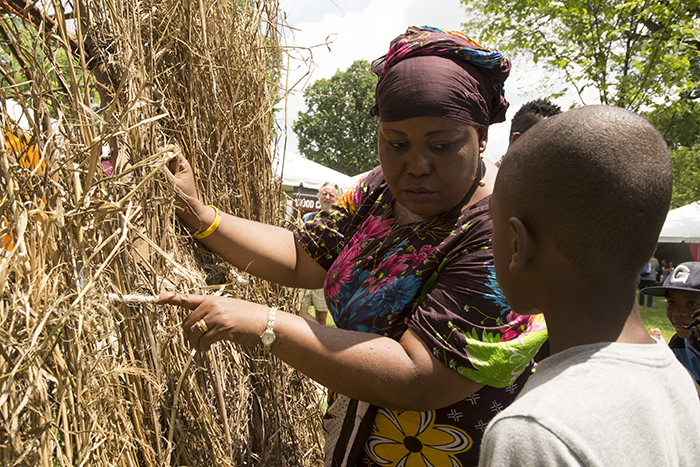 While walking through the grounds of the Kenya: Mambo Poa program, it was nearly impossible for visitors to ignore the large grassy dome structure that came to life as the 2014 Folklife Festival progressed.
Visitors flocked to stare in awe as Kenyan participants Malika Badiribu and Salma Maro constructed a traditional Pokomo hut onsite, using natural materials that had been shipped from Kenya. While a home of this size typically takes only three to four days to build, Malika and Salma slowed down the process so that more visitors would be able to see and appreciate the handiwork that goes into its construction.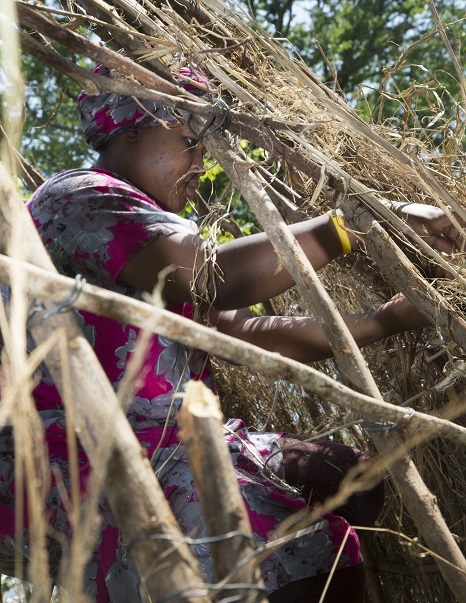 In order to provide maximum authenticity to their work, Malika and Salma used products that had been collected in the eastern region of Kenya, where the Pokomo people live. The frame of the home was built from the branches of a particular species of tree that is only found along riverbanks. The branches are extremely flexible, allowing them to be bent and contorted into the home's dome shape, which allows it to deflect rainwater.
The women used a combination of twine and metal wire to secure the branches in place and then covered the exterior with thick bunches of grass. While Malika and Salma did most of the construction, a couple of eager interns from the Center for Folklife and Cultural Heritage were able to help in the process.
After its completion, visitors could peer in to get a sense of the living space of a Pokomo family of five. The interior is typically divided into two rooms using a cloth or blanket: one side for the bedroom and the other for socializing. An upper level can also be added for storing food and other belongings.
Traditionally, building a new home is a reason to gather and celebrate for the Pokomo people. The new homeowner will invite all of his or her friends and family to help in the construction efforts and return the favor with bountiful amounts of food and gratitude, much like the barn-raising tradition that can be found in parts of the United States. This practice not only makes construction more efficient, but it also strengthens the relations shared between friends and families—resulting in a stronger community and an even stronger new home.
Amanda Cordray is a Kenya program intern for the Center for Folklife and Cultural Heritage.