Recipe from China: Lemon Pan-Fried Tofu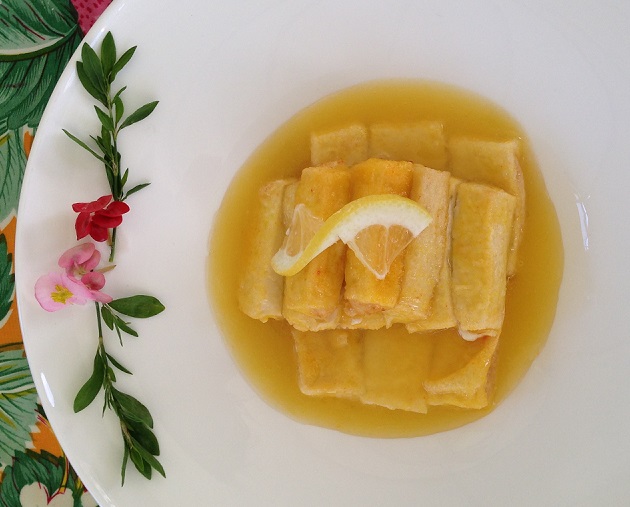 Today's pick from the Five Spice Kitchen is a vegetarian dish that blends fresh sweet and sour flavors. In some Chinese cities, summers are hot and humid, leaving people with little to no appetite. Food with a light taste is more appealing, while a hint of sour flavor can stimulate the taste buds. Lemon pan-fried tofu, a fusion of Chinese and Western cuisine, can be a great choice for dinner on a hot day.
Ingredients
1 box of soft tofu (also called silken tofu)
1/2 cup custard powder
1 egg
3 tbs oil
1/8 tsp cornstarch
1/2 cup lemon juice
1/2 cup orange juice
Sugar to taste
Preparation
Cut tofu into cubes (see picture).
Pour custard powder onto a large plate. Dab excess moisture from surface of tofu with a clean paper towel.
Beat egg. Dip tofu in egg, covering all sides of each piece. When all tofu cubes are covered, slowly roll each cube over the custard powder. Make sure every side is dusted with a thin layer of powder.
Heat a frying pan and add oil. Pan-fry tofu cubes, turning frequently with a spatula so that all sides cook evenly. Once pieces are light yellow, move cooked tofu to a plate.
To make dipping sauce: Mix lemon juice, orange juice, and cornstarch. Heat juice mixture in a small saucepan; add sugar to taste. Stirring gently, cook until mixture thickens. Pour sauce over tofu.
Claire Tian Chen is from Nanjing, China and is currently an undergraduate student at University of Rochester pursuing three majors. Her favorite part of Festival has been touching fluffy things such as lions from the Dragon-Lion Cart and visitors' dogs.