Madeleine at the Museum: On Two Wheels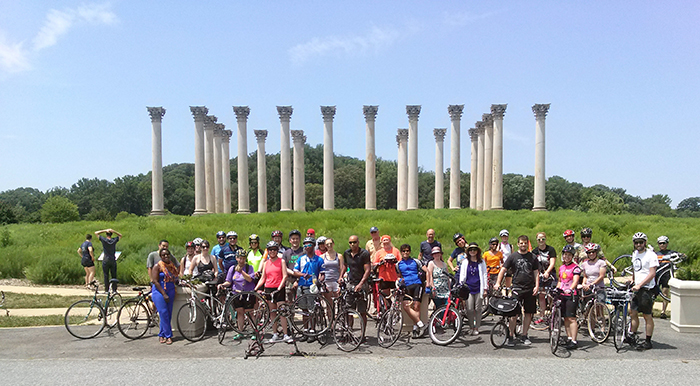 Bicycles are a common sight in China. Usually thought of as a tool, bikes are used as a way to get around or to haul goods. As the middle class in China has grown though, emphasis on leisure and recreational biking has grown as well. Along with an emphasis on health and the environment, new bike-share programs have been started in more than seventy-three cities throughout China, similar to the Capital Bikeshare program in Washington, D.C.
How does biking in the U.S. compare to biking in China? In 2010, 3.1 percent of D.C.'s 604,453 residents were bike commuters, while in Beijing, the capitol of China, 16 percent of its 19.6 million people were biking regularly.
My personal experience with biking is pretty limited. My time living and biking in Phnom Penh, Cambodia, which has very lenient road rules, gave me a bit of false confidence with biking on city streets, and being used to the flatness of Indiana has made maneuvering the hills of D.C. a little difficult. With determination (and some hesitations), I set out to explore the city by bike.
Bike to China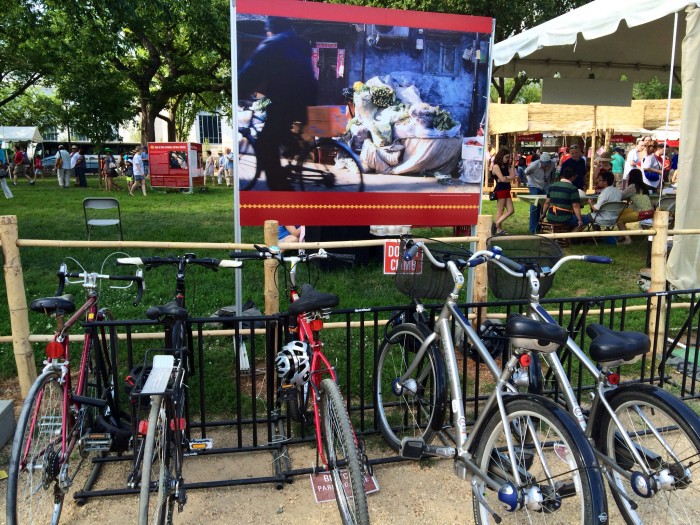 Sunday afternoon, I joined in on an organized "Ride to China" for the Smithsonian Folklife Festival. The ride began at BicycleSPACE, a D.C. bike shop that organizes weekly rides throughout the city, where about thirty-five road bikes, hybrids, folding, and red bike-share riders of all types and experience levels convened. We headed to the National Arboretum, exploring parts of D.C. I had never seen along the way.
After some time viewing the columns, riding up the hills around the Chinese Garden, resting, and socializing, we biked to China at the Folklife Festival. Overall, the ride was great and a good way to explore the city and meet other people. The only downside was a little sunburn!
China on Film
After the bike ride, I went to a screening of the film Beijing Bicycle at the Smithsonian's Freer Gallery of Art. In the film, a teenager moves from the countryside to Beijing, where he finds work as a bicycle messenger, and his livelihood becomes his bike. Comical, somber, and sad, the film dramatizes class divisions in China, as well creates a portrait of a city in flux.
At the Freer and Sackler Galleries, you can also see lots of Chinese art there any day of the week. My favorite is "Monkeys Grasp for the Moon" by Chinese artist Xu Bing, a suspended sculpture based on a Chinese folktale which flows from the sky-lit atrium, through the staircases, and down to the reflecting pool on the bottom level of the Gallery.
Discover the Smithsonian
In Part One of "Madeleine at the Museum," I went on a quest to explore exhibits at Smithsonian museums that relate to China and Kenya, our two Festival programs, and I encouraged others to do so as well. Again, I urge you to fearlessly go out and explore the city around you, whether you're a visitor for a few days or have been living here your whole life. Don't be afraid to do it on two wheels either!
Visit the 2014 Folklife Festival, going on until July 6, to learn more about music, art, food, and traditions of China and Kenya. For more information on related events during the Festival, visit our Festival website.
Madeleine Yoder is the social media intern at the Center for Folklife and Cultural Heritage and a music and sociology student at Goshen College in Indiana. Follow along with her blog posts as she explores the Smithsonian, the Folklife Festival, and D.C. for the first time on her own.