China By Bike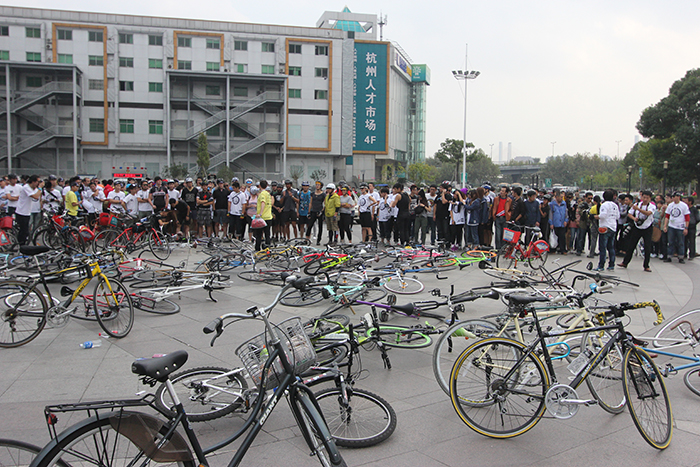 When brainstorming ideas for China program activities at the Smithsonian Folklife Festival, I think we all had the same idea: bike ride!
Bicycles are on the rise in China, as dozens of new bike-share programs like Washington, D.C.'s Capital Bikeshare alleviate the environmental and economic strains of increased car traffic. With a focus on health and recreation, the China: Tradition and the Art of Living team had already decided to feature bikes and provide bike racks for visitors, so a Bike to China group ride was essential.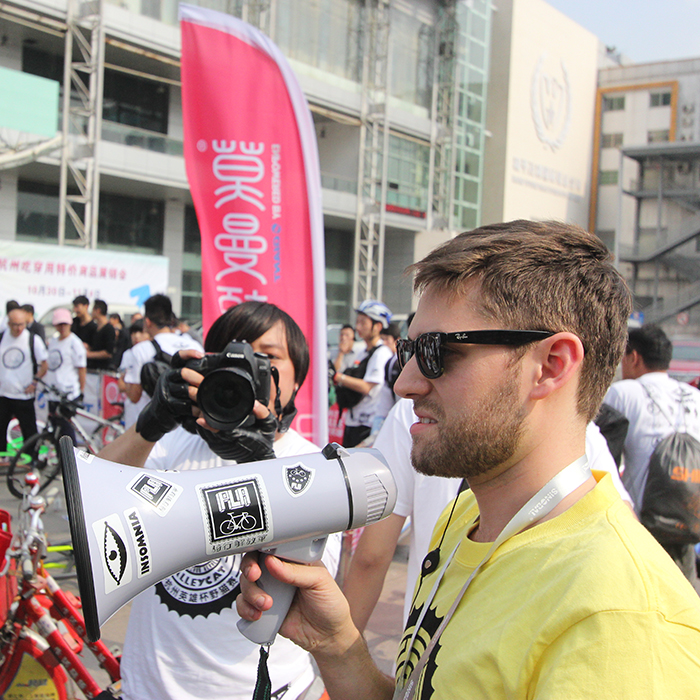 We contacted BicycleSPACE, a D.C. shop known for hosting weekly rides throughout the city, about a possible collaboration. Quite serendipitously, their events coordinator Kevin Sundeen recently returned to the States after living in Hangzhou, China, for four years where he—get this—organized bicycling events.
Kevin moved to China in 2009 after studying Chinese language and culture. He quickly got involved with the small bicycling community in Hangzhou and claims he met every single fixed-gear cyclist: under twenty in a city of six million. Since none of them stepped up to organize events, Kevin took the lead.
In preparation for the Bike to China ride on June 29, Kevin answered a few questions about biking cultures and his experiences.
How do American and Chinese biking cultures compare?
In China, tons of people ride bikes, but relatively speaking there are very few cyclists. The prevailing attitude is that bicycles are a tool, just like a hammer, and not something you spend money on to upgrade or do anything with but the most basic maintenance. That said, as the middle class grows and people have more disposable income, they are turning to bicycles for leisure and recreation, and start to identify themselves as cyclists.
In a way, the U.S. is similar: many people own bikes here, but not as many identify themselves as cyclists. However, historically, the evolution of bike culture is flipped compared to China: bikes in the U.S. have been all about leisure, but that's changing now as people, especially in urban areas, are giving up cars and increasingly turning to more utilitarian bikes to haul the groceries, kids, or even pets.
The United States is full of biking stereotypes (e.g. the goateed Portland fixie rider, the Lycra-clad speed racer). Are there similar subcultures in China?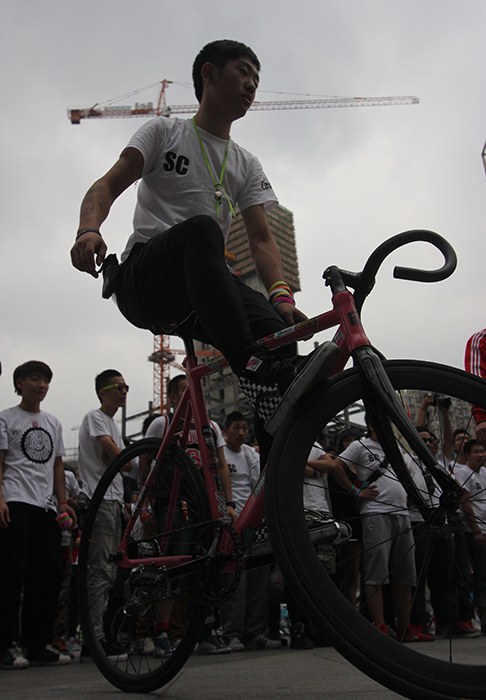 China has a rich taxonomy of cyclists. You've got the tricycle hauling guys, who will carry Styrofoam lashed thirty feet high onto the back of their trikes while they fly through the bike lanes with hardly functioning brakes. There's the university students whose girlfriends sit side-saddle on rear rack as they plod around campus. There's a burgeoning scene of mountain bike guys, along with the bike tourers who usually ride from the east to Tibet.
Don't forget the rich kids who ride $5,000 USD track bicycles five minutes to hang out with their friends and have $5 lattes at Starbucks, and not do much else.
It's my hope that as cycling becomes a more common diversion, riders will reach out beyond their niche and try new things. Fixed-gear riding, for example, has taken China by storm, and I'm excited about it because it's a great entry into the wide, wild and wonderful world of cycling.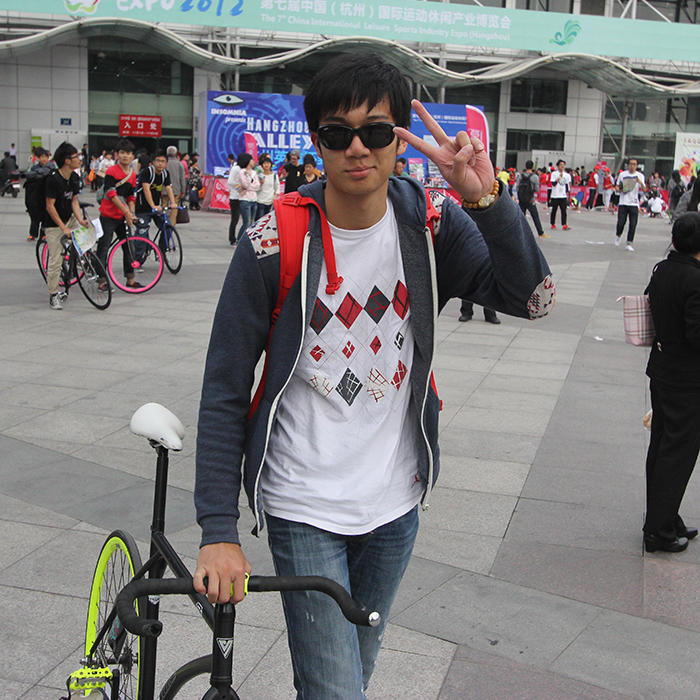 What was your most memorable ride in China?
One great memory from my time organizing the 2012 Hangzhou Heroes Alleycat, which we held at a leisure sports expo, was that lots of expo visitors, many of whom were retirees—I think they brought them in by the busload—wanted to sign up for the race. Maybe it was just to get a free T-shirt and hat, but it was pretty fun to see old Chinese grannies on bike-share bikes in line with the hip tattooed kids on fancy bikes, and everyone smiling.
Every ride was part of the effort to establish a community around our shared interest. Any ride I shared with my friends was my favorite.
Bike to China on Sunday, June 29! The ride leaves at 11:30 a.m. from BicycleSPACE (1019 Seventh St. NW in Washington, D.C.), through the Chinatown gate and ending at the Folklife Festival by 1:30 p.m. All riders are welcome! RSVP on Eventbrite and Facebook.
Read more about Kevin Sundeen's experiences in China at Hangzhou Alleycat.
Elisa Hough is the editor for the Center for Folklife and Cultural Heritage and rides her bike to work every day!