Join Us for the 2014 Festival Opening Ceremony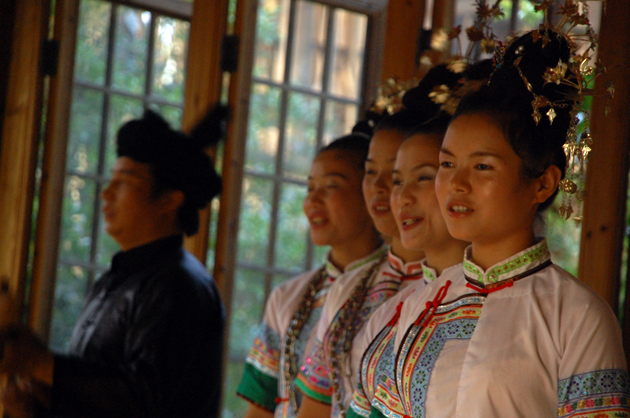 Join us on Wednesday, June 25, for the opening ceremony of the 2014 Folklife Festival. Held in the Moonrise Pavilion on the National Mall from 10:30 to 11:30 a.m., this Festival tradition marks the official beginning of nearly two weeks of cultural events, which draw nearly one million visitors annually. Starting with the ceremony, tradition bearers and the public are invited to connect in sharing and understanding cultural differences and similarities.
The 2014 Festival features two programs, China: Tradition and The Art of Living and Kenya: Mambo Poa. The opening ceremony will highlight some of this year's talented performers from China and Kenya and feature remarks from distinguished speakers. The involvement of performers in the opening ceremony speaks to the importance of the participants in the Festival, as it is a platform through which their voices are amplified so that they may share their living traditions.
The ceremony will begin with a lively procession by the Ramogi Dancers of Homa Bay County. The Kagan and Kochia dancers will perform a traditional burial dance that is now featured at state functions, wedding ceremonies, and other rites. Thomas Wesonga, a legendary Kenyan choir master and choral signer, will be joined by numerous Kenya program singers to perform the song "Tushangillie Kenya" (Let's Celebrate Kenya). The Kenyan Cabinet Secretary for Sports, Culture and the Arts, Dr. Hassan Wario, will be speaking to the significance of the Festival to the Kenyan people.
Ih Tsetsn, a seven-piece band from Inner Mongolia, China, will also perform at the ceremony. The members of Ih Tsetsn work to sustain Mongolian musical traditions, performing khoomei throat singing and "long song," two practices on UNESCO's Representative List of the Intangible Cultural Heritage of Humanity. The Dimen Dong Folk Chorus will return to the Folklife Festival this year, after participating in a preview concert at the 2013 Festival. They will perform another choral tradition, ga lao or "grand song." The ceremony will include remarks by Chinese Ambassador Cui Tiankai, whose work with the Center for Folklife and Cultural Heritage has been integral to the success of the China program.
Each year the opening ceremony calls attention to the importance of gathering people from around the world on America's Front Yard to exercise their right to cultural democracy. At the conclusion of the ceremony, representatives from each program along with Smithsonian officials will officially open the Festival to the public. The Zhejiang Wu Opera Troupe will lead the audience out of the tent and into the festivities.
Join us in celebrating the beginning of the 2014 Folklife Festival!
Kendra Speak is a special events intern this summer at the Center for Folklife and Cultural Heritage. She is a rising senior at The George Washington University, where she double majors in international affairs and geography with a concentration in contemporary cultures and societies.