Festival Artists: In Their Own Words
The Folklife Festival's Kenyan and Chinese participants are as diverse as the crafts and music styles they represent. Every person who carves, sews, paints, sings, embroiders, or dances on the national Mall has a unique story and point of view. Here are snapshots of a few Festival participants and their experiences.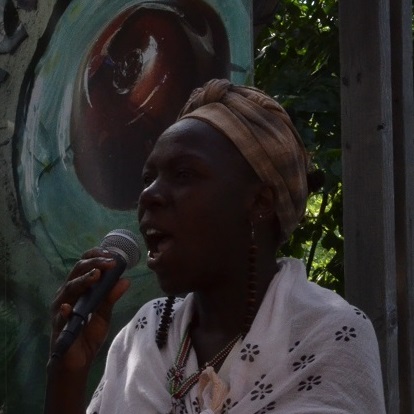 Hellen Alumbe Namai, storyteller
(From a Festival visitor:) "How long, or how short, should a good story be?"
"At the beginning of one second, you should know what kind of an audience you have…thirty minutes is easy, but five minutes—how do I make an impact in five minutes?"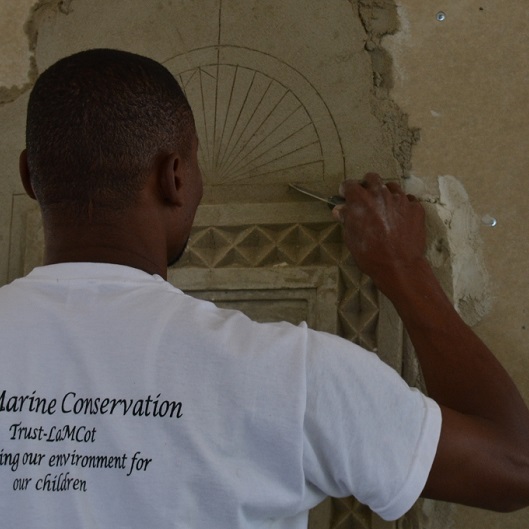 Ahmed Yusuf Suleiman, plaster worker
"Is it strange to have people watching you work?"
"No. These benches are here for you."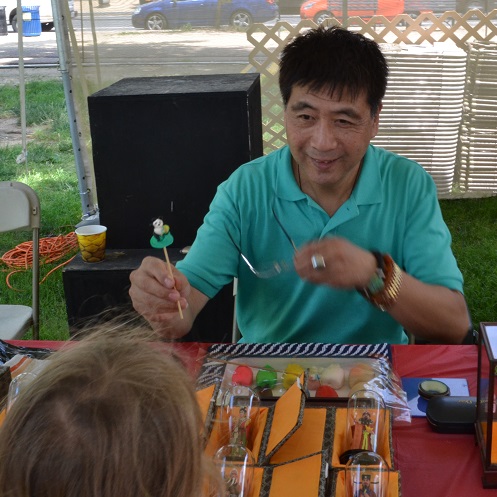 Zhang Baolin, dough modeler
During the Festival, Mr. Zhang has been known to drop whatever he is working on, pinch off two tiny balls of black and white dough, and, in less than ten minutes, happily present a panda to a small visitor who has been watching him work.
"What's special about being able to share your art with children?"
(Through a translator:) "One, it is important to respect children… I would rather teach them, but most of them are too young to learn, so I can at least give them a present. It's also for good Chinese-U.S. relations, and I hope…it will teach U.S. children to appreciate Chinese folk art."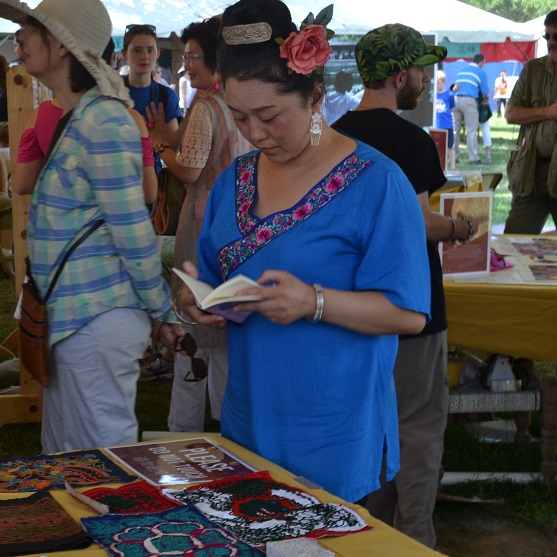 Zhang Hongying, Miao embroiderer
One visitor was puzzled to learn that Ms. Zhang had a sister, and asked if her minority community was allowed exemption from China's laws that limit families to one child. She laughed.
(Through a translator:) "We're allowed to have two. If we don't have more children, then no one learns the embroidery!"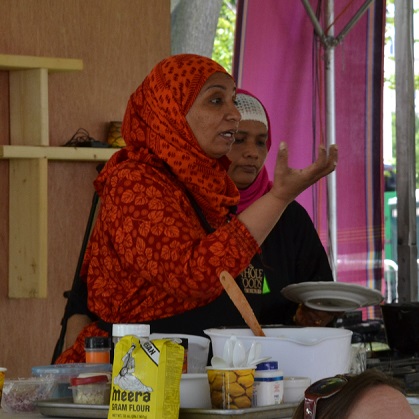 Fatma Ali Busaidy, Swahili cook
"When you are very young and first learning how to cook, what are the first things you learn how to make?"
"When you are very young, you aren't supposed to be near to the fire… You peel potatoes, garlic, onions. Then you learn to cook rice, make dough, roll chapati [a kind of flatbread]. You make our tea…You see your mom near the fire, and how she is, but you're not supposed to touch."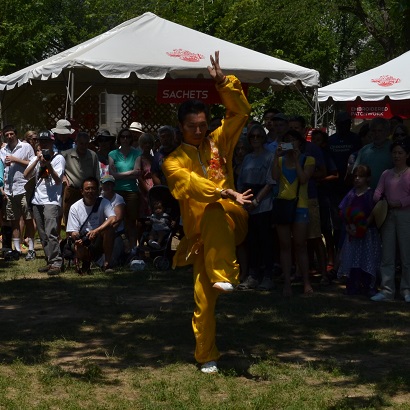 Chai Yunlong, tai chi champion
(From a visitor:) "Do you have DVDs?"
(Through a translator:) "No, but if you just Google it, you can see me."
Meg Boeni is a media intern for the Center for Folklife and Cultural Heritage who studies journalism and Spanish at Boston University. Talking to participants—and playing Chinese hacky-sack with them—has been her favorite part of the Festival.