Cultural Tradition Meets Economic Difficulties: A Reflection on Sustaining Miao Embroidery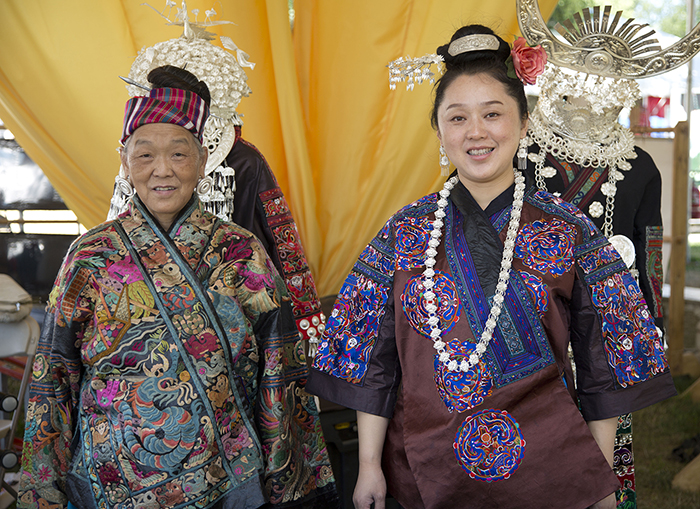 The China program at the 2014 Folklife Festival provided so much to see—even for a native Chinese person like myself. And as a graduate student specializing in international development policy, I am especially interested in the economic opportunities and challenges that traditional artisans face, given the fast pace of urbanization and development in China.
During the Festival, I worked closely with Pan Yuzhen 潘玉珍 and her daughter Zhang Hongying 张红英, embroiderers who are Miao, an ethnic minority. While they live in Beijing now, they are originally from Taijiang county in Qiandongnan Miao and Dong Autonomous Prefecture, Guizhou Province, where the Miao constitute over forty percent of the population. Miao were among the first people to settle in present-day China, and many continue to practice their community's traditional crafts, including embroidering, batik, and silver jewelry making.
Pan made several visits to Beijing starting in 1976, when China's state museums began collecting artwork from ethnic minority groups. During one visit, a Japanese woman saw her wearing her Miao traditional clothing; she became very interested in Miao embroidery and eventually purchased some pieces from Pan. Seeing the opportunities there, Pan started selling her works in Beijing markets in 1997. A year later, her daughter joined her.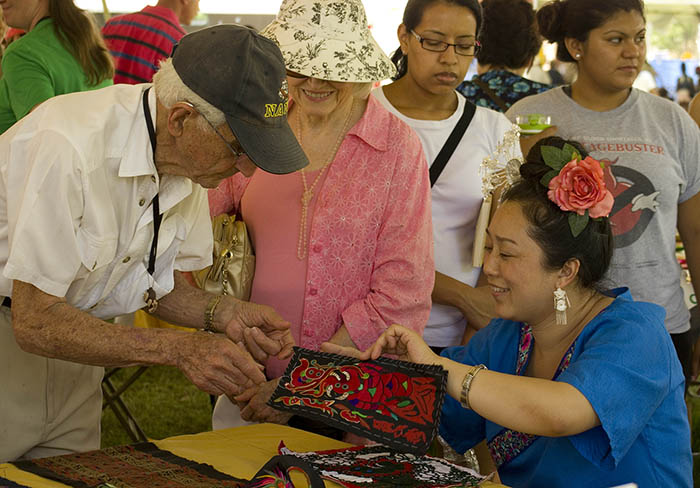 Zhang remembers the first winter she spent in Beijing with her mother in 1998: "It was so cold in Beijing. I didn't know whether people would buy our embroidery. I wanted to go back home. "
They did not go back home, but instead stayed in Beijing and now sell their goods every week at Panjiayuan Antique Market. Still, the question of returning home has come up every year for the past seventeen years. In fact, they have witnessed other traditional craftspeople leaving the market.
"But we don't have a choice," Zhang says. "Few people would come to our village and buy the embroidery."
When business is going well, they ask for help from "sisters" 姐妹 in their Miao village—mainly women in their fifties who need income but cannot work in urban factories. Either Pan or Zhang then travels back to their home village to bring the embroidery to Beijing for the market. The journey from the nation's capital to their village takes almost thirty hours by train. They rarely fly home because plane tickets cost twice as much as train tickets.
As living expenses go up in Beijing, Pan and Zhang may change their minds about staying. Since 2005, the city has undergone considerable redevelopment and new construction. They have had to move several times in search of affordable rent and once because their building was torn down for new development. In the past ten years, their annual rent has increased from 20,000 RMB to 50,000 RMB ($8,100).
As the parent of a young child, Zhang will need to make a decision based on the opportunities and expenses of schooling. Under the current huji policy, Zhang's daughter is not considered a Beijing resident. Since non-Beijingers have restricted access to state services, including education, Zhang's daughter is currently enrolled in a private school for migrant children. In the future, they may have to return to their hometown for her continued education because of regional differences in curriculum and the way in which college admission criteria is applied to non-Beijing residents. In 2011, after a long-standing debate in academia and the media, former Chinese premier Wen Jiabao finally called for speeding up policy reform in this area. For now, it is unclear whether or not Zhang's daughter will benefit from this.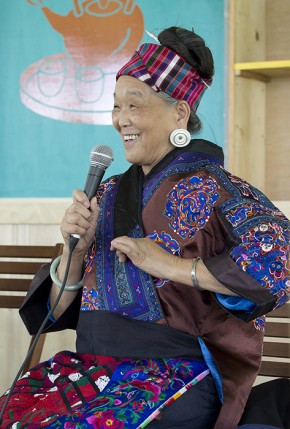 On the other hand, Pan and Zhang recognize that returning to Guizhou may not improve their opportunities. Relatives and fellow villagers who have remained in the province continue to sell embroidery at the town market on weekends as per tradition, but they too face the challenges of meeting the rising cost of living. Nearly half the young people in their village (between the ages of eighteen and thirty-five) have left to work in urban factories in search of higher salaries and new opportunities.
In 2012 alone, over 800,000 people from the Qiandongnan Miao and Dong Autonomous Prefecture migrated to work in coastal areas of China, such as the greater Yangtze River Delta and Pearl River Delta metropolitan region.¹ They often leave behind parents and children who depend on them for care. However, Zhang explained that many of these migrant workers often return without much money or any useful skills. These long-term relocations also prevent young people from learning traditional crafts such as Miao embroidery, which require years of practice to master.
Guizhou Province has historically been a less developed area in China because of the mountainous landscape and lack of policy support during the early economic reform period.² It is reported that people living in these areas, thirty-seven percent of them ethnic minorities³, lack the necessary business skills and technology to compete with the rapid modernization of the majority of China's population. Pan and Zhang do not have a website. Nobody in the family knows how to create and protect their own brand or run an online shop. In fact, Zhang never used email before the months leading up to the Smithsonian Folklife Festival, when it was necessary to communicate with our staff.
In recent years, the Chinese government has responded to endangered cultural traditions by subsidizing economic development in regions that are home to many ethnic minorities. In 2014, the traditional village preservation project selected eleven villages from Qiandongnan Miao and Dong Autonomous Prefecture to receive financial support for preservation of their historic, cultural, artistic, and economic values. Until the end of 2013, the central government had allocated 2.8 billion RMB ($456 million) as special funds to preserve national cultural heritage.
While these have brought financial opportunities to some communities, it will take more time for a larger number of people to benefit from them. I hope Pan and Zhang, and other artisans like them, will no longer need to struggle for a living far away from home. With such energetic entrepreneurial spirit, extraordinary skills, and years of hard work, they deserve a better future.
Qiaoyun Zhao is an intern with the 2014 China Folklife Festival program. Originally from Nanjing, China, she is currently a graduate student in the University of Maryland, School of Public Policy. She finished her undergraduate study in Nanjing University before she came to United States in 2013.
¹ According to statistics provided by Qiandongnan Miao and Dong Autonomous Prefecture
² The early period of China's reform focused mainly on the development of the coastal areas, which traditionally had a relatively well-developed infrastructure and a strong economic base. The gap between the coastal and interior areas continued to widen. For example, the per capita GDP of Shanghai is 21,213 RMB; the poorest region, Guizhou, is 5,397 RMB.
³ Minority groups account for more than thirty-seven percent of the population, and they include Miao (including Gha-Mu and A-Hmao), Yao, Yi, Qiang, Dong, and Zhuang.