A Ramogi Dancer from Head to Toe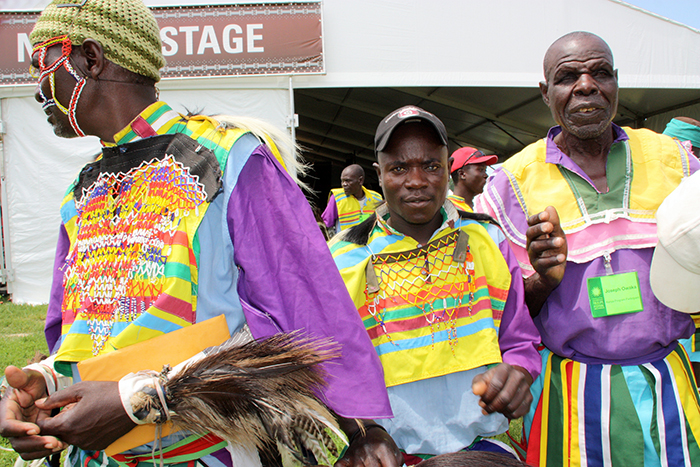 If you attended the 2014 Folklife Festival, you may have seen a group of stately, rainbow-ribbon-bedecked Kenyan men getting stopped often for photographs.
They are Ramogi Dancers from Homa Bay County, part of the Luo community in western Kenya. Ramogi was the patriarch of the Luo people, and for hundreds of years, groups of mature men have performed a traditional dance to beseech his spirit to possess them.
Today, the dancers are popular at weddings, diplomatic functions, and celebrations for Kenyan Independence Day. Here's an explanation of some of their elaborate costumes.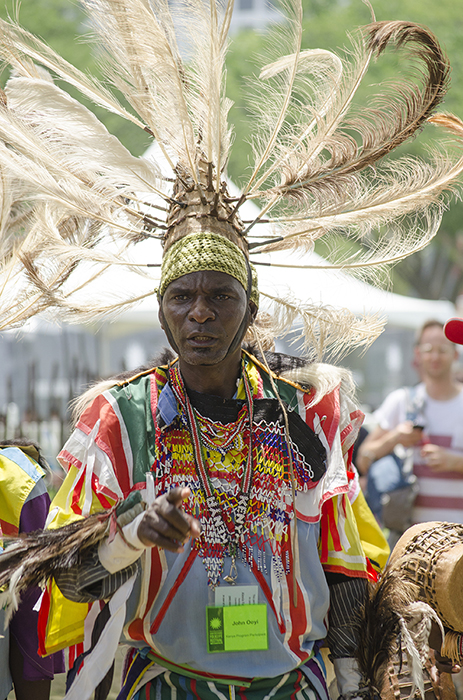 Headdress—For the Luo people, an ostrich is a bird of great beauty and courage. The towering circles of ostrich feathers that dancers wear represent the courage they will need to dance among audience members and stir their emotions. Ostrich feathers are worn for many local festivals and celebrations in the Luo community.
Movements—Some of the Ramogi dance movements might resemble a bird taking off or circling in flight; part of the dance is inspired by the movements of the ostrich and the crested crane.
Colors—Traditionally, dancers daubed their bodies with various colors of clay. Nowadays, a costume is easier to put on and take off for busy festivals. Each dancer designs and makes his own according to personal preference for colors.
Flywhisk—Its name in the dancers' Luo dialect is orengo, and it comes from the tail of a buffalo. Traditionally a symbol of elders, it also serves as a visual cue for choreographer Alfred Anyango Migure to lead his dancers in steps.
Fur—Each dancer has a black and white pelt on his back that shakes and fluffs out during the steps. It comes from a Colobus monkey. If you look carefully, some still have a tail.
Ankle Shakers—Part of the frenzied jangling and percussion heard during the dance come from gar, noisemakers tied onto the ankles of every dancer. Migure calls them the "salt" of the dance, or the essential element that gives it flavor and flourish.
Community Role—The Ramogi dance is a skill that every member of the community must learn, both men and women. The Homa Bay troop normally includes three times as many members as were present at the Festival, and they are often selected by the Kenyan government to perform at special occasions. The dance itself is actually one for funerals, but troupes such as this one have transformed it into a celebration of Kenyan culture.
Still curious? Check out this Festival video on the Ramogi dancers and their heritage.
Meg Boeni is a media intern for the Center for Folklife and Cultural Heritage who studies journalism and Spanish at Boston University.