The AIDS Memorial Quilt Comes to the Capital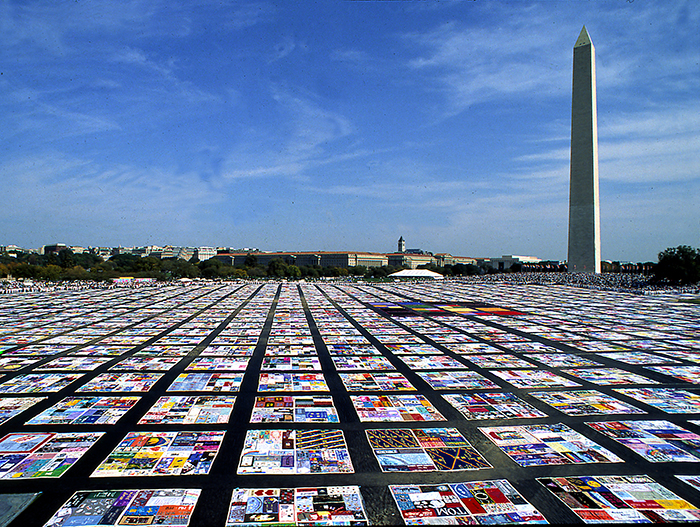 The first panels of The AIDS Memorial Quilt were sewn in San Francisco in 1987. Since then, The Quilt has incorporated contributions from all over the world and has grown to over one million square feet, making it the largest community art project in the world. Today, the Quilt's 47,000 panels memorialize more than 93,000 individuals and touch the lives and hearts of millions more.
This summer, The NAMES Project Foundation will be displaying The AIDS Memorial Quilt throughout Washington, D.C. The first displays will be featured as part of the Creativity and Crisis program at the Folklife Festival from June 27 through July 1 and July 4 through July 8.
Later in the month, from July 21 through July 25, portions of the 54-ton Quilt will be on view on the National Mall and at more than forty other locations throughout the region. This monumental and extensive display of The Quilt coincides with the XIX International AIDS Conference, which will take place at The Walter E. Washington Convention Center.  Apart from the National Mall, sections of The Quilt will be on display at the following locations:
Arena Stage
American University
Baltimore-Washington International Airport
Dulles Airport
Reagan International Airport
Renaissance Mayflower Hotel
Renaissance Washington DC, Downtown Hotel
Renaissance Washington DC, Dupont Circle Hotel
The Organization of American States | Art Museum of the Americas
The John F. Kennedy Center for The Performing Arts – South Gallery
Human Rights Campaign Headquarters
Nationals Stadium (July 7 game)
The Department of The Interior South Building Plaza
The Ronald Reagan Building/International Trade Center
St. Paul¹s Lutheran Church
Eastern Market Main Hall
The National Building Museum
The Harman Center for The Performing Arts
A complete listing of display locations can be found at Quilt2012.org
Lindsay Tauscher is an intern at the Center for Folklife and Cultural Heritage, assisting in the production of the 2012 Creativity and Crisis Folklife Festival program. She is assistant executive director of Capturing Fire, a national queer spoken word and poetry festival, and works for La-Ti-Do Cabaret, the District's only weekly spoken word and musical theatre cabaret series. Lindsay is a graduate of Johns Hopkins University, where she double majored in History of Art and French and minored in Museums and Society.