Team Kenny's Block Party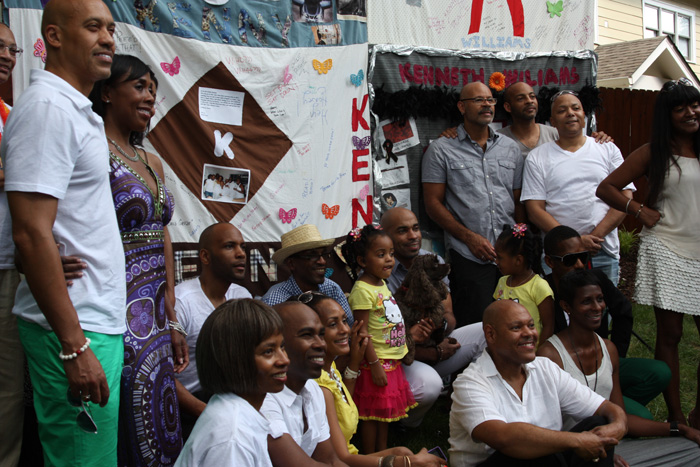 On a gorgeous Sunday afternoon in Atlanta, thirty friends gathered at the home of Terrence Hooks and Richard Moultrie with food and drinks for a "block party." The main attraction at this gathering was a twelve-foot-by-twelve-foot fabric block, made up of eight panels, each measuring three feet by six feet. The block will soon make its way to The NAMES Project Foundation and become part of the 48,000-panel, 54-ton AIDS Memorial Quilt.
This very close-knit community of friends--some of whom have known each other since childhood days in Detroit, some finding their way to this group later in Atlanta--spent months working on these panels for their friend, Kenneth M. Williams, who passed away in 2007 from AIDS. Both sadness and joy filled the room as they unfolded the block and everyone finally had a chance to see the completed piece. The result of this labor of love is a stunning block that aptly represents Kenny, complete with three panels that show off his passion for fashion; panels that speak to his years in Detroit and Atlanta, his sharp wit, the office he always dreamed of; and a signature square with friends' names and messages.
Chris Locklear, a close friend of Kenny's from their Detroit days, was the driving force behind this huge undertaking, but it was clear that the entire community holds Kenny and the project dear to their hearts.
Spend some time with this block when it is displayed as part of the Creativity and Crisis: Unfolding The AIDS Memorial Quilt program at the 2012 Smithsonian Folklife Festival and join us at the "Giving Voice" narrative stage towards the end of the Festival when members of "Team Kenny" will be on the Mall to tell their story.
Click on images to enlarge and see captions.
Arlene Reiniger is the curator of the Creativity and Crisis Festival program.