From the Test Kitchen: Northwest Summer Salad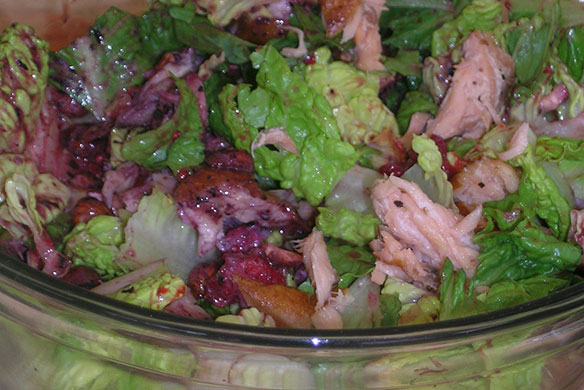 We will be posting a selected recipe from the Campus and Community Foodways Test Kitchen daily, along with some background information on the institutions, recipes, and the ingredients. Drop by the Test Kitchen, in the Campus and Community "Building on Tradition" area, to see live demonstrations and meet the chefs! Visit the Festival Schedule for a complete list of demonstrations.
Northwest Summer Salad
Northwest Indian College, "Salish Traditional Foods"
Many 1994 Land-grant Tribal Colleges and Universities are leading the wellness movement by enhancing contemporary and traditional initiatives to cultivate tribal food sovereignty—the right of people to shape and control their own food systems. This delicious salad features important Salish traditional foods, including huckleberry and wood sorrel. Native foods may be healing tools, especially when paired with physical activity, to combat obesity and diabetes in tribal communities. This recipe offers a satisfying and nutritious blend of protein, good quality fats and antioxidant-rich berries!
Ingredients
For the salad:
1/2 cup hazelnuts, roasted and cut in half
1 head lettuce – butter, green leaf or romaine
1/2 cup wood sorrel leaves (if available)
1/2 cup violet or pansy flower and leaf (if available)
1/2 cup smoked salmon (torn into small pieces and bones removed)
1/2 cup sliced strawberries
For the dressing:
1/2 cup fresh or frozen and thawed huckleberries or blueberries
1/4 cup extra virgin olive oil or walnut oil
2 tablespoons balsamic vinegar
1 teaspoon honey
Pinch of salt and pepper
Method
Place hazelnuts on a cookie sheet and roast in the oven at 300ºF until they smell fragrant and begin to brown, about 15 minutes. Set aside to cool.
Wash and drain the lettuce, wood sorrel and violets.
Put all the dressing ingredients in a blender and blend until smooth.
Tear lettuce into bite sized pieces and place in salad bowl.
Place all other salad ingredients on top and dress with huckleberry dressing.
Recipe courtesy of Elizabeth Campbell and Elise Krohn, Northwest Indian College