Laugh Therapy: An Alternative Way of Healing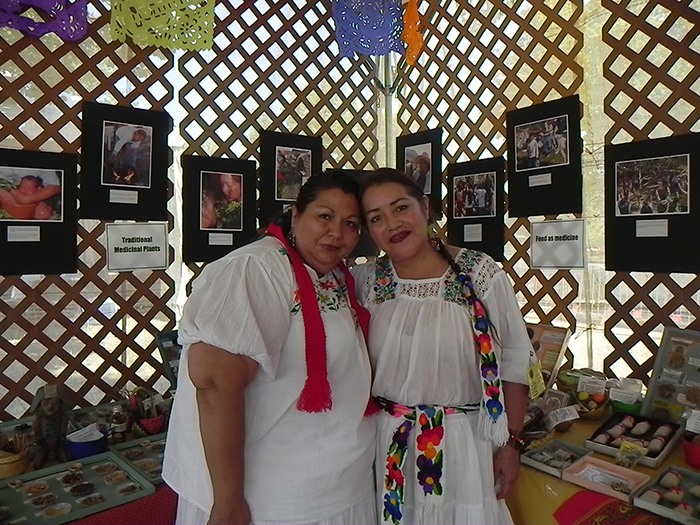 I have always heard that laughter is the best medicine and have always been amazed by the magical healing power laughter seems to possess. After spending an hour with curanderas Toñita Gonzales and Rita Navarrete Perez, however, I have a whole new perspective on what laughter can provide. According to Rita, "It is not magic, it is medicine." Toñita and Rita, curanderas with the University of New Mexico—part of the Campus and Community program—are sharing their knowledge of traditional medicine and healing, which includes laugh therapy, at the Folklife Festival.
Toñita and Rita have been holding laugh therapy sessions and workshops for years. Usually, their workshops start out with a warm-up of breathing exercises and body movements. Then Rita will think of something to make herself start laughing, and because laughter is contagious, the audience will start to laugh as well. Both women believe that no one needs a joke or a special reason to laugh, so no jokes or funny stories are ever told during laugh therapy sessions.
Rita and Toñita have witnessed the healing effects of laugh therapy. Toñita elaborated, "Laughing really hard for several minutes can have the same results as taking an anti-depressant pill or twenty minutes of hard exercise." Laugh therapy has been shown to help people lose weight, regulate blood sugar levels and control blood pressure. Laugh therapy also helps people manage stress because the endorphins released in the body by laughter help the body enter a state of harmony.
Laugh therapy offers a unique approach to healing. Rita and Toñita want to teach people to heal themselves; because anyone can laugh, laugh therapy is an ideal place for people to begin learning this. Rita and Toñita have chosen to share laugh therapy at the festival because, as Toñita explained, "It allows us to bring healing in a larger format"; so often healing is a one-on-one experience, but through laugh therapy, Toñita and Rita can heal many people at once.
Visitors should experience laugh therapy for themselves. Toñita and Rita will be holding one more laugh therapy session tomorrow, July 8, at 11 a.m. on the Justin S. Morrill Stage in the Campus and Community program area.
Kate Scott is an intern at the Center for Folklife and Cultural Heritage. She attends Illinois Wesleyan University, where she studies anthropology.