In Memoriam--Chuck Brown (1936-2012)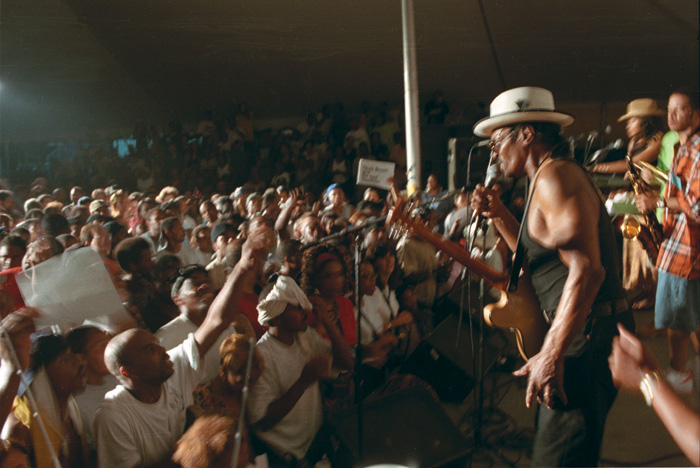 The Smithsonian Folklife Festival mourns the passing of Chuck Brown, the Godfather of Go-Go.
Brown was born in North Carolina in 1936. When he was eight, his family moved to Washington, D.C., a city with which he and the music he pioneered are closely associated. A guitar player, he was influenced by a variety of musical forms, including jazz, blues, and Latin genres--even playing with a group called Los Latinos in the 1960s. In the early 1970s, with Chuck Brown and the Soul Searchers, he released the song "We the People," which is considered the first recording to reflect the distinctive D.C. go-go sound. Their 1978 song "Bustin' Loose" hit number one on the national charts.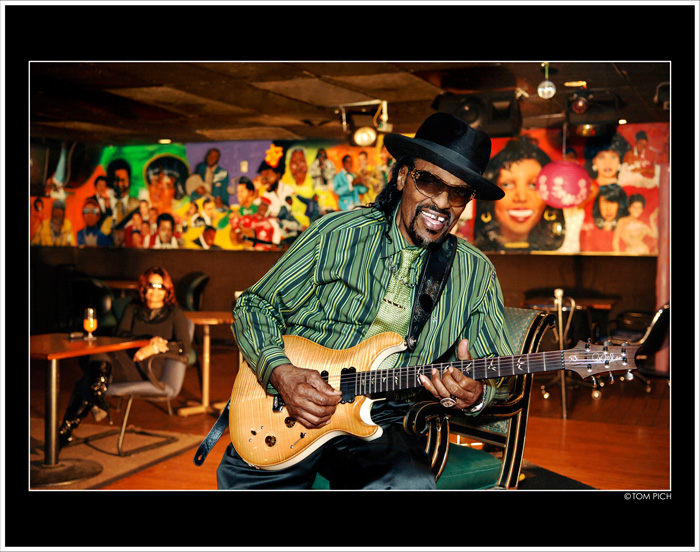 In 2005, Chuck Brown was recognized by the National Endowment for the Arts as a National Heritage Fellow, this country's highest honor for Folk and Traditional artists. When interviewed by Jo Reed on this occasion, Brown explained:
"I was trying to create a sound of my own but it ended up being a sound for the town and all the other bands jumping on it, you know?  Everybody like that groove, you know?  Break down and you caught a response to the people, you know?  And that's what it's about and it just goes and goes.  It got to the point we didn't have to do no more ballads. . . everybody wanted to stay on the floor.  Once you come through that door, you're gonna get on the floor. . . I decided to call it go-go music simply because it don't stop, it just keep going and going and going."
The photograph above shows Chuck Brown at the Ebony Inn, 5367 Sheriff Rd., Capital Heights. Brown took photographer Tom Pich here because it's where he first performed as a young boy. Pich recalls, "During my visit with Mr. Brown at the Ebony Inn, I witnessed how much he was loved and respected by the community: word of his presence spread fast and it took him quite awhile before he could enter the Inn. I watched him take the time to say hello to everyone that wanted to speak with him."
The Center for Folklife and Cultural Heritage was proud to present Chuck Brown at the 1993 and 2000 Smithsonian Folklife Festivals. This footage from his electrifying 2000 performance demonstrates why his legacy, like the music, will no doubt "keep going and going and going."