From the Test Kitchen: Honey Chocolate Oatmeal Cookies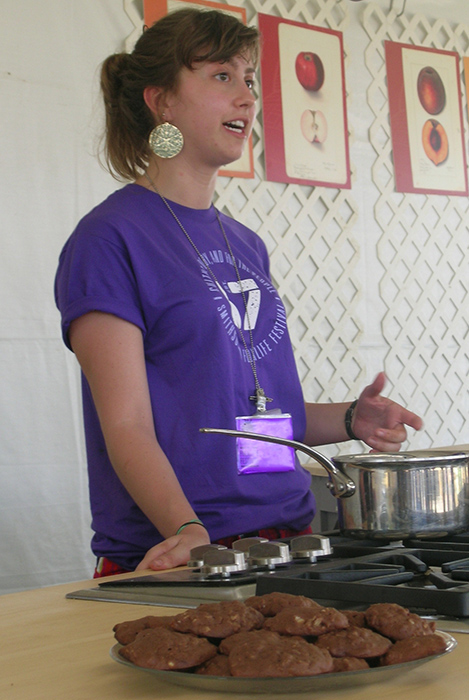 We will be posting a selected recipe from the Campus and Community Foodways Test Kitchen daily, along with some background information on the institutions, recipes, and the ingredients. Drop by the Test Kitchen, in the Campus and Community "Building on Tradition" area, to see live demonstrations and meet the chefs! Visit the Festival Schedule for a complete list of demonstrations.
28 June: Honey Chocolate Oatmeal Cookies
USDA, "Cooking with Honey"
What's all the buzz about? You may not see it, but honeybees play an important role in putting food on our tables The Bee Research Laboratory in Beltsville (one of 5 USDA Agricultural Research Service laboratories in the United States focused on pollinator health) conducts research on the biology and control of honey bee parasites, diseases, and pests to ensure an adequate supply of bees for pollination and honey production. Help support local pollinators by trying out this recipe, which uses honey instead of sugar.
Ingredients*
2 1/2 cups flour
1/2 teaspoon baking powder
1/4 teaspoon baking soda
1/2 teaspoon salt
1 teaspoon cinnamon
1 cup butter
1 1/4 cup honey
1 egg, beaten
3 oz. chocolate, melted
1 1/2 cups rolled oats
1 cup nuts or coconut (optional)
Method
Cream the butter and honey.
Then add beaten eggs, melted chocolate. Mix well.
Add dry ingredients. Mix well.
Stir in rolled oats, nuts or coconut.
Drop by spoonfuls onto a greased cookie sheet.
Bake 350ºF for 10-12 minutes.
*To Substitute honey instead of sugar:
Cakes and cookies: replace up to half the required sugar with honey and reduce liquid ingredients by 1/4 cup for every cup of sugar replaced.
Fruit bars: replace up to 2/3 of the amount of sugar with honey and use the same 1/4 cup rule mentioned above.
Recipe adapted from Honey Hill Farm