Christylez Bacon: At the Festival and in the Marketplace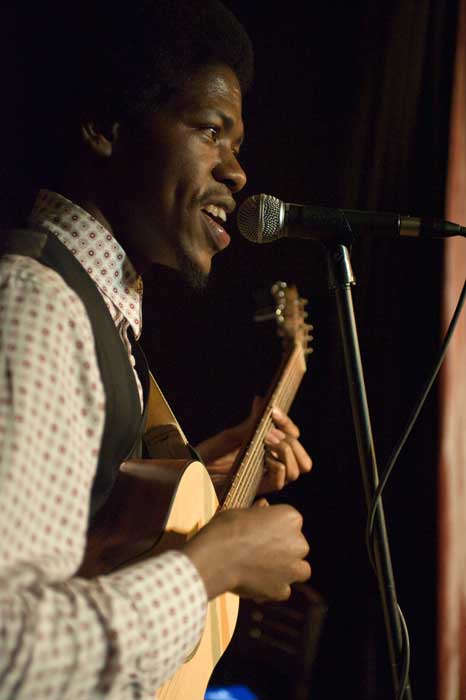 Christylez Bacon, a native of Washington D.C., is a musician on a mission; his mission being the promotion of cultural unification and acceptance. Christylez creates progressive hip-hop music, blending together the elements of jazz, classical, salsa, and hip-hop. He fuses the diverse musical melodies together, creating innovative sounds. With his music, Christylez's goal is to bring people of different cultures, races, and beliefs together under the enjoyment of music.
Christylez is participating in the Festival as part of the Citified program. Two of his CDs will be sold at the Marketplace: Advanced Artistry and Banjo to Beatbox. Advanced Artistry showcases Christylez's musical talents, featuring his beatboxing technique along with his piano and guitar skills. On Banjo to Beatbox, Christylez's GRAMMY-nominated children's folk album, he plays with Cathy Fink and Marcy Marxer, bringing his hip-hop style to nursery rhymes and folk songs.
Christylez's albums offer something for everyone, whether you enjoy hip-hop rhymes, piano solos, West African djembe drum beats, or children's songs. People from all walks of life can enjoy Christylez's music and no matter what your musical taste is, Christylez's albums are sure to fulfill them. So if you are looking for a fresh, diverse sound, his albums are a perfect buy. Any music genre lover can enjoy Christylez's music and, this is exactly his goal!
Christylez is performing most days of the Festival. Check the daily schedules for specific times and locations.
Laura Orchowski is an intern with the 2012 Festival Marketplace. She is a senior studying Anthropology and Russian History at the University of Pittsburgh.