A Steel Drum Band from West Virginia?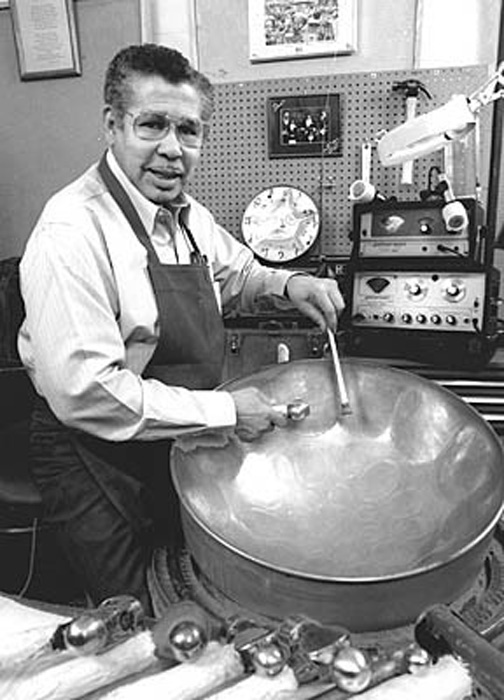 West Virginia University is providing a new take on what you might consider folklife in Appalachia. Steel drums are not usually associated with West Virginia, but rather with tropical Trinidad, however, West Virginia's steel drum band with Elliot "Ellie" Mannette will perform on the first day of the festival.
Ellie Mannette, considered the "Father of Modern Steel Drums," has brought West Virginia University into the steel drumming tradition. In 1991 he was offered a guest semester staff position at West Virginia University, which turned into a permanent job within the music department. Here, Mannette continues to pass along his love for pan building and playing to interested students.
Originally from Trinidad, Mannette was born in 1927 and started playing steel drums in 1937 when he was eleven years old. The first band with which he played was called New Town Cavalry Tamboo Bamboo. He went on to perform with a number of other bands until he joined TASPO, or the Trinidad All Steel Percussion Orchestra, in 1951. After migrating to the U.S., he helped the U.S. Navy Band and then started an inner city children's music program with a focus on steel drumming in 1967.
In addition to his playing, Mannette has also designed new forms of steel drums, most notably a tenor drum that ranges over four octaves and uses twenty-nine notes. Originally a machinist, Mannette applied his occupational knowledge and advanced techniques to creating better steel instruments. He was able to create a steel drum from a 55-gallon oil drum which gave him much grief in the early stages of production. Today, his company The Mannette Touch, located in Morgantown, West Virginia, has become the main source of steel-band instruments in the United States.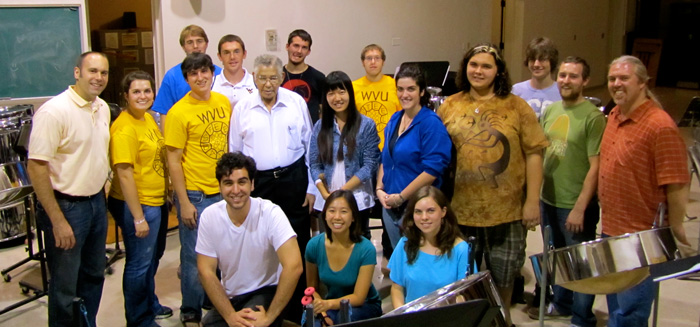 Few steel drummers have been lucky enough to be honored with as many awards as Elliot Mannette. In addition to receiving the Hummingbird Medal (Silver) of Trinidad and Tobago, he has been honored with the NEA National Heritage Fellowship, an Honorary Doctorate from the University of the West Indies, the Chaconia Medal Silver, and a place in the Hall of Fame of the Percussive Arts Society.
Be sure to check out Ellie Mannette and his forty WVU steel drummers on the opening day of the Festival, June 27, at 6 pm in the Justin S. Morrill Performing Arts Center. They will be presenting a performance that demonstrates the art of making and playing these instruments. The band will also be doing performances without Mannette throughout the festival with the 2012 Campus and Community program.
Breanna Eskridge is a Festival Marketplace intern for the 2012 Smithsonian Folklife Festival. She recently completed her junior year at James Madison University.