At the Festival: Look, Read, Inquire, and Remember
Of the many Smithsonian Folklife Festivals I have attended or worked since 1973, this one certainly has that special feel. The physical designs of the three programs contoured around walking paths strike a synergy that literally invite audiences on an "educatainment - walk" into Colombia: The Nature of Culture; The Peace Corps: Fifty Years of Promoting World Peace and Friendship; and Rhythm and Blues: Tell It Like It Is.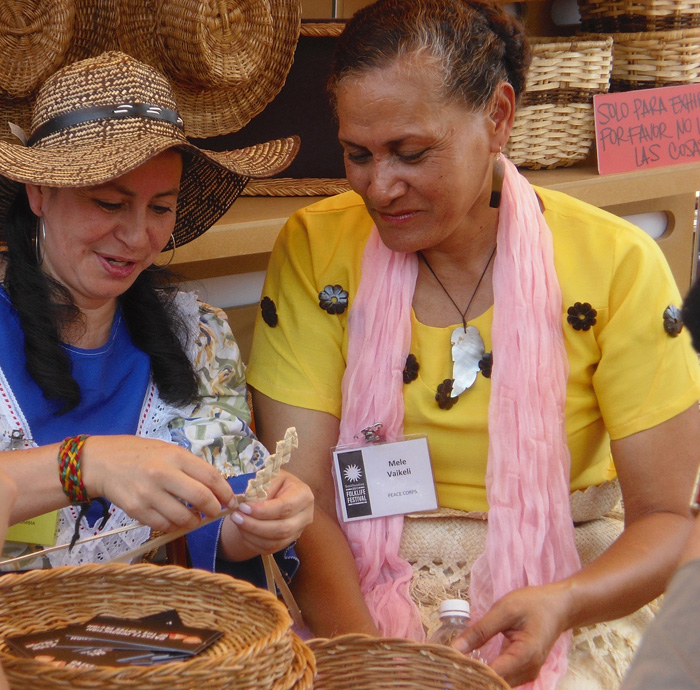 Last week, Festival visitors were already flowing among the program sites and food vendors well before the full Festival Opening Ceremony concluded. This is definitely a three-theme Folklife Festival program that you, your family, and neighbors will enjoy. I say that confidently after observing the attentive audiences at all of the programs. I was also privileged to moderate a panel, "Sharing the United States with the World," at which visitors were in rapt attention to returned Peace Corps volunteers recounting what inspired them to go to faraway countries.
The powerful creativity of diverse groups of interesting people from different places, their clothes, language, music, and crafts will draw you close and often into joyous states. Over the past four decades, I have had the opportunity to work with extraordinary staff, especially curators, and many interesting programs. I am always moved by the creativity and humanity of the tradition bearers. For Festival goers, I offer a few preparatory tips that I have come to appreciate over the years:
Talk to and ask questions of the Festival participants; ask staff-interpreters to assist if you don't speak their languages.
Meet the curators. They are out on the Festival grounds, and your visit will be enhanced and become more meaningful when you learn about how the curators have worked with the communities of artists and cultural and government officials from across the United States and around the world to make this extraordinary event happen and provided a singularly visible and resonant platform, the National Mall of the United States, for them to proactively present themselves as culture-makers, their communities as sustaining environments, and their nations as backers of their traditions.
A curator is a cultural worker who passionately but deliberately does field research with, not on, tradition bearers to ensure that when they come to the National Mall to converse, and show, and perform their traditions of crafts, song, oral literature, environmental and agricultural ways of knowing and doing, that they do so in a very supportive, respectful, and caring environment.
Put the whole Festival experience together from the viewpoints of tradition bearers and curators by looking at the Festival site-physical layout, the text panels, and the Festival Program book (buy it, use it to guide your visit, and then consider donating it to your local library or school).
Understand, relate to, and enjoy what Festival participants bring, but also reflect on your own community-based values and creative traditions. Become more conscious of passing these on to the next generation and look forward to seeing and appreciating their innovations.
Click on the image below to enlarge and view captions.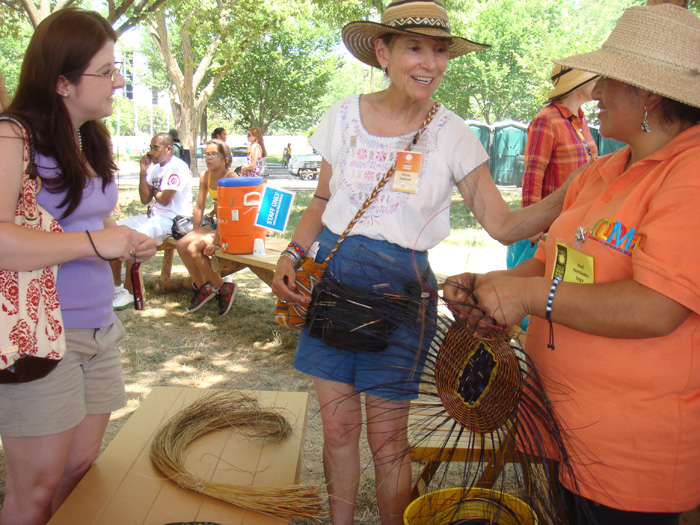 Colombia program curator Olivia Cadaval (center) with basket weaver Areli Hernández Vega (right) and a Festival visitor.

Photo by Van Luong

From left to right: Dwandalyn Reece, NMAAHC curator of music and performing arts; Herb Kent (AKA, "The Cool Gent"), pioneering Chicago DJ; Mark Puryear, R&B program curator; and Robert "Captain Fly" Frye, WPFW DJ.

Photo by Sojin Kim

Peace Corps curator Jim Deutsch in the Festival's Participant Hospitality area.

Photo by Van Luong

Ofelia Marín Márquez, a basket weaver from Colombia's coffee region, demonstrates a technique to Tongan mat weaver Mele Vaikeli.

Photo by Sojin Kim

James Early is director of cultural heritage policy at the Smithsonian Center for Folklife and Cultural Heritage. He is a long-time advocate and activist for cultural diversity and equity issues in national and international cultural and educational institutions.