Repairing Cots: Contributions of Our Participants
At the 2010 Smithsonian Folklife Festival, many visitors to the Family Activities tent at the Asian Pacific Americans program sat on comfortable cots made of sturdy wood frames with woven-rope webbing. These cots, known by the Punjabi name of bann de manja, were created for the 2002 Smithsonian Folklife Festival, which celebrated the Silk Road trading route that stretched from Japan and China to Italy.
In keeping with modern ecological concerns, the rope-like fibers that stretched across the cot's wooden frame in 2002 were made from recycled plastic bags, rather than the jute fibers traditionally used in India. The plastic fibers were so strong that they allowed the cots to be used in eight years' worth of festivals, with programs as diverse as Scotland, Mali, Wales, and Bhutan.
Despite careful cleaning and storage by Folklife staff, however, eight years of use had begun to take its toll on some of the bann de manja. Their ropes were coming loose and frayed in places. Some visitors sitting on them noticed that they were not quite as comfortable as they were in 2002.
On July 1, members of the Sikh American community danced, cooked, staffed the crafts tables, and spoke about their experiences. By 5 p.m., as the Festival was winding down for the day, some of them who were gathered near the Family Activities tent noticed the sorry state of the bann de manja. Upholding the reputation of Punjabis as entrepreneurial and hard-working, Arvinder Singh and Sarabjeet Singh immediately started tightening the ropes on one cot. A few feet away, Parveen K. Singh and Amarjit Kaur tightened another. Within minutes, cots that might have had to be junked after the 2010 Festival were as good as new.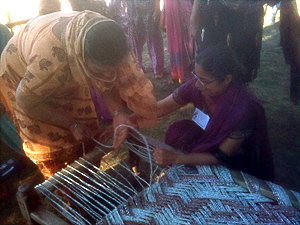 When asked why they were doing this when they deserved to rest, Arvinder Singh said, "For me, this is relaxing. It reminds me of a task I did often as a child." Despite decades in the United States, a cot that was just a cot to most Festival-goers allowed Mr. Singh to spend a few minutes back in the Punjab of his youth. Local lives, global ties, indeed.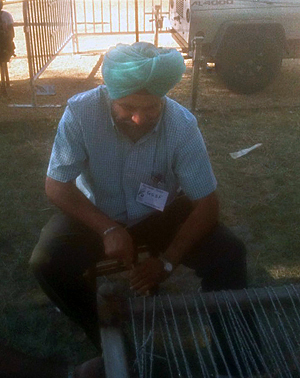 Phil Tajitsu Nash is the curator for the Asian Pacific Americans program at the 2010 Smithsonian Folklife Festival.