Realtors as Cultural Brokers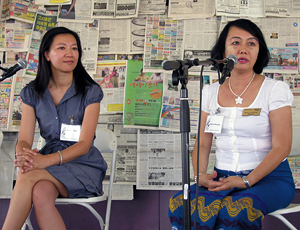 Real-estate agents are not always regarded as cultural brokers, but a panel at the Smithsonian Folklife Festival's Asian Pacific Americans program on July 27 showed how much they can influence an immigrant's view of this country.
Joanna Zhao, a Chinese American who came to this country fifteen years ago, and today owns her own realty firm, and Phyllis Khaing, a Burmese American who arrived twenty-two years ago and is also a successful broker, spoke on the topic, "Making a New Place Home: Enclaves in the Suburbs."
Like other home buyers, immigrants from Asia typically ask to look at homes near good school systems. However, cultural priorities are often evident, sometimes in subtle ways. For instance, Joanna observed that her APA clients tend to like amenities within easy walking distance for their older relatives, such as parks and shopping centers. Phyllis noted that her Burmese American clients want houses that face east, with a kitchen at the back of the house (not visible from the front door), extra bedrooms for visiting family, and no sunken living rooms (which some consider bad feng shui). Any suggestion of bad luck, such as a recent death in the house, can be a deal-breaker.
Joanna reported that her Chinese American clients tend to prefer addresses with street numbers that include an 8, and avoid those with the number 4 (which is a reminder of death). Settlements are typically done on the 8th, 18th, or 28th of the month, and Thursdays (the fourth day of the week) are avoided.
Taking off one's shoes when entering an APA home is not only a traditional courtesy, but can be a requirement of doing business. Some sellers are adamant that prospective buyers must take off shoes, as the family altar is sometimes in a front room. Others have moved away from this tradition, but still appreciate a broker who will ask if they wish to follow it.
In closing, the panelists were asked what special problems, if any, face APA home sellers. Soy-sauce stains in the kitchen and curry smells in the drapery were cited as common issues. Joanna sometimes tactfully suggests a paint job to cover up wear—and also to dispel cooking scents that are pleasant to some buyers, but perhaps not to others. Phyllis inspects the curtains, and if the smell of good spicy home cooking is evident, she suggests replacing them before holding an open house.
Phil Tajitsu Nash is the curator for the Asian Pacific Americans program at the 2010 Smithsonian Folklife Festival.