On Family, Heritage, and Lao Language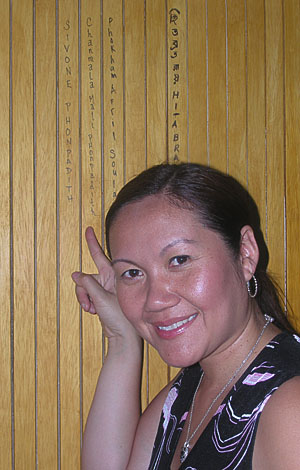 Chanmala Mali Phonpadith was one of three local Asian Pacific American small business owners invited to discuss "Business in the Community" at the Talkstory discussion stage on July 3.
A multi-talented Laotian American poet, writer, and financial services representative, she is co-owner of Reflections Within LLC, a business that features original photography, poetry, and prose. Mali also has found time to volunteer for groups as diverse as the Lao Heritage Foundation, Arts of Falls Church, and Teatro de la Luna. Like fellow panelists Bel Leong-Hong and Chris Baltazar, she provided the Talkstory audience with stories of how someone can both do good and do well when combining community service and small-business ownership.
More than a week before her scheduled appearance on the Talkstory stage, I saw Mali at the Festival near the Guest Book wooden sculpture that was created by Professor Foon Sham and located on the APA program site next to the Tea House tent. I asked if she planned to sign the sculpture, and she showed me where she already had signed. Like many Americans of Asian and Pacific Islander descent, she cannot write her name in the language of her ancestors, so she wrote her name in English in a vertical fashion, as the sculptor had requested.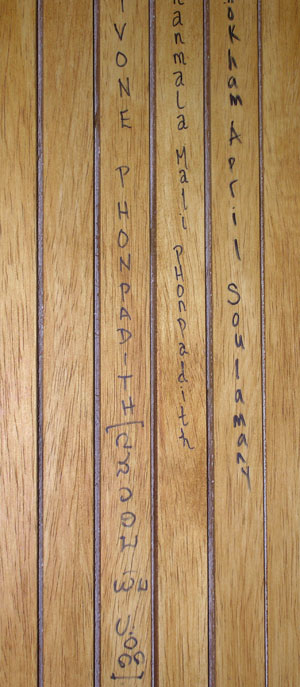 As we started to walk away from the sculpture, Mali paused and asked if she could write the name of her father on the sculpture, as he had participated in a Smithsonian project twenty years earlier. "I'd rather that he come and sign for himself," I said. "If everyone wrote the names of someone else, the sculpture would be filled well before the Festival ends."
She started to lean back on her legs and stare blankly at the wall of wood, and then told me in a low voice that he had died three years before. "Oh, then please go ahead and sign his name," I said.
She wrote "Sivone Phonpadith" with all capital letters, not the lowercase letters she had used for her own name, and then capped the marker pen and returned it to me.
As we started to walk away from the sculpture, I saw a Laotian American friend who can write in Lao script, so I asked him to write Mali's father's name in Lao below the English version.
Seeing this, Mali at first was quiet. Reaching over to touch the Lao script, she finally said, "I'll bring my mom to sign as well."
Phil Tajitsu Nash is the curator for the Asian Pacific Americans program at the 2010 Smithsonian Folklife Festival.