Migration Stories: Sustaining Gullah Geechee Cooking across Land and Sea
When:
Wednesday, February 3, 8 p.m. ET
Where:
Streaming on Zoom (tickets required)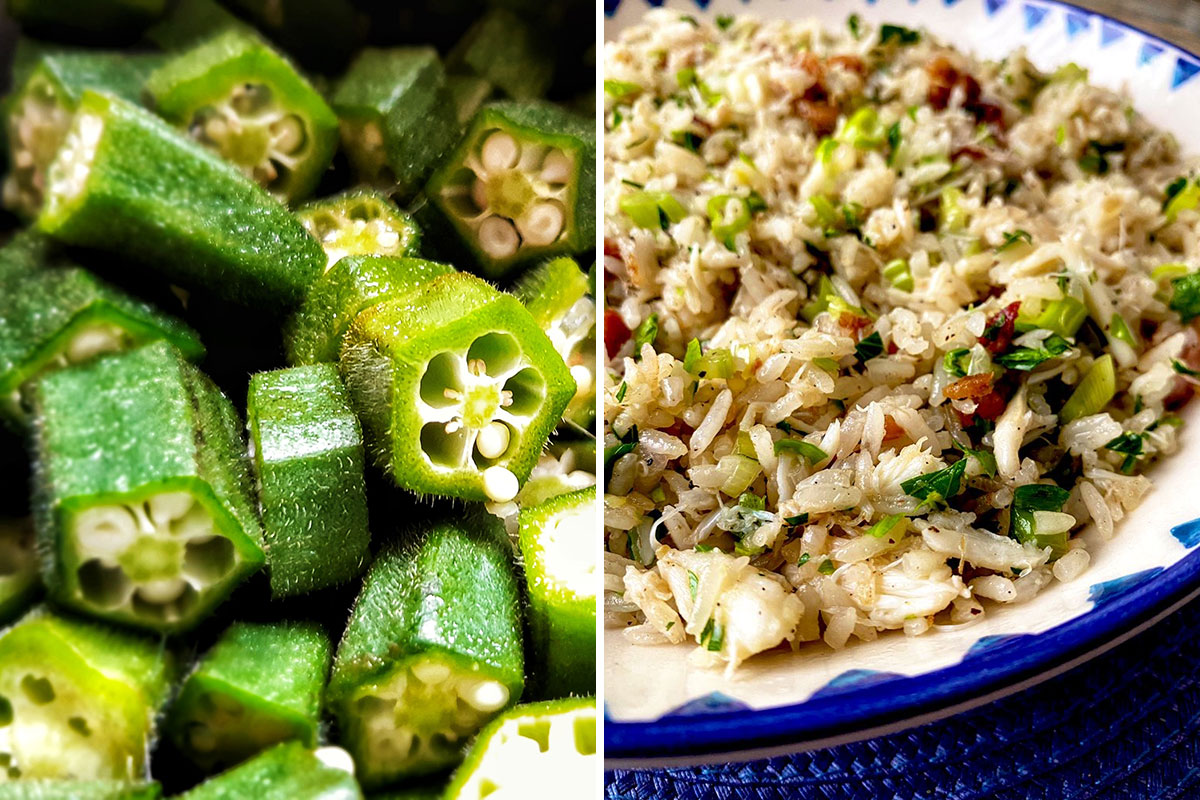 The Museum of Food and Drink and the Smithsonian Folklife Festival are proud to present Migration Stories: Sustaining Gullah Geechee Cooking Across Land and Sea, a virtual event that explores the foodways and cultural heritage of the Gullah Geechee people. This is the first in a series between MOFAD and the Folklife Festival exploring migration, food, and the transmission of knowledge in America.
Descended from enslaved West Africans who were brought to work the rice plantations of the lower Atlantic coast, the Gullah Geechee cultivated a distinct culture and cuisine that formed a clear connection from Africa to the land and seasons of the Lowcountry. 
Recipes such as perloo, a one-pot rice-based dish, is rooted in a history of migration, enslavement, colonization, and resilience. Like all Gullah cuisine, it tells a deeply American story.
Join chefs Amethyst Ganaway and Benjamin "BJ" Dennis for a conversation about Gullah and Geechee food, heritage, and sustainable futures. Ganaway will demonstrate how to make crab fried rice adapted from Sallie Ann Robinson's cookbook, Gullah Home Cooking the Daufuskie Way. The program is moderated by Michelle Lanier, folklorist, filmmaker, and director of North Carolina Division of State Historic Sites.
Want to cook along? Check the recipe for the ingredients list and what to prepare before the event.
Partner
This program is co-presented with the Museum of Food and Drink.
About the Participants
For over a decade, Amethyst Ganaway has been working her way through the food and beverage industry. While earning her BA at the University of South Carolina, the North Charleston native began her career in restaurants as a server and cashier. After making her way through various corporate and fine dining management positions, Amethyst's résumé now includes recipe development, catering, and food writing. So far, she has been published in Eater, Food and Wine, Plate Magazine, and The Post and Courier. In 2020, she was awarded the Les Dames International Legacy Culinary Award and was featured in the New York Times.
Born and raised in Charleston, personal chef and caterer Benjamin "BJ" Dennis infuses the flavors and culture of the Lowcountry into his Gullah Geechee cuisine. He infuses the techniques of his ancestors, learned from four years of study in St. Thomas, as well as the lessons of his grandparents about eating from the land, to create fresh interpretations of local dishes focusing on in-season, locally sourced vegetables and seafood. Recent trips to Trinidad and Tobago, Haiti, Barbados, Dominica, U.S. Virgin Islands, Angola, Senegal and Benin has brought his work full circle. Connecting the people and cultures of the African diaspora through food. Recent appearances on PBS's "Moveable Feast" and Bravo's "Top Chef" has taken him and Gullah cuisine to a national television audience.
Michelle Lanier is an AfroCarolina folklorist, oral historian, museum professional, filmmaker, and educator with over two decades of commitment to her callings. Raised in both Columbia and Hilton Head, South Carolina, with ancestral roots in the sandhills, coastal plain, and upper piedmont of North Carolina, Michelle's ancestral geography guides much of her interdisciplinary work. She is the first African American director of North Carolina's twenty-five state-owned historic sites, and she was the founding executive director of the North Carolina African American Heritage Commission.