Gullah Geechee Recipe: Carolina Crab Rice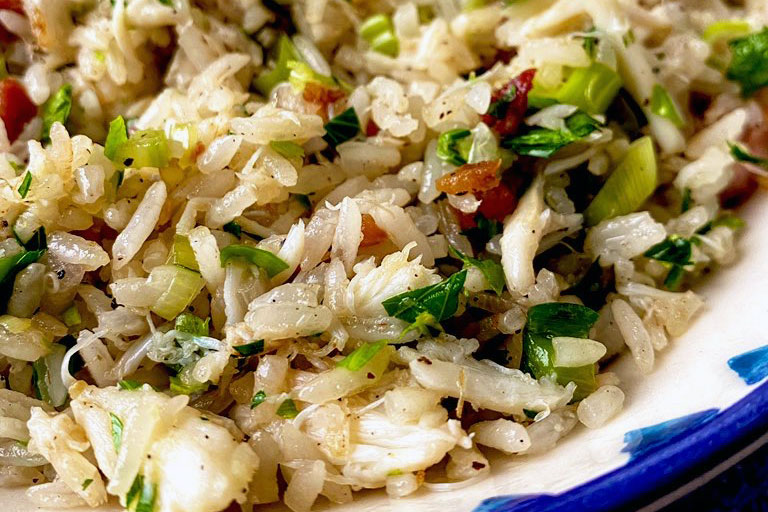 To me, crab rice is one of the most underrated, well-kept, and well-loved recipes from out of the Lowcountry, the geographic and cultural region comprising South Carolina's coast and the Sea Islands. Everyone has their own way of doing it, but it's always recognizable no matter where it's served.
Usually, we would use the just-caught-and-cooked sweet blue crab meat that's found and eaten throughout the region. Since I've moved around the country, however, the beloved blue crab of my youth becomes harder for me to find, and I use substitutions when I can. When the warmer days come around, I find myself craving a big plate or bowl of crab rice.
Using Sallie Ann Robinson's recipe for her "Ol' Fuskie Fried Crab Rice" as a base, I was not only able to make my own version of the crab rice I grew up eating, but I was able to feel like I was at home in Charleston, and feel connected, even for just a moment, to my community and culture.
I invite you to cook along with me and Chef BJ Dennis during "Migration Stories: Sustaining Gullah Geechee Cooking Across Land and Sea" on Wednesday, February 3, at 8 p.m. ET. You can even cook ahead and enjoy during the program. The event will stream on Zoom, and tickets are required. Register for $15 through our partner organization, the Museum of Food and Drink.
If you plan on cooking along, we recommend having the following items prepped before the start of the program:
Rice: Rinse, drain, and cook fully.
Bacon: Dice, cook in pan until crisp, remove from pan. (Leave the fat in the pan; it will be used to cook the vegetables and rice.)
Vegetables: Dice celery, bell pepper, and onion.
Crab meat: If using frozen, defrost.
Recipe by Amethyst Ganaway
Adapted from Gullah Home Cooking the Daufuskie Way by Sallie Ann Robinson
Serves 2 for a full meal or 4 sides
Prep Time: 10 minutes
Cook Time: 50 minutes
Total Time: 1 hour
Ingredients
1 cup long-grain white rice, uncooked
2 cups water
Small pinch of salt
2-3 strips thick-cut bacon, diced
1 stalk celery, diced
1/2 bell pepper, any color, diced
1 small onion, diced
1 pound crabmeat, cooked (lump preferred, but any will do)
Garlic powder, onion powder, salt, and black pepper to taste
Preparation
Rinse the dry rice under cool water 3 to 4 times and drain. Put the rinsed rice into a small pot, cover with 2 cups of water, add a pinch of salt, and bring to a boil. Turn the heat to low, cover the pot, and let the rice cook undisturbed for 20 minutes. Remove from heat, crack the lid of the pot so that the rice can stop cooking, and set aside.
In a small skillet, fry the bacon pieces over medium-low heat until all of the fat is rendered and bacon is crispy, about 3 to 5 minutes. Carefully remove the bacon pieces and set them aside. Reserve the rendered fat in the pan.
Over medium heat, add celery, bell pepper, and onion to the pan with the bacon fat and sauté until vegetables have softened and onions are translucent, about 5 minutes. Then add crabmeat and cook for an additional 5 to 10 minutes, until crab has begun to crisp.
Add the cooked rice, bacon, and seasonings to the pan with the vegetables. Incorporate all ingredients until evenly mixed, turn to low, and let cook for an additional 5 to 10 minutes. Serve hot and enjoy!
Amethyst Ganaway, aka the Geechee Gordita, is a food industry professional and a North Charleston native. She began her career in restaurants as a server and cashier and now works in recipe development, catering, and food writing.