At World Central Kitchen, Elyssa Kaplan Provides Relief through Food
Plus a recipe for Haitian legim stew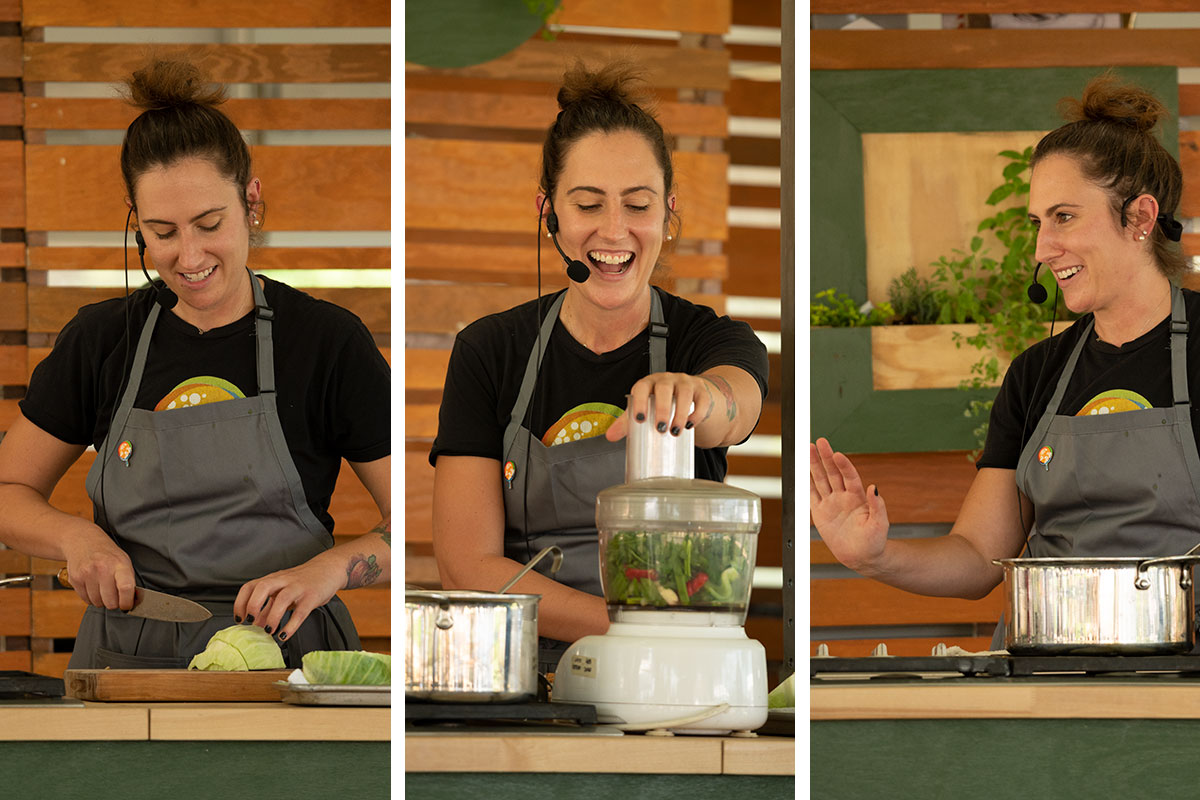 Founded in 2010 by chef José Andrés, World Central Kitchen provides meals in response to humanitarian, climate, and community crises while working to build resilient food systems with locally led solutions. The not-for-profit organization has served more than 70 million fresh meals to people impacted by natural and other disasters around the world.
In 2019, chef Elyssa Kaplan first joined World Central Kitchen's Relief Team as a volunteer in the aftermath of Hurricane Dorian. Bringing with her a degree from Le Cordon Bleu in Paris and a decade of culinary experience, Kaplan is now the Relief Team's culinary operations manager. At the 2022 Smithsonian Folklife Festival, she led two cooking sessions and shared her experiences with the Earth Optimism × Folklife program.
"You can do more than donate all your canned goods," she told us in an interview at the Festival. "You can go and help immediately in the community and start feeding people. And we'll try to find you and take you under an umbrella and help fund you to do that. You don't need permission to help people."
Since starting at WCK, Kaplan has traveled across the country and around the world to cook for those in need. Unfortunately, there is no shortage of crises, which means demand for WCK's work is always high.
In line with the organization's mission, Kaplan emphasizes how important it is to involve local partners wherever they serve. Not only does WCK strive to empower these partners to sustain the program when it leaves, but it also relies on these partners to direct the organization's culinary team toward culturally appropriate menu items and food preparation techniques. As outsiders, Kaplan says, she and her team have to recognize that they "don't know anything in that particular space and culture" and must respect local customs and preferences.
"People want to eat the food that is comforting to them, not the fancy things that my culinary career has taught me," she said. "If you don't have that kind of humility, then you just miss the mark."
While in the Bahamas, Kaplan and WCK learned how to make legim—a staple stew of Haitian homes and cuisine—from Alicia, a local volunteer who had been evacuated from Abaco Island as a result of Hurricane Dorian. Alicia was not only a great cook but also an organic farmer and mother of four. This dish was the favorite of those displaced by the hurricane. The marinade, epis, can be used to marinate anything, including fish, chicken, and vegetables. It can also be added to rice during cooking.
Recipe: Haitian Legim
Recipe adapted by World Central Kitchen
Note that the recipe requires an overnight marinade.
Ingredients
1 1/2 pounds beef stew meat (or oxtail), cut into 1 1/2-inch chunks
1 lime, halved
1 tablespoon salt
3 cups water
1/2 cup epis marinade
1 small green cabbage, cut into 6 even slices
2 medium eggplants, cut into 1-inch chunks
1 large carrot
3 tablespoons water
3 tablespoons tomato paste
Epis Marinade
4 scallions (or green onion), roughly chopped
1 bunch parsley (curly or flat), stems removed and roughly chopped
4 garlic cloves
1 Scotch bonnet (or habanero) pepper
1/2 green bell pepper
1 stalk of celery
5 sprigs thyme
6 whole cloves
2 limes, juiced
1/4 cup vegetable oil
1 tablespoon soy sauce
1 tablespoon white distilled vinegar
1 bouillon cube (Maggi brand)
Preparation
Day 1: Marinade
To prepare the epis, combine all ingredients in a blender and purée until it's an even consistency. The mixture should be well blended but with some texture, distinct and even-sized pieces. Place in a covered jar and hold in the refrigerator for up to 2 weeks.
To prepare the meat, bring water with salt in a medium-sized pot to a boil.
While waiting for the water to boil, rinse stew meat under cold, running water for 1 minute. Rub the outside of the meat with lime halves, using all juice. Discard rinds.
Once the water is boiling, place meat in a colander in the sink and pour the boiling water over the top. Using a kitchen spoon to move the meat around, make sure the water touches all meat surfaces. The outside of the meat will turn a gray color.
Place scalded meat into a new bowl. Add 1/4 cup of epis marinade. Using your hands, coat all pieces of meat with the marinade. Use extra marinade if needed. Cover the bowl with plastic wrap and refrigerate overnight or up to 24 hours.
Day 2
Place the marinated meat with all its marinade into a large pot, like a Dutch oven. Add the other 1/4 cup of fresh marinade. Add enough water to just cover the meat and heat over medium-low. Let the meat simmer (don't boil!) covered for 2.5 hours.
In a second pot, uniformly layer the vegetables: cabbage onto the bottom, then eggplant, then carrot. Add 3 tablespoons of water, cover the pot, and heat over medium-low. Steam the vegetables for about 35 minutes or until the cabbage and eggplant are soft enough to mash and the carrot is cooked through. Add more water as needed to keep from burning.
Remove the carrot and set it aside to cool. With a potato masher, mash the cabbage and eggplant together until the consistency of cooked oatmeal. Cover the pot and set aside (off the stove heat).
After the meat has cooked for 2.5 hours, add the tomato paste. Mix well to incorporate into the cooking liquid. Leaving the pot uncovered, simmer for another hour. You can add a tablespoon of water if the stew starts to look too thick or dry.
After the hour, take it off of the heat, and mix the mashed cabbage/eggplant with the beef. Slice the carrot into 1/4-inch-thick coins and fold delicately into the beef.
Serve with rice!
Katie Reuther is the 2022 Festival foodways intern and a food studies graduate student interested in the intersection of food, culture, and identity. Interview by Mioko Ueshima.