José Andrés Shares What Makes Catalan Cuisine Simply Spectacular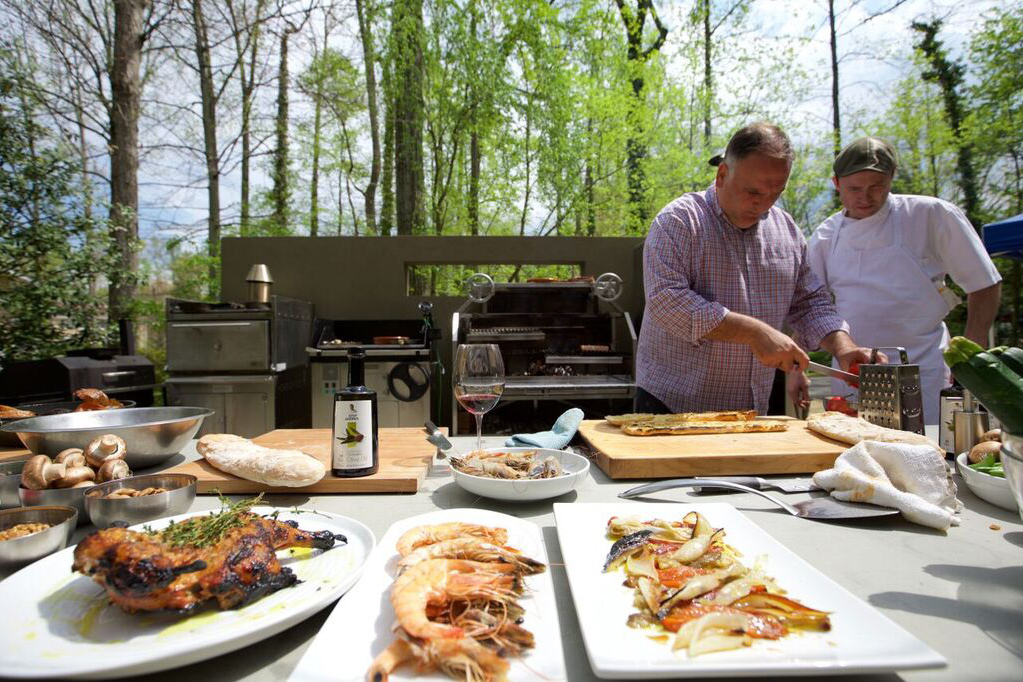 Known as one of the great lovers of and experts on Catalan cuisine in the United States, master chef José Andrés offers his thoughts on the region's flavors and the best dishes to express the tradition and creativity of Catalonia's vibrant culture. It turns out when it comes to their food, simplicity is the foundation for something spectacular. Get his take on the tastes of Catalonia and find out what he would serve to represent his adopted home of D.C.
Andrés was named one of Time's "100 Most Influential People" in both 2012 and 2018. He was also awarded "Outstanding Chef" and "Humanitarian of the Year" by the James Beard Foundation. He is an internationally recognized culinary innovator, author, educator, television personality, humanitarian, and chef/owner of ThinkFoodGroup.
For one who has never tasted Catalan food, what flavors can they expect to experience? What dish must be tasted to truly connect with the culture?
Catalonia is a hugely diverse area. There is the sea, there are mountains, there is agriculture, vineyards, animals—everything you would ever want! So Catalan food is all of these things and more. There is amazing seafood, pork sausages called butifarra, cheeses, pastries, and more. So if someone has never tasted Catalan food, they will be amazed by the variety. There is so much to try.
One thing that sets Catalan food apart is the incredible sauces that we have. The most classic is the sofrito, known as sofregit in Catalan. It is the base to many important Catalan dishes, made from slow-cooked onions and tomatoes fried in an ocean of olive oil. There are many other sauces, like romesco, made from roasted tomatoes, sweet peppers, almonds, and garlic. It is perfect served with grilled vegetables like the Catalan green onion called calçot. Samfaina is like a sofrito with the addition of eggplant and zucchini, almost like the French ratatouille but much better! Allioli is one of the most delicious sauces—it's like the best mayonnaise you will ever have, so garlicky and creamy.
The one dish to truly connect with Catalan culture is mar i muntanya—the "sea and the mountains." It is the original version of surf and turf. To me, this dish is like a philosophy of Catalonia. You will find it with many different preparations, where something from the ocean meets something from the land. It is like Catalonia in one plate.
What was the first flavor you remember tasting in Catalonia and how does it influence your culinary imagination today?
One of the first flavors I remember from when I was young was the simplest breakfast ever: pan con tomate, or, in Catalan, pa amb tomaquet. It is a piece of toasted crusty bread, and you rub a super ripe tomato all over it, then give it a good spray of olive oil and some sea salt. It is such an easy dish to make, and it is so delicious.
It is this kind of meal that reminds me that you do not need to be too complicated in your technique, or fancy with your ingredients, in order to make something incredibly good. A few ingredients, not even at their very peak—the bread is preferably a little stale before you toast it, the tomato should be just a bit overripe—can make something amazing. You just have to think a little bit outside the box!
This sort of cooking was how I grew up: innovation with what you have. At the end of the month, when money was running low, my mother would take what was left in the fridge—some leftover cheese, some ham, some vegetables—and make croquetas, little fried croquettes. And this is how I cook at home today. Whenever we have some stale bread lying around, I will make sopa de ajo. It is one of my family's favorite recipes. Old bread, garlic, olive oil, and pimentón—and some eggs if you have them—and you have dinner on the table.
You can take this same idea and make the most amazing dishes with limited ingredients, if you are creative and thoughtful about what you are making. I love caviar, I love jamón, but we do not always have access to those things. Instead, think about ten different and interesting ways to prepare eggs, or what you can do with a stale loaf of bread. This is what really opens your mind to new ideas.
What changes have you observed in long established versus modern Catalan recipes? What does the future hold?
An amazing thing about Catalan recipes is how old so many of them are. Chefs today are influenced by a long history—back to the Middle Ages and the Renaissance, in some cases. When you have this much history behind you, it is important to learn it, to keep it with you, even as you are being creative and reaching towards the future. I am always thinking about new dishes, new preparations, new ideas to be creative with the classics, but of course it is important to know the classics.
Just look at a dish like espinacas a la catalana, spinach served with raisins and pine nuts. It is such a unique flavor and reminds me of one of the most famous Catalan desserts, called postre de músico­—a plate of dried fruits and nuts, served with a small glass of sweet wine like muscatel. This is what traveling musicians were given after a long day of performing. I need to be aware of its history, the connection with traveling musicians, the Moorish and Arab history of why Spaniards and Catalans in particular love this sweet and savory combination.
And once I know about that, I can play with the dish a bit. I can use a different green instead of spinach, one that is popular at the farmers' markets today, like kale or Swiss chard. I can make a praline out of the pine nuts, or substitute it with almond butter. And I'm not restricted to raisins—why not use dried apricots, dried plums, dried figs? And maybe at the end we can make a tribute to the músicos—we can add a splash of moscatel or another sweet wine. Because I know the history, I am able to play with it, but I do think it is important for chefs from Catalonia, just like chefs all around the world, to study what came before.
Sometimes we take the classic Catalan dishes, and we entirely recreate them from an avant-garde direction. Aitor Zabala, my friend and the chef at our new experimental restaurant Somni in Beverly Hills, is putting both the Catalan and elBulli influences on the menu. Aitor is from Barcelona and we chose the name "Somni" for the restaurant, which means "dream" in Catalan. He is truly showing a Catalan/Spanish/American/Angeleno dream for the world, and many of his dishes are influenced by childhood. One in particular is super amazing; it is playing with the classic pa amb tomaquet that I mentioned. Instead of bread, though, Aitor makes a meringue with tomato water that looks like bread, and he tops it with tomato pulp, garlic, and olive oil—just like the classic. It is a beautiful, delicious dish, and one that plays with your mind—a perfect tribute to Catalonia.
What dish do you think exhibits tradition, and what dish models creativity for Catalan cuisine?
For a dish that shows tradition, I would have to say it's something like the classic butifarra. It is served best at a place like Bar Pinotxo, one of the stalls in La Boqueria Market in Barcelona, where I have been going since I was a teenager. I like eating butifarra with white beans, like the classic Catalan dish botifarra amb mongetes. This is how we serve it at Jaleo, with a tribute to Senator Daniel Patrick Moynihan, who used to come in every weekend and enjoy it.
And then creativity—creativity is everywhere in Catalonia! Maybe my favorite single bite that has come out of Catalonia is the liquid olive, created long ago by Ferran Adrià at elBulli. It is Catalonia and Spain in a single burst, the pure flavor of our culture, our cuisine, our past, and our future.
Give us your best D.C. dish—any dish. What flavors would you use to represent this city?
D.C. is the center of a very rich, very exciting region that includes the agriculture of the Mid-Atlantic, the seafood of the Chesapeake Bay, and the vineyards of Virginia. I would most certainly start my dish with Maryland crabs—they are some of the best in the world! Steam them simply with some Old Bay—a taste of home for me.
Then some grilled vegetables on the side, depending of course on the season and what is the most amazing thing at the farmers' market. Maybe some romesco on the side for dipping—it goes so well with grilled vegetables like asparagus and spring onions. And then everything would need to be washed down with a crisp white wine, like the Vermentino from Barboursville Vineyards. It is this kind of a meal—so simple and straightforward, speaking to the season, speaking to the region—that makes me feel like I am in D.C.!
Arianna Sikorski is a foodways coordinator for the 2018 Smithsonian Folklife Festival and an experienced cultural events producer, curator, and consultant in the arts and culture field. She completed her graduate work in international arts management focused on food as a cultural heritage, art form, and educational tool for international exchange and understanding.